Image: Catherine de Zegher, Standaard
About 7 months ago, we learned through the press that Catherine de Zegher had been temporarily suspended as Director of the Museum of Fine Arts of Ghent (MSK). It followed a 7 weeks media campaign of allegations made against the museum and its presentation within the permanent collection of the Russian avant-garde art from the Dieleghem Foundation, based in Brussels.
The media allegations had risen to a crescendo, with the most extravagant claims being made, claims, which on examination appeared to have no factual basis and no discernible verifiable evidence. Malign motives were imputed to all those involved with the exhibition. In particular the personal
attacks against Catherine de Zegher reached a peculiar and unprecedented intensity that resulted in a trial by media. Under pressure of the escalating and widespread attacks the city of Ghent caved in and temporarily suspended Catherine de Zegher.
Today, October 10, 2018, most obviously Catherine de Zegher's position as "temporally suspended museum director" has not been clarified, and no additional scientific research or independent material-technical expertise have been initiated by municipal, regional, or national government authorities in Belgium to settle the authenticity of the Russian avant-garde works exhibited at the MSK. As a consequence, the mendacious allegations against her are kept alive and the situation seems to be lingering without solution in sight.
The scope of allegations and measures of isolation of a director and curator internationally recognized for her artistic vision, her championing of art by women and art from diverse cultures, her broad knowledge and expertise, her ceaseless curiosity, the relevance of her museum programming and the quality of her widely influential exhibitions and many books, stupefy us.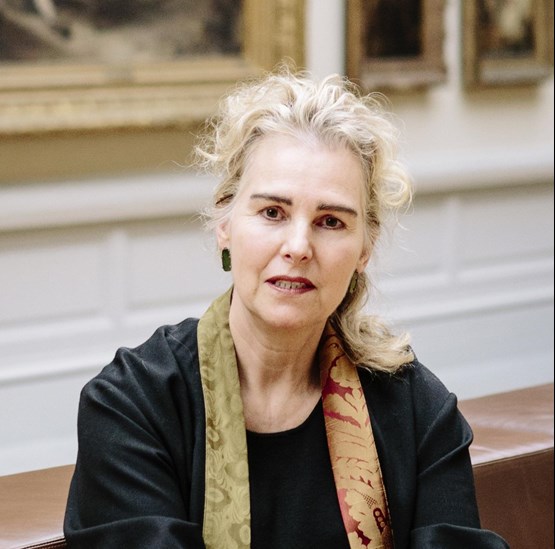 Catherine de Zegher, Standaard
Just before the local and international press attack, Catherine de Zegher successfully accomplished the complete reinstallation of the Ghent Museum of Fine Arts. Behind the concept 'From Bosch to Tuymans', under her direction, the MSK had reinstalled some 600 works from its collection together with loans from private collections, and integrating contemporary projects in a dialogue with the historical works. This reinstallation had been and still is enthusiastically applauded by the international museum world.
Over a period of 5 years (2013-2018), Catherine de Zegher has given a totally new impetus to the Museum of Fine Arts in Ghent, developing a unique and historically significant perspective with exhibitions including the work of lesser known artists and many women artists as well as exhibitions of artists and movements within the MSK expertise area of art from the 19th and 20th century and from its collection. She was working on more exhibitions of artists never shown in Belgium, such as Medardo Rosso and the upcoming Baroque exhibition around Artemisia Gentileschi, as well as
preparing the international monograph exhibition of the Flemish master Jan van Eyck for 2020.
Catherine de Zegher was one of the very few art professionals in a senior position in a Flemish art museum to have had an international career across 4 continents and to have brought artists whose work and ideas would otherwise have been lost to a wide and appreciative audience. Catherine de Zegher has a long and illustrious career as director and curator of groundbreaking exhibitions and author of acclaimed publications, such as America: Bride of the Sun. 500 Years of Latin America and the Low Countries (1992) at the Royal Museum of Fine Art, Antwerp, and Inside the Visible. An Elliptical Traverse of Twentieth-Century Art in, of, and from the Feminine (1994-1996) at the Institute of Contemporary Art in Boston. She was the Artistic Director of the 5th Moscow Biennale (2013) and of the 18th Biennale of Sydney (2012). She curated On Line. Drawing Through the Twentieth Century (2010-2011) at the Museum of Modern Art, New York, and was the Director of Exhibitions and Publications at the Art Gallery of Ontario in Toronto. Previous to this position, from 1999-2006, she was for many years the Executive Director and Chief Curator of The Drawing Center in New York. Over the years, she has received Best Show awards from AICA and AAMC and became a member of the Royal Academy of Belgium for Science and the Arts.
We are art professionals, academics and artists. We love art, museums and audiences. To promote art as joy, energy, and source of imagination and as critical reflection on the past and the present, and to interact and relate with wide audiences is, in our eyes, an essential concern for society at large.
We are appalled to see how one of the preeminent women curators of her generation internationally, a wholly professional and widely acclaimed museum director, has been made the plaything of unscrupulous media and of international speculation in the art of the Russian avant-garde, resulting in a severe media process destroying her work and reputation.
Through this letter, we affirm our full support for Catherine de Zegher as museum director and as curator. We challenge the local and national authorities concerned on the important issue of having, keeping, protecting and supporting visionary museum directors in their country, remaining independent in their judgement from the pressure media exert and the correlated hype and sensation, and above all from the growing influence of a certain art market linked with finance and power. We ask them to seriously pay attention to the role art and museums play in our cities, regions and in the society at large, the great principles they represent, and the necessity of having inspirational museum directors and curators to lead the way.

Eija-Liisa Ahtila, Artist, Finland
Yves Aupetitallot, Former Director Le Magasin, Grenoble
Manuel Borja, Director & Art Historian, Madrid
Sigrid Bousset, Curator Literature, Belgium
Benjamin Buchloh, Andrew W. Mellon Professor of Modern Art, Harvard University, USA
Laurent Busine, Former Director MAC's - Le Musée des Arts Contemporains - Site du Grand-Hornu, Belgium
Luis Camnitzer, Artist, Uruguay/USA
Piet Coessens, Director Roger Raveel Museum, Machelen-aan-de Leie, Belgium
Beatriz Colomina, Professor of Architecture and Director of Graduate Studies in the School of Architecture, Founding Director of the interdisciplinary Media and Modernity Program, Princeton University, USA
Suzanne Cotter, Director Mudam, Musée d'Art Moderne Grand-Duc Jean, Luxemburg
Catherine David, Deputy Director, National Museum of Modern Art, Centre Georges Pompidou, Paris
Joost De Clercq, Director Museum Dhondt-Dhaenens, Deurle, Belgium
Edith Dekyndt, Artist, Brussels
Sebastien Delot, Director LaM, Museum of Villeneuve d'Ascq, France
Ann Demeester, Director Frans Hals Museum, Haarlem
Corinne Diserens, Curator, France/Belgium
Paul Dujardin, CEO Bozar, Center of Fine Arts, Brussels
Willem Elias, Professor Emeritus, VUB University Brussels
Bracha Ettinger, Artist, Israel
Ann Gallagher, Director of Collections, British Art, Tate Modern, London
Nikolaus Gansterer, Artist, Vienna
Annemie Ghekiere, Belgium
Simryn Gill, Artist, Malaysia/Australia
Gabriel Gorodetsky, Professor, Quondam Fellow, All Souls College, Oxford
Monika Grzymala, Artist, Poland/Germany
Hélène Guénin, Director MAMAC, Nice, France
Mona Hatoum, Artist, Palestina/UK
Anton & Annick Herbert, Herbert Foundation, Ghent
Stefan Hertmans, Writer, Belgium
Craigie Horsfield, Artist, London
Ruth Herz, Former Judge at the Court of Cologne, Visiting Professor Birkbeck, University of London,author of 'The Art of Justice'
Antony Hudek, Cultural Studies, KASK, Ghent
Cristina Iglesias, Artist, Spain
Ann Veronica Janssens, Artist, Belgium
Béatrice Josse, Director Magasin des Horizons, Centre national d'arts et de cultures, Grenoble
Ricardo Lanzarini, Artist, Uruguay
Elizabeth Ann Macgregor OBE, Director Museum of Contemporary Art, Sydney, Australia
Anna Maria Maiolino, Artist, Brazil
Bartomeu Mari, Director National Museum of Modern and Contemporary Art, Seoul, Korea
Ine Mariën, Executive Advisor in Reputation & Stakeholder Management Brussels, Guest Lecturer
Ghent University, Belgium
Brian Massumi, Philosopher & Social Theorist, Professor Communication Department, University of Montreal, Canada
Erin Manning, Professor Faculty of Fine Art, Concordia University, Montreal, Canada
Catherine Mayeur, Art Historian and Art Critic, Belgium
Alan Michelson, Mohawk artist, USA
Anna Morochnik, Former Exhibition Director of Moscow Biennale of Contemporary Art, co-founder of SPASIBO studio
Everlyn Nicodemus, Artist, Writer and Art Historian, Tanzania/UK
Emma Nicolson, Director, ATLAS Arts & Guest Curator, Taigh Chearsabhagh, UK
Valerie Oleynik, Former Project Director of Moscow Biennale of Contemporary Art, co-founder of SPASIBO studio
Alexandra Paperno, Artist, Russia
Giuseppe Penone, Artist, Italy
Griselda Pollock, Professor of Social & Critical Histories of Art, Director, Centre for Cultural Analysis, Theory & History (CentreCATH), School of Fine Art, History of Art & Cultural Studies (FAHACS), University of Leeds, UK
Lucien Posman, Composer, Founder and honorary Chairman of ComAV, The Flanders Composers
Archipelago, Member of the Royal Academy for Science and the Arts of Belgium
Laurence Rassel, Director ERG, Brussels
Gerda Steiner and Jörg Lenzlinger, Artists, Switzerland
Joelle Tuerlinckx, Artist, Belgium
Luc Tuymans, Artist, Belgium
Paul Vanden Broeck, Former Curator Royal Museum of Fine Arts, Antwerp
Barbara Vanderlinden, Art critic, Editor and Curator, Brussels
Ria Verhaeghe, Artist, Belgium
Bart Verschaffel, Professor Architecture and Urban Planning, Ghent University, Belgium
Cecilia Vicuna, Artist, Chile/USA
Mark Wigley, Professor and Dean Emeritus, Graduate School of Architecture, Planning and Preservation, Columbia University, New York
Marie Zolamian, Artist, Belgium