69 positions by Mette Ingvartsen is a flash back and at the same time visual voyage in the history of dance and pornography. Starting from quotations of relevant art historians and choreographers of the '60 in the USA, she arrives to the present days reconsidering the importance of interactive, collaborative, participatory choreographies.
Defining 69 position a 'soft' choreography, counterposed to the 'hard' one, she means a form of democratic theatre where the choreography cannot exist without an audience, that happens in relation to a certain group of people of a certain time, that is open to variations and fragile in its inner nature. It is in fact a kind of organisation that doesn't imply a definite and clear separation between the performers and the spectators, the stage and the auditorium, an encountered and constructed event. The participants becomes responsible for their own actions and therefore become active elements within the happening.
A first scepticism of the audience, invited to walk around and look at panels attached to a temporary show setting, changes into wonder and fascination as long as the performer starts reciting, reading texts and moving through the space.
Creating two hours of engaging and participative performance, the danish artist performer is able to create a social-mobile human sculpture with the witnesses. Some participants join her in a social dancing, others pose in a given structure, one joins her reading out loud a text, four people recreate a simultaneous orgasm following her instructions and the sound input on two shared mp3.
The evening flourishes slowly as the people feel more relaxed and confident. Ingvartsen, with her strongly performative and vulnerable human presence is strongly captivating leading the onlookers to participate experiencing an imaginary and at the same time tangible scenario.
The play is transformed into a game when the public is called into action. Her being naked, full frontal and free from any kind of sexual inhibitions, intertwined to a relational, friendly and close approach, generates an exceptional and persuasive atmosphere.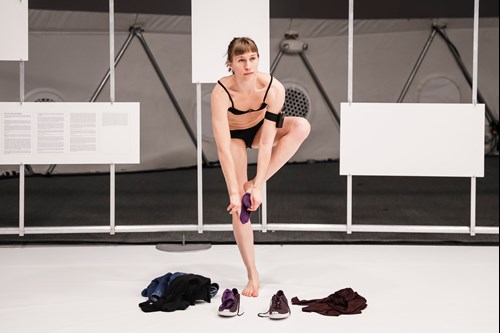 69 positions, photo Charles Roussel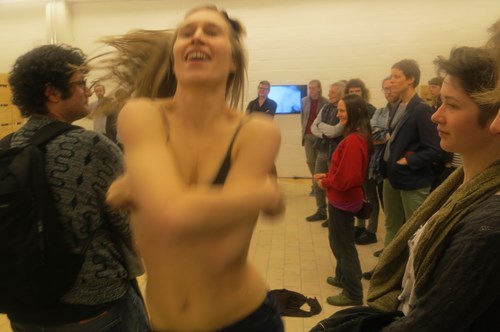 69 positions, photo Virginie Mira
The lucid mind and articulated speech, spaced out with sudden and strong performative screams and positions, plus the intimate contact she is able to create with strangers, being completely exposed and wide open, is fairly impressive and outstanding.
Interesting what she creates in and on the audience; how they perceive her and therefore themselves, how she becomes at a certain extent, a mirror or a spectrum of human bodies and minds. Still with clothes on, also the onlookers feel naked. Incredibly sharp the ability to move people from the inside, to shake something intimate, deeply personal.
Collective body, relational art, social practices and shared intentions are called into question also, and in particular in current times, strongly determined to create and foster an individualist society and modus vivendi.
The body with its sensual and sexual nature, in all forms and expressions, is and always will be, a strong political medium and therefore a significant vehicle of affirmations, statements, desires, needs, understanding and truths.