Image: Long Live Rembrandt. Photo: Olivier Middendorp
Yesterday, on the anniversary of Rembrandt's birth, 693 artists will open their own exhibition at the Rijksmuseum: Long Live Rembrandt. Hundreds of artists – from primary school children to established artist, and from financial controllers to cabinetmakers – are paying homage to the great master in the museum's summer exhibition. The artworks on display include 96 versions of The Night Watch, 253 artworks by children, and 132 copies of Rembrandt's self-portraits. Long Live Rembrandt runs until 15 September 2019 in the Philips Wing of the Rijksmuseum.
Long live Rembrandt
More than 8,000 people in 95 countries responded to our open call to submit self-made artworks inspired by Rembrandt. An expert panel of judges selected 575 works made by a total of 693 people for inclusion in the Long Live Rembrandt exhibition. The themes of the exhibition emerged from similarities between works made by the many different artists. These themes include 'The Night Watch', 'Portraits in the style of Rembrandt' and 'Rembrandt the storyteller'.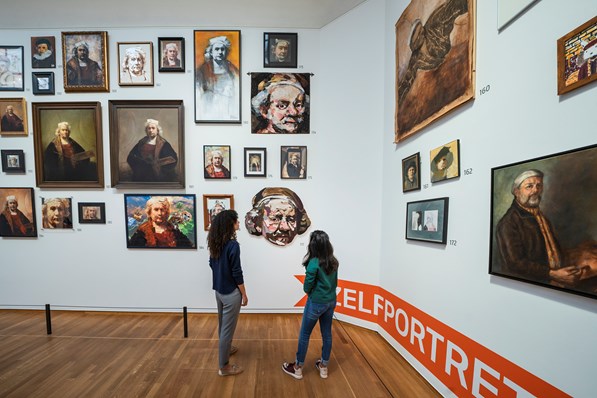 Long Live Rembrandt. Photo: Olivier Middendorp
Pieter Roelofs, chair of the panel of judges and head of painting and sculpture at the Rijksmuseum: The infectious creativity of the artists and the sheer variety of submissions has made the selection and curation of this exhibition an absolute joy. In Long Live Rembrandt we see the master through the eyes of the artists. This exhibition is not just about Rembrandt, it's about us all.
693 artists, 693 stories
Many of the artists whose work has been selected for Long Live Rembrandt drew inspiration from Rembrandt in their self-portraits or portraits of a partner, child, father, mother, friend or themself, while others based their work on an existing painting or famous print by Rembrandt – 132 of them made their own copy of a Rembrandt self-portrait. In the exhibition they will be hung chronologically, from a young ceramic Rembrandt to a wooden copy of his final self-portrait.
The Night Watch is Rembrandt's definitive masterpiece, and one of the most famous works of art in the world. This huge painting was naturally the inspiration for a large number of artists submitting work for Long Live Rembrandt, and the 96 versions of the The Night Watch included in the exhibition testify to the great creativity of the artists.