Image courtesy for MoMA
This October, a new MoMA is opening. Stunning new galleries and spaces for performance and events will transform the Museum. Along with these physical changes, they'll be showing their collection in new and unprecedented ways to bring more voices and perspectives to their galleries.
In fifth-, fourth-, and second-floor galleries, including the new David Geffen Wing, visitors will l be able to explore the many stories and perspectives that only MoMA's collection can offer. Contemporary art will join early masterpieces, and we'll mix mediums—from painting to performance—and ideas. The museum will highlight work by artists from more diverse backgrounds and geographies than ever before, and they'll change their galleries seasonally so visitors always find the most resonant and innovative art.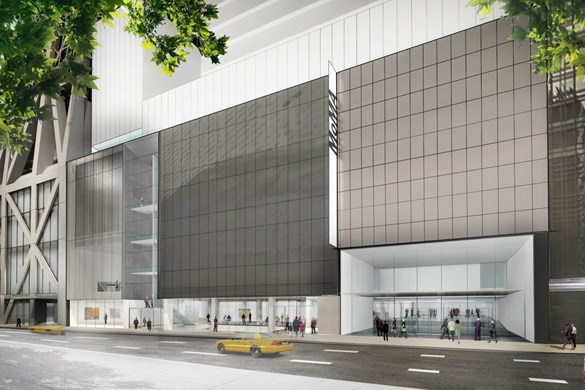 Image courtesy for MoMA
A new approach in exhibitions will be possible to see, from a celebration of modern Latin American art in Sur moderno: Journeys of Abstraction—The Patricia Phelps de Cisneros Gift to watershed installations by living artists from the past twenty years in Surrounds to explorations of artists Donald Judd, Dorothea Lange, Pope.L, and Betye Saar.
The state-of-the-art Marie-Josée and Henry Kravis Studio will be the world's first dedicated space for performance, process, and time-based art to be centrally integrated within the galleries of a major museum. Here, performance, dance, music, and sound works will connect to the stories of modern and contemporary art in the surrounding collection galleries.
The Kravis Studio will open with the immersive sound installation Rainforest V (Variation 1) and performance Forest Speech by electronic music pioneer David Tudor and Composers Inside Electronics. New commissions and new program series will feature established and emerging voices, introduce young boundary-breaking artists, and explore new possibilities for sound and music. A residency—starting with Brooklyn-based choreographer, performer, and writer Okwui Okpokwasili—will support artists' experimentation and research and let visitors experience works in process.