Athens, 2018: On January 9, ArtDependence had warned (here) of the very sad and perilous momentum building up in the capital of Greece, Athens, and its beautiful Riviera. It warned of a risk posed to art, reason, openness, freedom of expression, tolerance and acceptance.
The target of a group of radicals has been for the past couple of months, an imposing Public Monument, Phylax, a beautiful red sculpture by leading international artist Kostis Georgiou.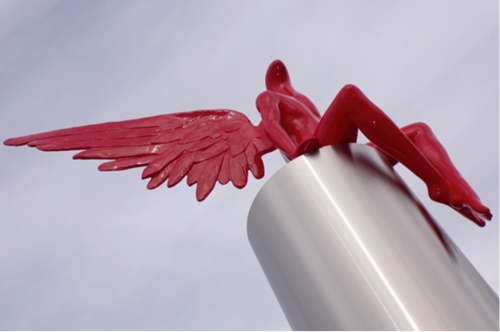 Phylax Standing Tall and Strong at Palio Faliron, Athens. Photo Credit: Kostis Georgiou
The monument which was installed last month, was a donation by the artist and the Martinos family, a prominent shipping household that strongly supports Hellenic art. The attack started off as a farce, but last week culminated into a sad drama. One that had started with various demonstrations of ignorance and stupidity that included spitting, gesturing indecently at the monument in chorus, with shouts and coordinated cursing, with the more audacious filming and uploading such 'feats'. A series of rational voices from the Hellenic expert community, including art writers and art historians; but also, leading opinion makers and policy-makers; the mayor whose municipality hosts the work; as well as other prominent artists such as Kostas Varotsos[i] joint forces to protect the work.
In spite of these efforts, however, the demonstrators were emboldened in a series of 'marches against the sculpture'. In one of these, around a hundred people marched for hundreds of meters to make a statement.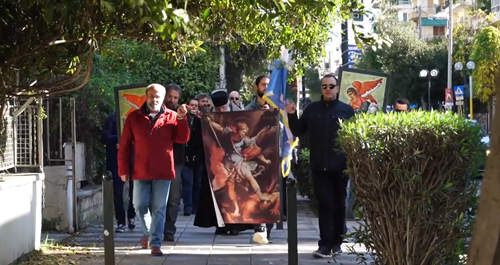 St. George on the March. Photo Credit: iefimerida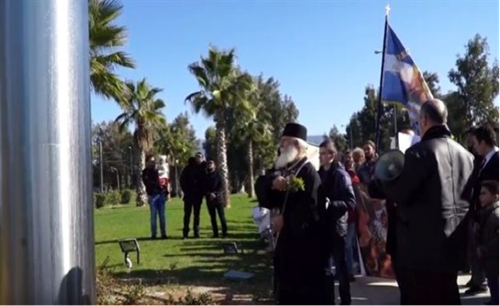 The scene of the demonstrations. Photo Credit: To Vima
The whole march effect, with its ceremonial dimensions, and so forth, pumped the most radical amongst them, who took further action… A few nights ago, Phylax fell, or better, according to eyewitnesses, the mayor, the artist, and most mainstream media sources, a group dressed in dark outfits, tied the sculpture with ropes and brought it down.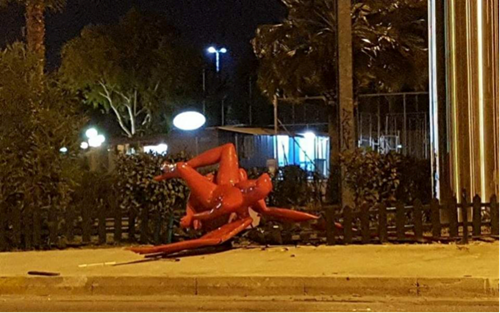 The Collapse. Photo Credit: Kathimerini.gr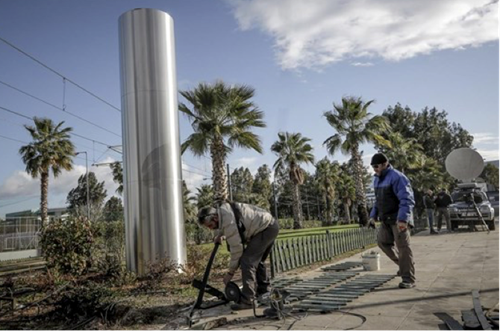 The Chance to Rebuild, Restore & Protect. Photo Credit: Naftemporiki.gr
ArtDependence spoke anew with Mr. Georgiou, the artist that has endured patiently all this sadness to protect his labors, his generous donation made possible through the support of a true patron of the fine arts.
Georgiou was stunned, angered, embittered. Betrayal, abandonment, injustice, disappointment – only some of the very legitimate emotions and phases through which Mr. Georgiou, and also all those supporting his work, are going through. His first reaction was to deny calls to repair the sculpture and prepare it for re-installation. He stressed that he is not planning at all to let his work be acted upon any longer. Through a series of interventions by friends and colleagues, but also people who are finally waking up in the face of this horrific ordeal, Georgiou is reconsidering, seeking sponsors to share the repair costs.
Hopefully, there can be a happy ending to this sad story, and that Athens will once again taste the fruits of enlightenment. Public art can be influenced through healthy collective processes and through positive action.
[i] Varotsos has installed some of the most symbolic public monuments of Athens, many of which also faced strong reactions. He came to the defense of the artwork, and of the need to protect and respect public art.