Following the explosion of 4 August and the damage it caused to museums, libraries, monuments and historic houses in central Beirut, the ALIPH Foundation Board decided to allocate an initial envelope of 5 million dollars to finance emergency measures to stabilize, protect, or rehabilitate thecity's cultural heritage.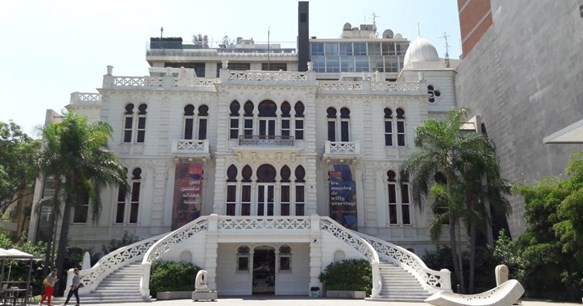 Image courtesy to ALIPH Foundation
The first studies carried out by the Directorate General of Antiquities of Lebanon (DGA), in association with several international institutions (UNESCO, ICCROM, ICOM, ICOMOS, IFLA, the Blue Shield, the French Institute of the Near East, etc.), found that nearly 650 houses or buildings listed as cultural heritage were damaged by the explosion, particularly in the Gemmayzeh district, founded in the mid-19th century. Several museums were also damaged, including the National Museum, which houses archaeological collections, and the Sursock Museum, devoted to modern and contemporary art, as well as libraries, monuments, and religious buildings.
After contributing to the mobilization of the international heritage community by initiating the "Statement of solidarity with Lebanon and support to recover the damaged cultural heritage in Beirut", signed by nearly 30 major cultural institutions, ALIPH is now providing concrete assistance by financing measures to stabilize, protect or rehabilitate damaged cultural heritage. Among the first projects financed are the protection and restoration work at the National Museum of Lebanon in Beirut, in partnership with the Louvre Museum and the Directorate General of Antiquities of Lebanon, and emergency relief for some twenty cultural heritage entities (museums, libraries, etc.), in cooperation with the Prince Claus Fund and the Lebanese Committee of the Blue Shield. ALIPH will extend its action in the coming days, in particular to contribute to the stabilization of historic houses and the rehabilitation of other museums and cultural establishments. In this respect, ALIPH is working closely with all actors, notably the International Council of Museums (ICOM).
"ALIPH's objective is to finance as quickly as possible concrete and operational measures to protect andrestore damaged heritage, especially to avoid further weakening by the next rainy season," said Valéry Freland, ALIPH's Executive Director. "Beyond these emergency measures, we must also work with the international community and the Lebanese people on the sustainable rehabilitation of entire neighborhoods:this will require more time and resources."