THE ETERNAL NETWORK 
there is always somebody asleep and someone awake
someone dreaming asleep someone dreaming awake
someone eating someone hungry
someone fighting someone loving
someone making money someone broke
someone traveling someone staying put
someone helping someone hindering
someone enjoying someone suffering
someone indifferent
someone starting someone stopping
THE NETWORK IS EVERLASTING
Poem by Robert Filliou & Georges Brecht, 1967 
The exhibition Always Someone Asleep and Someone Awake is an homage to the Eternal Network of Robert Filliou and George Brecht, a festival without beginning or end, undergoing constant renewal. The show is also a dedicated exploration of the theme of celebration in all its varieties - predictable, unexpected, well-planned, spontaneous. Curated by Arlène Berceliot Courtin at Galerie des Galeries in Paris, the show considers the codes and languages of parties, events and festivities for present and future occasions. How do we best celebrate the special days in our lives? How do we mark perpetual occurrences? How do we define the right celebration for a given event? Courtin's answer takes the comprehensive form of works by eight international artists: Anne Collier, Ceal Floyer, Liam Gillick and Gabriel Kuri, Robert Heinecken, Amy O'Neill, Pierre Paulin and Bruno Serralongue. Galerie des Galeries will host this exhibition through February 25, 2018.
AD: What inspired you to design an exhibition around the theme of celebration?
Arlène Berceliot Courtin: The exhibition refers to Robert Filliou and George Brecht's idea of celebration as an endless "eternal network," in which there is always someone asleep and someone awake, a continuous wakefulness. The show was also planned during the holiday season, a notorious time of celebration and parties that makes it especially relevant. 
AD: How did you select these artists to represent different perspectives on the theme?  
ABC: It is a very open, dialogical point of view so it was imperative to include artists with different origins, arts immersions and generational perspectives. Their distinct ideas make for a more diverse, encompassing conversation and exhibition.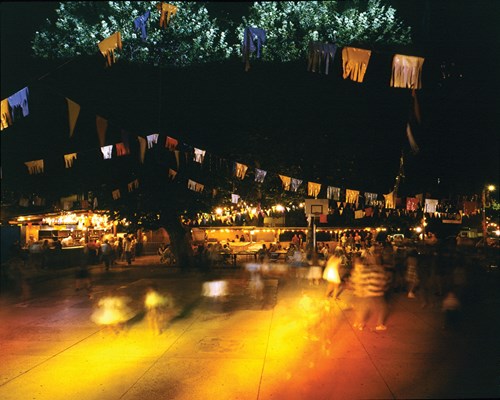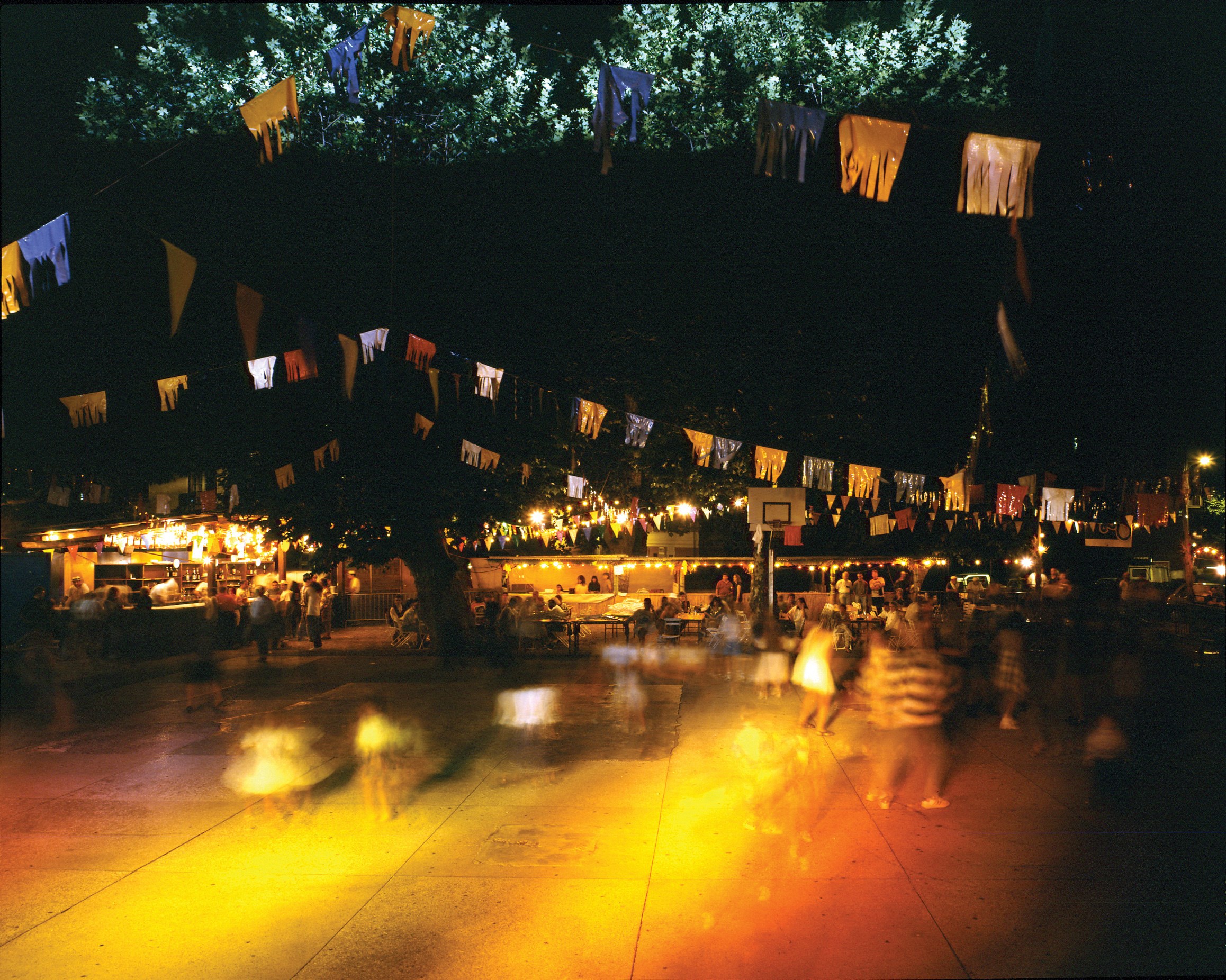 Bruno Serralongue, Bal de Bacchus, 29 juillet 1994, 1994. Courtesy de l'artiste et Air de Paris, Paris © Bruno Serralongue
 In his works, Bruno Serralongue explores the role of the photographer and his position vis-à-vis the subject. The series Les Fêtes incorporates all kinds of festivities that were attempts to divert tourists' attention away from the Mediterranean beaches.
Liam Gillick et Gabriel Kuri, Every Holiday/La fête au quotidien, 1996-2017. Vue de l'exposition "From 199C to 199D" au MAGASIN, Grenoble, 2014. Courtesy de l'artiste et Air de Paris, Paris. © Blaise Adilon
For nearly thirty years, Liam Gillick has been developing and conceptualizing multiple forms aimed at exposing the new systems of ideological control. He is internationally recognized for the post-conceptual vocabulary he uses in his sculptures and installations concerning language.
Gabriel Kuri's oeuvre encompasses various media, including sculpture, collage and installations using collected materials and manufactured objects. These decontextualized elements from everyday life function as signs of the times or of energy, presenting a certain aestheticized banality, and the artist gives us a poetic, almost brutal conceptual experience.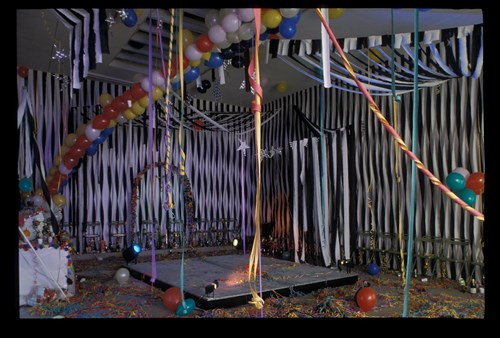 Amy O'Neill, Post-Prom, 1999-2017. Collection Le Consortium, Vue de l'exposition Le Frac s'invite au Consortium, 2012, Le Consortium - Dijon © André Morin pour Le Consortium
Amy O'Neill's works are predominantly a staging of situations that have already existed and they revisit memories, adding irony and disenchantment in the context of a myth-laden American society. Post-Prom is an "all-over" installation in which rainbow-colored balloons and other decorations were used in a reconstruction of the prom from the movie, Carrie.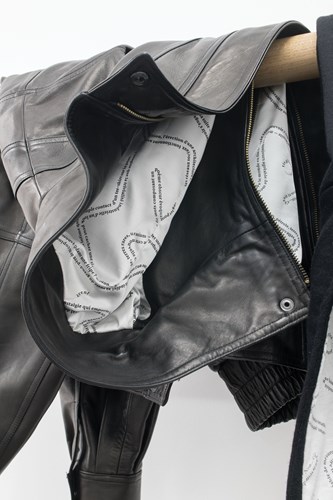 Pierre Paulin, Ils glissèrent dans l'obsurité (détail). Vue de l'exposition Boom boom, run run, Frac Île-de-France, Le Plateau, Paris, 2017 © Martin Argyroglo
In the words of Pierre Paulin: "An item of clothing is a paradox, it protects us and at the same time it represents us. Our «look» corresponds to the way we put the «basics» together, i.e. items of clothing that represent cultural standards, in the same way as our relation to language does. A «look» is a form of poetry, it is a chance to reorganize oneself using mass-produced clothes." This new work by Pierre Paulin is a portrait in the form of a reproduction of his friend Philippe Decrauzat's jacket. The half-hidden lining bears the transcript of an all-night conversation between the two artists.
AD: How did organizing a broad range of artists affect the audience's connection to the show?
ABC: I tried to create a full experience, to mimic all the dimensions of a celebration. The gallery offers a large, open space for the works to fill, for the audience to see and feel for themselves. On the reception night, the front and back of the gallery were opened to allow guests to come in and out freely, a physical metaphor for the endlessness of the Eternal Network. Each artist and their work offer an aspect that helps fill the whole, providing enough information to evoke a general audience reaction, but still enough space to allow a meaningful, personal connection, as in a film or a movie. 
AD: What dictates the codes of how we celebrate-that we are celebrating or those who are celebrating?
ABC: The celebration takes shape because of everything needed for party to happen. The feeling of the event is another quality - it is most influenced by who is, or is not, celebrating and how the celebration signifies for them.
Robert Heinecken, Lessons in Posing Subjects/differentiation by Facial Characterisitics, 1981
Courtesy de l'artiste et Galerie Petzel, New York.  
Robert Heinecken was one of the most influential American photographers of the post-war period, he described himself as a "para-photographer." Lessons in Posing Subjects analyzes the unconscious codifications and messages contained in our gestures and body language in front of a camera, becoming media and behavioral witnesses of an era.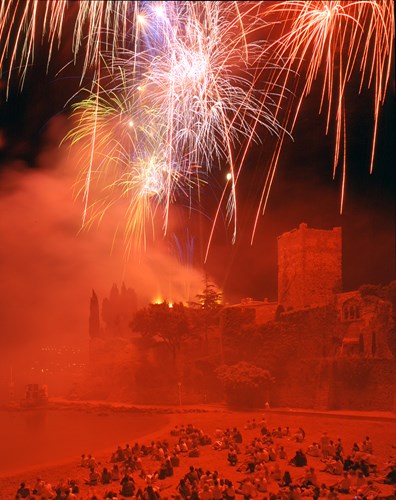 Bruno Serralongue, Feu d'artifice pyromélodique (rouge), 16 août 1994, 1994. © Bruno Serralongue, Courtesy Air de Paris, Paris
Bruno Serralongue tends to favor series, and his practice involves all aspects of image production, from manufacture to distribution. His work is therefore as much an investigation of a political moment as a study of its representation. Similarly, his procedures are those of a kind of conceptual photography that seeks to reveal the complexity of reality, rather than attempt to exhaust its forms.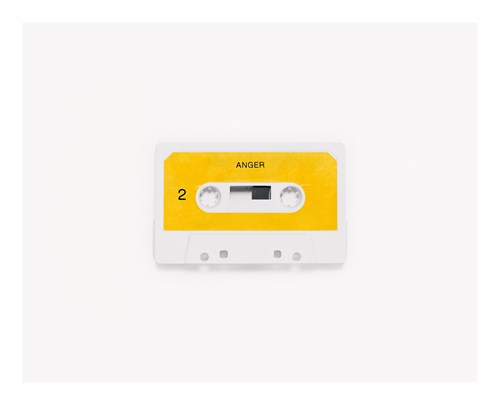 Anne Collier, Anger, 2014. Courtesy de l'artiste et Anton Kern Gallery, New York, Galerie Neu, Berlin, The Modern Institute/Toby Webster Ltd., Glasgow et la Marc Foxx Gallery, Los Angeles © Anne Collier
Anne Collier photographs found objects in her studio to neutralize their origin. These found images seem to lose their reality and float over the monochromatic support where they take on a new personal and collective significance. The word "Anger" invites us to question the connections between the various protagonists at a celebration.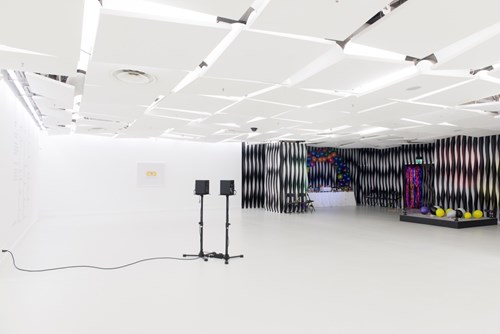 Vue de l'exposition « Always Someone Asleep and Someone Awake » 2017, Galerie des Galeries, Galeries Lafayette Haussmann © Hélène Mauri
By appropriating intrinsically banal objects and social codes, Ceal Floyer involves us in a reinterpretation of the ready-made and also of the precepts of conceptual art. His installation Mutual Admiration, is an endless loop of applause emitted by face-to-face loudspeakers, the speakers give the impression of being the actual authors of the ovation.
AD: Why is there always "Someone asleep and someone awake/Someone dreaming asleep someone dreaming awake"? Is it the division of experience and our response that means we will all experience celebration differently?
ABC: The feeling of the celebration is like the show itself, no two people will experience it the exact same way. The exhibition sheds light on our collective imagery, enabling a reinterpretation or recreation of it between deep delight and duller tomorrow.
AD: Looking at these works as a collective, what would you like the audience to take away from the exhibition?
ABC: The overall feeling of an infinite party is what the exhibit evokes through various senses and levels of engagement. Through their experience, the audience is able to develop their own relationships with the works and the notion of celebration overall.