American artist Eric Fischl is giving away free posters depicting President Trump as a clown as a new exhibition of his work opens at Skarstedt gallery in London this Thursday, 1 March 2018.
The poster, which will be available for the duration of Presence of an Absence (1 March - 26 May 2018), is based on a series of iPad "paintings" of President Trump and his cabinet that the artist has been posting on social media since the 2016 presidential election.
The image is also incorporated into one of the paintings that will be on display in the exhibition, as a poster in a child's bedroom. The painting, entitled Worry, 2017, is part of a new body of figurative work that engages with a sense of individual anxiety, loss and detachment in today's society where political turmoil and other external factors exert tremendous pressure on our inner world.
Speaking about the poster and his new body of work, Fischl said: 
"Clowns are sinister and anarchistic. They represent chaos and disharmony… As an artist I want to find ways to get past the rhetoric and the divisions that are tearing us apart and through the quiet looking at art, create a space for contemplating what we all share."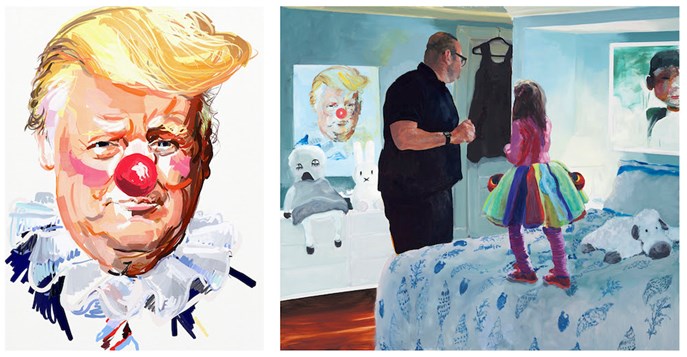 From left to right: © Eric Fischl | Eric Fischl Worry, 2017. © Eric Fischl. All images are courtesy of Skarstedt.
One of America's leading artists, Fischl is known for his groundbreaking figurative paintings depicting freeze-frame moments that expose the depth and complexity of human relationships and capture the universal conditions of our lives. His London exhibition follows the acclaimed show Late America at Skarstedt New York last year, realised at a time of political turmoil, of a society whose misplaced values gives rise to a lack of fulfilment.
Presence of an Absence at Skarstedt London will coincide with Running Wild: 80s Painting in America at The Arts Club London, in which a selection of seminal early paintings by Fischl are shown alongside other key American masters in the re-establishment of painting in the 1980s, united in their criticism of the socio-political climate at the time.