Image: Amir H. Fallah in his studio. Portrait by Shayan Asgharnia.
Amir H. Fallah was selected as the Marciano Art Foundation Artadia awardee and will receive $25,000 in unrestricted funds.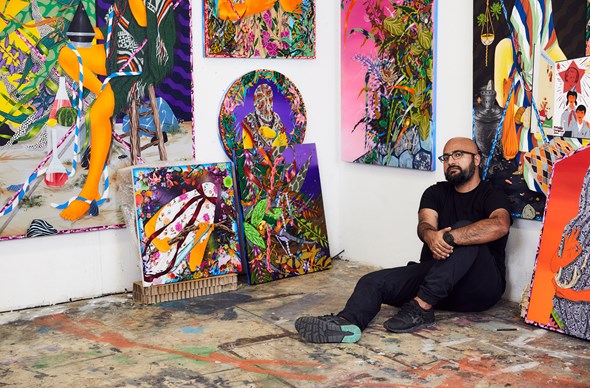 Amir H. Fallah in his studio. Portrait by Shayan Asgharnia.
In the first round of jurying, Cole Akers, Curator and Special Projects Manager, The Glass House, New Canaan; Jova Lynne, Curator, the MoCAD, Detroit; and Anuradha Vikram, Independent Curator and writer based in Los Angeles, selected six finalists. Assistant Curator, Modern Art at LACMA, joined Anuradha Vikram for the second round of evaluations. The jurors conducted studio visits with each of the six finalists to determine the awardees.
Of the awardees, Katia noted: "While Amir H. Fallah's, Beatriz Cortez's, and Suné Woods's practices are notably distinct, they all engage non-linear temporalities and the multivalent nature of identity in thoughtful and poignant ways. In his exuberant paintings and installation environments, Fallah deftly draws from sources as varied as Persian miniatures, children's books, and modernist abstraction to present hybrid worlds and layered narratives that unfold over time."
Anuradha expressed, "Amir H. Fallah is a painter who has reconciled pictorial narrative with the formal mandates of abstraction to make fascinating and rich images that reward repeated looking."
Artadia is a national non-profit organization that supports artists with unrestricted awards followed by a lifetime of program opportunities. Artadia is unique in that it allows any artist to apply, engages nationally recognized artists and curators to review work, and culminates in direct grants. Since 1999, Artadia has awarded over $5 million to more than 338 artists in Atlanta, Chicago, Houston, Los Angeles, New York, and San Francisco.