Image: Paul Signac, 1863 - 1935, Antibes. Soir
"The anarchist painter is not the one who will create anarchist pictures, but the one who will fight with all his individuality against official conventions." - Paul Signac
Paul Signac was born into a prosperous Parisian family. He grew up in Montmartre, surrounded by young and radical artists, attending some of the early Impressionist exhibitions and pining after an Alfred Sisley landscape hanging in a shop window. "But it was a visit," as Marina Ferretti Bocquillon relates, "to an exhibition of Claude Monet's works in June 1880 that unveiled his calling as a painter. 'What was it that made me start painting? It was Monet or perhaps seeing reproductions of paintings in La Vie moderne. The thing that attracted me to this artist was the revolutionary nature of his work'" (Signac, Reflections on Water (exhibition catalogue), Fondation de l'Hermitage, Lausanne & Museo d'arte della Svizzera Italiana, Lugano, 2016-17, p. 11). Several years after Monet's 1880 exhibition, Monet would travel to the south of France and depict Antibes from numerous perspectives including Antibes le matin, where a graceful tree at right frames the water and town in the distance (see fig. 1).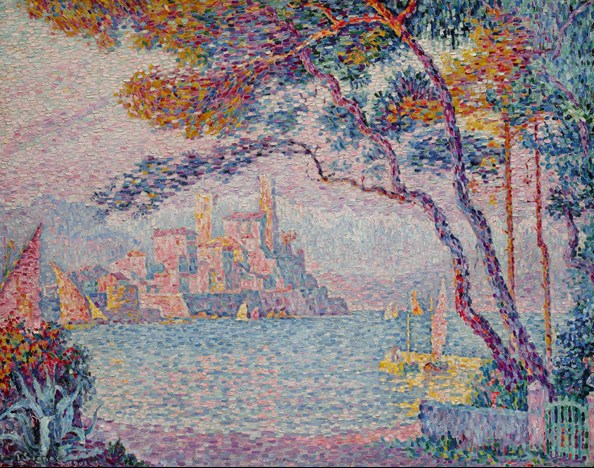 Paul Signac, 1863 - 1935, Antibes. Soir
In the mid-1880s, Signac struck up a firm friendship with Georges Seurat, whose deep interest in optics and color theory mirrored his own. Their application of these principles was in full view at the eighth Impressionist exhibition in 1886 where Seurat's A Sunday on La Grande Jatte was displayed alongside works by Signac, Camille Pissarro and his son Lucien. Seurat and Signac had diametrically opposite personalities, but their investment in this new way of painting and their abiding friendship propelled them onward in a style dubbed "Neo-Impressionsim" by the critic Felix Fénéon. Seurat's unexpected death in 1891 created a sharp break with the progress of this movement. A little over a year later Signac boarded his boat the Olympia and sailed to Saint-Tropez. There in the bright light of southern France he felt reawakened and again entered a period of artistic productivity. The coming decade would see him firmly established within Europe as an artist of renown and importance.
Writing of this crucial period in Signac's life, Marina Ferretti Bocquillon summarizes the key points of this period: "In 1894 Signac began writing a treatise, D'Eugène Delacroix au néo-impressionnisme, a work of art theory explaining the fundamentals of the neo-impressionist technique couched in a historical perspective. Published in a single volume in 1899, it was translated in German in 1903 and new editions were regularly issued. In 1911 Guillaume Apollinaire commented: 'Mr Signac's small book marks an important date in the history of contemporary art.'… In 1905 he organized retrospectives on Seurat and van Gogh…. The first solo Signac exhibition took place at Bing gallery in 1902, the Druet gallery in 1904 [where the present work was exhibited] and the Bernheim-Jeune gallery in 1907…. His influence extended into Germany. He stood as one of the fathers of modernity at the Sonderbund exhibition in Cologne in 1912, alongside van Gogh, Munch, Cézanne and Gauguin" (ibid., p. 22).
As Signac's influence on other artists increased, a growing number of painters flocked to Saint-Tropez. Theo van Rysselberghe and Henri Edmond Cross would come and, by the early twentieth century the future Fauves including Matisse, Braque and Derain were fully ensconced. From Signac they found bright, hot color, and retained elements of the divisionist principles as their canvases exploded with brilliant hues and large, confident brush strokes (see fig. 2).
Antibes. Soir is one of only two large scale paintings which were executed on Signac's first painting campaign there in 1903 and is prominently placed in a rare studio photograph taken that same year (see fig. 3). Situated to the east of Saint-Tropez, on a promontory between Cagnes and Nice, Antibes saw renewed popularity at the end of the nineteenth century. Of particular appeal to artists because of the climate and light, Signac would move his residence from Saint-Tropez to Antibes in 1913 some ten years after the present work was painted. After 1913 the subject of Antibes and its surroundings dominated Signac's artistic output, much as Saint-Tropez had in the previous decades. 
Paul Signac's outstanding contribution to modern art is exemplified by Antibes. Soir. The masterful composition depicts not only the lushly beautiful landscape of the south of France but also the transformations brought by Signac's aesthetic. In his theoretical writings he openly declared his belief in the revelatory purposes of his aesthetic: "And if there has not yet appeared among them the artist who, by his genius, will be able to exploit [the Neo-Impressionists'] technique to the full, they will at least have helped to simplify his task. This triumphant colorist has only to show himself: his palette has been prepared for him" (quoted in F. Ratliff, Paul Signac and Color in Neo-Impressionism, New York, 1996, p. 285). 
Impressionist and Modern Art Evening Sale
Sotheby's, 14 May, 2019
Lot 7
Paul Signac
1863 - 1935
ANTIBES. SOIR
Estimate: USD 4,000,000 - USD 6,000,000
Signed P. Signac and dated 1903 (lower left)
Oil on canvas
28 5/8 by 36 1/8 in.
72.8 by 92 cm
Painted in 1903.