Image: Image courtesy for Art Basel 
Art  Basel announced the list of 242 leading international galleries selected for its 2020 Hong Kong show. With half of the participating galleries having exhibition spaces in Asia and the Asia Pacific, Art Basel Hong Kong continues its commitment to showcasing exceptional art from the region, providing an in-depth overview of its diverse art scenes.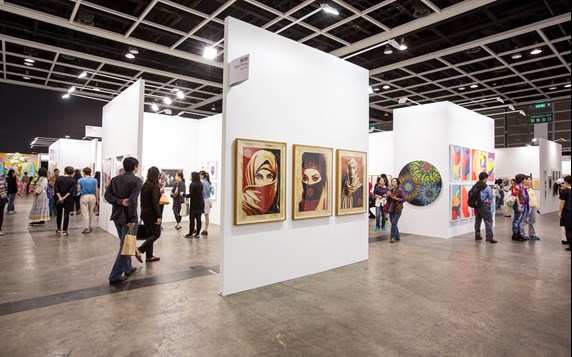 Image courtesy for Art Basel 
Alongside a robust roster of returning galleries from across Asia and the Asia Pacific region, Bangkok CityCity Gallery from Bangkok; Fine Arts, Sydney from Sydney; Green Art Gallery from Dubai; and P21 from Seoul will show with the Hong Kong fair for the first time, while Gallery Espace from New Delhi, Mind Set Art Center from Taipei, and Star Gallery from Beijing are graduating into the main sector of the fair. Once again, Hong Kong SAR will be strongly represented at the fair, with 11 home-grown galleries showing across the different sectors of the fair, including 10 Chancery Lane Gallery, Alisan Fine Arts, Blindspot Gallery, Galerie du Monde, Empty Gallery, Gallery Exit, Grotto Fine Art, Hanart TZ Gallery, Edouard Malingue Gallery, Anna Ning Fine Art, and Galerie Ora-Ora. In addition, Axel Vervoordt Gallery, which has exhibition spaces in Antwerp and Hong Kong, makes its debut at the show.
Some of the most prominent galleries from across Europe and the United States will also join the upcoming Hong Kong show as first-time exhibitors, including Konrad Fischer Galerie with spaces in Düsseldorf and Berlin, David Lewis from New York, Jessica Silverman Gallery from San Francisco, Park View / Paul Soto from Los Angeles, Southard Reid from London, and Galerie Gregor Staiger from Zurich. Furthermore, Galerie Peter Kilchmann from Zurich, Marlborough with spaces in London and New York, Mayoral from Barcelona, as well as Galerie Eva Presenhuber with spaces in Zurich and New York will return after a hiatus, while Clearing with spaces in Brussels and New York, Ghebaly Gallery from Los Angeles, and Société from Berlin will join the main sector of the fair after having shown in the fair's Discoveries sector in previous years.
On the occasion of its 50th anniversary in 2020, Art Basel will stage an ambitious art project, with distinct facets unfolding at all three fairs – beginning in Hong Kong next March, continuing in Basel in June, and concluding in Miami Beach in December 2020. The international project will be organized by an intergenerational curatorial team with different cultural backgrounds and perspectives, under the artistic direction of renowned Berlin-based
curator Kasper König. The Hong Kong iteration will be curated by Christina Li, curator of Hong Kong's presentation at the 58th Venice Biennale 2019. Further details on the project and the participating artists will be announced in the coming months. For additional information, please visit artbasel.com/50-years.
Galleries
The main sector of the show features 196 of the world's leading galleries presenting the highest quality of painting, sculpture, drawings, installation, photography, video and digital works. As first introduced at its Basel and Miami Beach shows this year, Art Basel will implement a sliding-scale pricing model at the Hong Kong show in 2020, designed to benefit galleries with smaller stands.
The sector will welcome a number of galleries that previously have exhibited in Discoveries, such as Clearing from New York and Brussels, Ghebaly Gallery from Los Angeles, and Société from Berlin. Gallery Espace from New Delhi, Mind Set Art Center from Taipei, and Star Gallery from Beijing will join the Galleries sector for the first time after having participated in the Insights sector. For the full gallery list for Galleries, please visit artbasel.com/hongkong/galleries.
Insights
The Insights sector will feature 21 presentations, showcasing exceptional historical material and strong thematic exhibitions by artists from Asia and the Asia Pacific. Highlights include Shanghai-based gallery Bank's presentation paying tribute to the modern fiber art tradition in China, showcasing work by Shi Hui in dialogue with work by her teacher Maryn Varbanov; Jan Murphy Gallery's presentation of work by two Tjala artists and leaders in the Western Desert painting movement, Sylvia Ken and Tjungkara Ken; Nova Contemporary's showcase of influential contemporary Thai artist Chatchai Puipia; and first-time participant Axel Vervoordt Gallery's solo booth with Korean artist Kimsooja. For the full gallery list for Insights, please visit artbasel.com/hongkong/insights.
Discoveries
Focusing on solo shows by emerging artists, Discoveries will feature 25 galleries in this year's edition. Highlights include: A+ Contemporary's presentation of new work by Taipei and Berlin-based artist Musquiqui Chihying titled 'Three Amazing Moments' (2019), featuring 3D-printed sculptures, video, and sound works; a new project by Hong Kong-based artist Leelee Chan titled 'Pallet in Repose (Resurfacer)' at Capsule Shanghai; Fine Arts, Sydney's presentation of new work by New Zealand-based, South Korean artist Yona Lee; a performance by the artist duo Felix Bernstein and Gabe Rubin at David Lewis; and British artistFlo Brooks's new installation of five paintings at Project Native Informant. For the full gallery list for Discoveries, please visit artbasel.com/hongkong/discoveries.
Further details on the project-based sectors such as Kabinett and Encounters, as well as the Film and Conversations programs will be available in the coming months. Art Basel will collaborate with Asia Art Archive to mark their 20th anniversary through a series of panels as part of the show's Conversations program curated by Stephanie Bailey.
Museums Shows and Institutions
Hong Kong's art scene continues to develop with new offerings, including the highly anticipated reopening of the Hong Kong Museum of Art (HKMoA), which is scheduled to open in the coming months after a three-year renovation and expansion project. HKMoA will be the latest space to join the diverse arts institutions in Hong Kong, which include the M+ Pavilion, Tai Kwun, Asia Society, CHAT (Centre for Heritage, Arts and Textile), and Para Site, who all play important roles in promoting contemporary art to the public. K11 Musea, a new cultural retail complex that opened in August, offers further opportunities for the public to experience art in the city.
As part of its long-term commitment to the local art scene, Art Basel will once again support the annual Hong Kong Art Week organized by the Hong Kong Art Gallery Association, taking place from November 21 to November 30, 2020. South Island Cultural District will once again hold a special Art Day during the Art Basel show in March.