Art Brussels has released dates and content of its 39th edition. With 152 participating galleries from 32 countries, the fair will feature works from established and emerging artists from around the world,providing a platform for collectors, curators, and art enthusiasts to discover - and rediscover - new and exciting artists. The fair's diverse, rich programme will bring together 800 artists, showcasing the best of the contemporary gallery scene and proving that Art Brussels remains as forward-looking and innovative as ever.

Art Brussels: One Fair, Four Different Sections
The participating galleries are divided into four different sections according to the artists exhibited: PRIME (for mid-career and established artists), DISCOVERY (emerging artists), REDISCOVERY (artists whose works from the 20th Century deserve to be placed in the spotlight again) and SOLO (solo artist presentations).

SOLO
The fair continues to show its dedication to curated displays by hosting a high number of SOLO presentations, with 29 galleries highlighting the work of individual artists.

The best SOLO presentation will be awarded the SOLO Prize, with the winning artist receiving €10,000.
 
Full list of SOLO projects: Angel Vergara Axel Vervoordt Gallery |Tessa Perutz Baronian | Korakrit Arunanondchai CLEARING | Marinella Senatore Ceysson & Bénétière | Regine Schumann Dep Art Gallery | Thilo Heinzmann dépendance | Marria Pratts Everyday Gallery | Noé Sendas Galeria Presença | Ryan Wilde Galerie Julien Cadet | Jérémie Cosimi Galerie Les Filles du Calvaire | WonderBuhle Galerie Ron Mandos | Dirk Van Saene Gallery Sofie Van de Velde & PLUS-ONE Gallery | Willehad Eilers Harlan Levey Projects | Catherine Repko Huxley-Parlour | Navid Nuur Jahn und Jahn | Léonard Pongo Kristof De Clercq gallery | Marcos Avila Forero LMNO | Gavin Turk MARUANI MERCIER | Thu Van Tran Meessen De Clercq | Giangiacomo Rossetti Mendes Wood DM | Ana Karkar Nosbaum Reding | Rodrigo Hernández P420 | Ria Verhaeghe Richard Saltoun Gallery | Aneta Kajzer Semiose | Kate Gottgens SMAC Gallery | Machteld Rullens Sorry We're Closed | Jonny Niesche The Hole | Jim Dine TEMPLON | Nathanaëlle Herbelin Xavier Hufkens.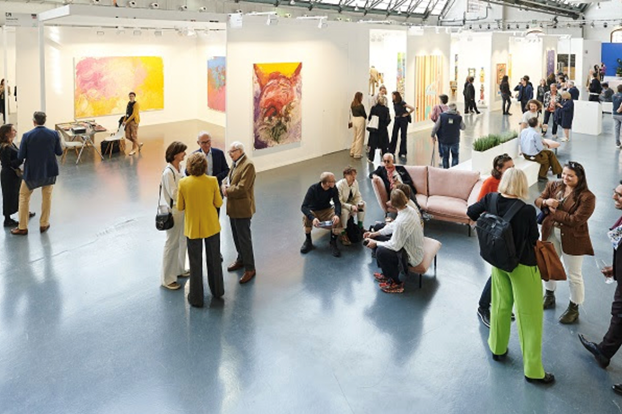 DISCOVERY: the best emerging talent
Committed to promoting the best young and emerging talent in the contemporary art world, the fair's dedicated DISCOVERY section showcases works that engage with key themes including gender, identity and climate change – with a large showing of sculptural works. Amongst the exhibiting artists are: Nils Alix-Tabeling and Nicola Martini with Clima Gallery (Milan) & Piktogram (Warsaw); Andreea Anghel and Gili Mocanu with SUPRAINFINIT (Bucharest); Olivia Bax and Stefano Perrone with RIBOT (Milan); Melanie Bonajo with AKINCI (Amsterdam); Flaviu Cacoveanu and Guillaume Valenti with Parliament (Paris); Daisy Collingridge and Angelina May Davis with Division of Labour / TJ Boulting (London); Socrates Fatouros with Eins (Limassol); Indriķis Ģelzis with ASHES/ASHES (New York); Ali Salazar with Ginsberg Galeria (Lima, Madrid); Selma Selman with KUK GALLERY (Cologne).
 
The best DISCOVERY presentation will be awarded with the DISCOVERY Prize, supported by Moleskine. A cheque of €5,000 will go to the winning gallery.
 
REDISCOVERY: a record number of presentations
An expanded REDISCOVERY section (12 galleries vs 7 in 2022) will enable visitors to uncover gems created between 1945-2000 by artists unduly underrepresented or overlooked from an older generation or who are no longer with us.

New for 2023, REDISCOVERY has a dedicated area at the fair and includes presentations of works by Vincentiu Grigorescu with 418 Gallery (Munich, Cetate); Chryssa & Sibylle Ruppert with Blue Velvet Projects (Zürich); Christian Herdeg with galerie lange + pult  (Zurich, Auvernier); Jules Olitski with QG Gallery (Knokke); Bob Bonies with Galerie Ramakers (The Hague); and TAPTA with Maurice Verbaet Gallery (Knokke).  
 
PRIME: artists exhibiting at museums and institutions
The fair will highlight artists who will be exhibiting concurrently at key institutions around the world including: David Claerbout at Taipei Fine Arts Museum (Taipei) and Adam Pendleton at Mumok (Viena) (Pedro Cera, Lisbon); Michel François (Xavier Hufkens, Brussels) at Bozar (Brussels); Vincentiu Grigorescu (418 Gallery, Munich, Cetate) at the Contemporary Art Museum Bucharest (MNAC); Rodrigo Hernández (P420, Bologna) at P/////AKT (Amsterdam); Eva Jospin (Galerie Suzanne Tarasieve, Paris) at Fondation Thalie (Brussels); Mehdi-Georges Lahlou (TRANSIT, Mechelen) at la CENTRALE (Brussels); Marina Pinsky (CLEARING, New York, Brussels, Los Angeles) at La Loge (Brussels); Umar Rashid (Almine Rech, Paris, Brussels, New York, London, Shanghai) at MoMA PS1 (New York); Giangiacomo Rossetti (Mendes Wood DM, São Paulo, Brussels, New York) at Power station (Dallas); Oscar Tuazon at Kunst Museum Winterthur and Haegue Yang at SMAK (Ghent) (dépendance, Brussels); Angel Vergara (Axel Vervoordt, Antwerp, Hong Kong) at MACs Grand-Hornu (Mons).
 
Around the fair: Mediterranean galleries
In 2023 the fair will welcome a record number of galleries from Southern Europe with 26 galleries (17% of all participants versus 14% in 2022) coming from the Mediterranean. Amongst them, 11 galleries from Italy (10 A.M. ART, Clima Gallery, Dep Art Gallery, Eduardo Secci, Il Ponte, Lia Rumma, Martina Simeti, MONITOR, P420, RIBOT, Thomas Brambilla); 8 galleries from Spain (1 MIRA MADRID, ADN Galeria, Galeria Alegria, Galeria Joan Prats, Ginsberg Galerie, House of Chappaz, Luis Adelantado Gallery, Noguerasblanchard), 6 from Portugal (Galeria Bruno Múrias, Galeria Filomena Soares, Galeria Foco, Galeria Presença, GALERIA VERA CORTÊS, Pedro Cera) and  1 from Cyprus (Eins Gallery) and 1 from Greece (Bernier/Eliades Gallery).  
 
Art Brussels 2023 selected galleries in numbers: 
152 galleries divided in 3 sections and 1 sub-section: 
34 in DISCOVERY
99 in PRIME
12 in REDISCOVERY
29 SOLO presentations
Of the 152 participating galleries,
26% are from Belgium
55% are from Europe (outside of Belgium)
19% are from the rest of the world (from these, 9% are from the USA and 4% are from Asia)