The 1970's art world showed the continued influence of movements from the 1960's such as Minimalism, Post-Minimalism and Performance Art. The mid-70's brought the return of painting as a serious medium for avant-garde artists. Feminist Art, Land Art and Photorealism also became increasingly prevalent during this era, largely due to evolutions in the broader social and political climates. 
Triptych, Francis Bacon, Painting, 1976.
Francis Bacon's 1976 painting Triptych sold for $86.3 million at Sotheby's in May 2008 to Russian businessman Roman Abramovich, defining the record for the highest price paid for a post-war work of art at auction. Triptych, 1976 is one of the most important works in Bacon's oeuvre and a landmark of the 20th century canon. Bacon draws on Ancient Greek mythology to express personal tragedy. In the central panel Bacon alludes to the legend of Prometheus, who as a punishment from Zeus is bound to a rock and devoured by an eagle. It is also modern-day interpretation of Aeschylus' famous trilogy, The Orestia. To avenge the death of his father at the hands of his mother, Orestes commits matricide and is plagued by the three Furies, the manifestation of guilt.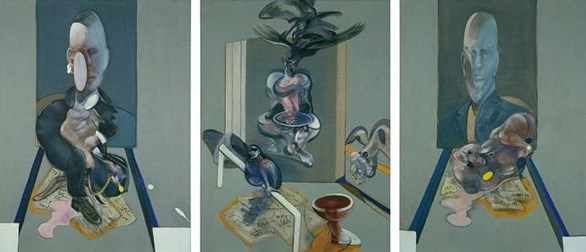 Triptych, Francis Bacon, Painting, 1976.