Image: Tyr Baudouin Lowet de Wotrenge
We are excited to announce that Tyr Baudouin Lowet de Wotrenge will be joining the ArtDependence editorial team this spring. Tyr is a 33 year old art dealer who owns his own gallery in Antwerp. The gallery is open by appointment only and once a year Tyr hosts an exhibition to highlight an aspect of his collection. His theme for 2020 is 'Masters of the Antwerp Baroque'. The exhibition will focus on the development of the baroque stule in Antwerp from the last decades of the 16thcentury to the end of the 18thcentury. It will include works in paper, paintings and sculptures. As we prepare to collaborate, we caught up with Tyr to find out more about his work.
Artdependence (AD): How did you develop an interest in old master paintings?

Tyr Baudouin Lowed de Wotrenge (TBLW): I grew up in a family where art played a very important role. My late grandfather, Frans Baudouin, was the director of the Rubens House and my parents were dealers in modern and contemporary art. So I got used to being surrounded by art from a very young age. I don't know for sure how my interest in the old masters was piqued; I guess it kind of crept up on me. The thrill of still being able to make discoveries - great or small - is something that is less present when dealing in more modern works, but with the old masters, every day could be the day you find that object that changes everything.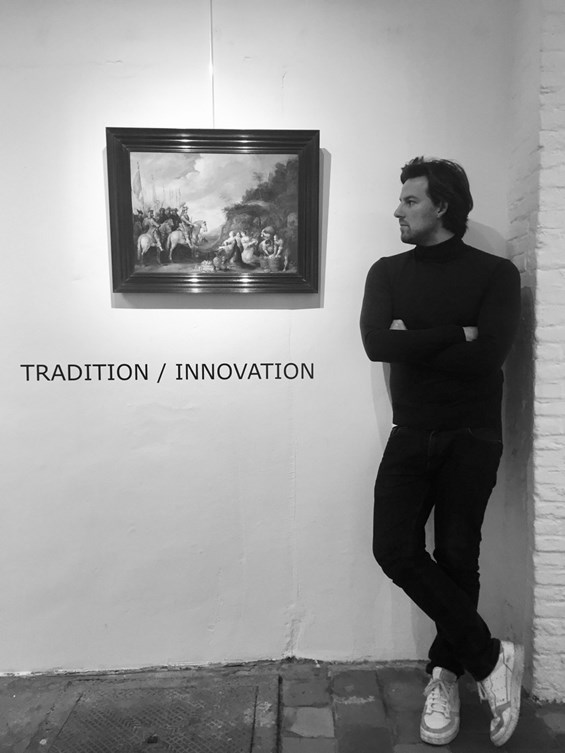 Image courtesy to Tyr Baudouin Lowet de Wotrenge

AD: When did you decide to open your own gallery?

TBLW: After majoring in history, I had actually planned on studying international politics and becoming a diplomat. Somehow, over the summer when I turned 22, I decided against that - I became determined to become an art dealer and spent the next two years taking art history classes, doing an internship at Christie's - then at the height of the financial crisis - and studying art management. I started dealing shortly thereafter, although I had to teach history for several years to be actually able to pay the bills!

AD: What surprised you about opening your own gallery?

TBLW: Art dealing is as much about finance and logistics as it is about the objects themselves. Cash flow is a constant issue, even with big galleries. There are always times when you have cash on hand and yet have nothing to buy, and vice versa. I came into the business when it was at the start of a paradigm shift, with the financial crisis driving a lot of clients out of the market (especially "middle-market" ones) and the internet was really starting to open things up - for better and for worse. Now dealers can buy everywhere - but so can their clients! As a consequence, I spend a lot of time deliberating on what to buy; auction prices are open to everyone, so you really need to prove to your clients that you are adding value. Today, a lot of people seem to think they will get better value for their money at auction, but in competing against each other there they would have often been better off buying with their local dealer. It's up to us to show them that.

AD: What fascinates you about art? What is it that draws you in?
TBLW: Art is many things to many people, but I do believe that through the art
we collect and admire, we are trying to say something about ourselves, to express the kind of person we are or aspire to be. Although it is, at first sight, a seemingly useless activity, mankind has always been creating and collecting art. I love how each artwork is a world on its own; each piece was created by someone, for someone, with some purpose or meaning. While we don't always know who that someone or that purpose was, it canbe immensely gratifying to speculate on these things. Especially as ahistorian, I therefore always aim to create context, and through thisstorytelling you can make old(er) art relevant again to a modern audience.

AD: Tell us a little about your current show 'Masters of the Antwerp Baroque'

TBLW: As a native inhabitant of Antwerp, a city that has for centuries been at the forefront of artistic production, I have always tried to 'repatriate' artworks that I felt belonged here. Nothing is moresatisfying than bringing an artwork home, so to speak. (It's ironichowever that most of the things I bring back subsequently tend to sellto collectors or museums in far-off lands.) With this show I wanted to show the emergence and development of the Antwerp baroque style idiom from the late 16th century to the middle of the 18th century. As I deal in works on paper and sculpture as well as in paintings, this proved a nice opportunity to showcase all the aspects of my collection. It'sgreat fun curating your own show, providing a visually attractive setting with a narrative that also teaches the visitor a thing or two.

AD: We're really excited that you will be joining the team of contributors at ArtDependence. What can we expect to see from you?

TBLW: A lot of coverage of the old master market, especially in the mainstream media, focuses on (high) prices and auction results. I would like to shed some light on lesser-known aspects of the market, as well as report on important museum acquisitions and discoveries.

AD: What interests you about the world of art at this moment in history?

TBLW: Although I have collected the odd piece of contemporary art, I have to say that much of what is being made today is beyond me - without even thinking about the prices some of these things go for. Today, speculation is rampant - even in the world of the old masters – and there seems to be so much money sloshing around in the system that sometimes absurd prices are being paid. Postmodernism seems to have led to an artistic free-for-all stylistically and iconographically, which defies categorization, so I find it hard to keep an overview, especially when going beyond the roster of 50-or-so blue-chip artists every self-respecting multimillionaire collector needs to check off.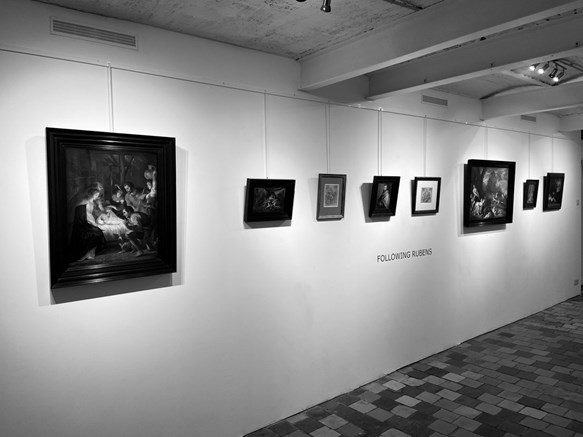 Image courtesy to Tyr Baudouin Lowet de Wotrenge
However, interesting things are being made and done, and there are gallerists who have an intellectual approach to what they show and why. It's a question of finding them!

AD: Who inspires you?

TBLW: Intellectually it would have to be my grandfather, who was a better and
more diligent scholar than I could ever hope to be; professionally, a few fellow art dealers (whose names I shall not mention here); personally, a number of people who I have been lucky enough to come in contact with through my activities as a dealer and who were kind enough to give me some of their time and who offered me advice that I still hold dear.
We look forward to welcoming Tyr Baudouin Lowet de Wotrenge to the team and to many future collaborative pieces.