Image: Maxim Ryckaerts ©Charlie de Keersmaecker
Maxim Ryckaerts graduated from LUCA with a Master of Arts in 2014. Since then, he's embarked on several project-based expositions, collaborations and site-specific installations. He worked as a production assistant for SMAK museum that did shows of Christoph Büchel, Michael E. Smith, Hiwa K. and Gerhard Richterand, curated two editions of Etcetera for SMAK with the Young Friends curators group. Maxim is also a writer and art director for This Surrounding Us All magazine and writes a weekly column for WeekUp magazine.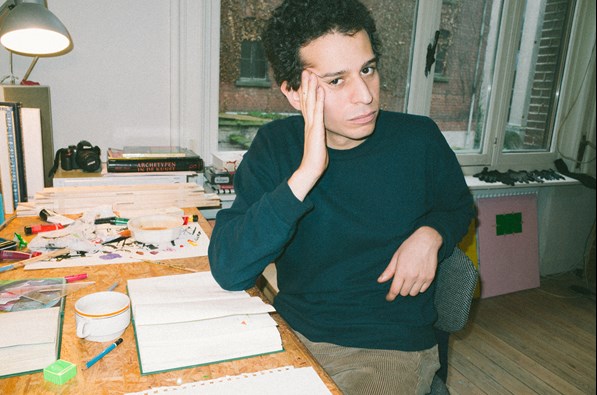 Maxim Ryckaerts ©Charlie de Keersmaecker
We caught up with Maxim to find out more about his artistic practice and the ways he works.
ArtDependence (AD): How do you source and create your works?
Maxim Ryckaerts (MR): I'm active as a writer and a visual artist. I walk repetitively through the city. As I walk, I stop to gather discarded materials. When I find striking or unintended traces of the life that has been lived there, I turn them into texts, drawings or paintings. In doing so, a never-ending accumulation of re-valued curiosities is formed.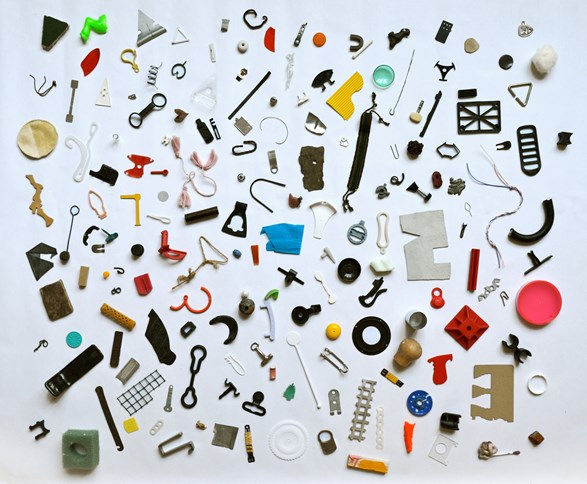 Maxim Ryckaerts, Objecten
I try to register anything that falls into my path as carefully as possible. I view walking as an exercise in looking.
AD: What themes are you exploring in your work?
MR: My work questions the volatile nature of the stuff we're surrounded with everyday. I try to tell an urban story in a wayward manner, with the recurring theme of the strange interaction between language and matter. I have an ongoing fascination with symbols, icons and puzzles.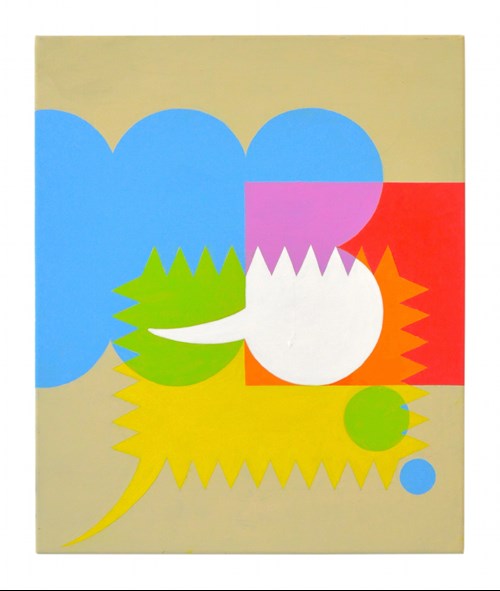 Maxim Ryckaerts, Courtesy, oil & acrylic on cotton, 50x60cm
Our world provides me with an infinite source of visual material. By adopting the role of the gatherer/ registrar, I try to research my position as an artist. Giving care and attention to things that would normally be regarded as waste is very important to me. I ask the question of how all of these things can be a manifestation of the world we live in and our bonds with the stuff that surrounds us. 
AD: What are you working on at the moment?
MR: At the moment, I'm looking into the world of curiosity cabinets and collections. I have an upcoming show called 'Objects vs Things' at Kunsthal Extra City.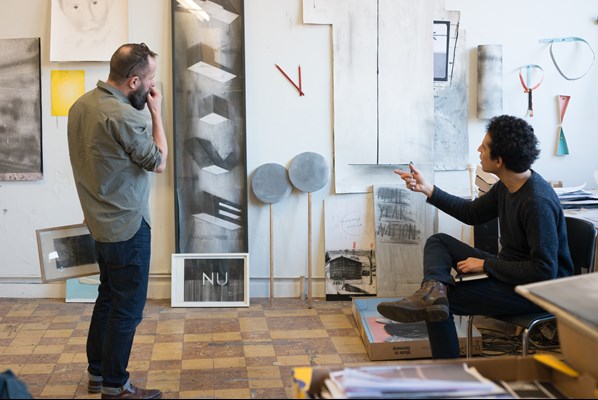 Maxim Ryckaerts ©Lola Pertsowsky
It will be the first proper presentation of my collections of found footage and objects.
AD: Who are you inspired by?
MR: I draw a lot of inspiration from the writings of Gaston Bachelard, Benjamin Verdonck, Koki Tanaka and Mark Dion amongst others.
.