Image: Ashvamedha by Aprita Singh (b. 1937)
Arpita Singh was born in Baranagar in West Bengal before the partition of India in 1947. She studied at the School of Art, Delhi Polytechnic, and after graduating, worked as a designer at the Weavers Service Centre in Calcutta and New Delhi. Over the years, Singh developed a highly distinctive visual language typified by a rich layering of color, strong brushwork and the employment of suggestive metaphors and motifs.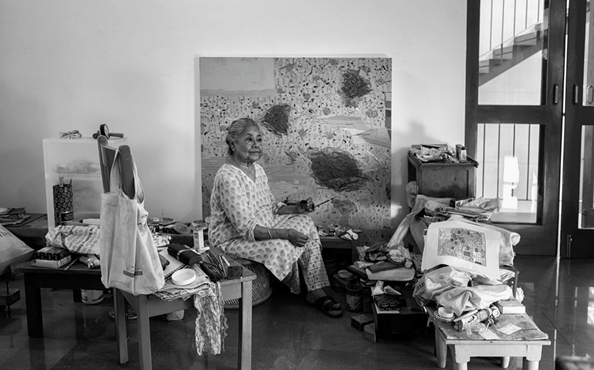 Arpita Singh photographed in her studio. Photo: © Rohit Chawla


Her experience as a weaver influenced the evolution of her artistic vocabulary as well as her creative process. In particular, many of her paintings utilize the principles and methods of Kantha, a Bengali embroidery and textile-based storytelling form practiced primarily by women weavers in rural areas. In the Kantha style, her paintings consume the entire canvas, depicting scenes from daily life, and her brush strokes resemble Kantha stitches on fabric. Western artists like Marc Chagall and Henri Rousseau have also been an influence. For instance, Singh's depiction of ungrounded figures in an abstract space are reminiscent of Chagall's floating figures.

Singh's figurative compositions often address challenging social and political subjects. They are a direct reflection of her life experiences as well as her thoughts and ideas on political issues like female identity, displacement and violence. "She absorbs the complexities of the world and represents them in her own distinctive way through the sensuous use of paint and brush, signalling joy, wonder, menace and melancholy in an intricate kaleidoscope of human emotions." (E. Dutta, Arpita Singh Picture Postcard 2003-2006, New Delhi, 2006, p. 1)

The present lot, a large triptych titled Ashvamedha, was an integral part of Singh's solo show 'Cobweb' at Vadehra Art Gallery, New Delhi in 2010. Here, the artist appropriates the ancient myth of Ashvamedha or 'horse sacrifice', a Vedic ritual in ancient India in which a stallion was selected and allowed to roam freely for a year under the protection of royal guards. If the horse entered a foreign country, its ruler had to either fight for the horse or surrender. If the horse was not captured during the year, it was brought back to the kingdom and then sacrificed in a public ceremony. By referring to this myth, the artist alludes, perhaps, to both childhood memories of communal violence and the particular violence perpetrated on women.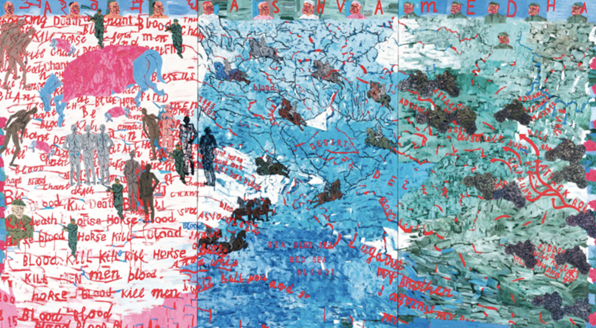 Ashvamedha by Aprita Singh (b. 1937)


Painted in tones of blue, pink and green, this work from 2008 appears like a Cartesian map of an unknown (and unknowable) geography. On the map are overt even playful motifs that reference death, migration and violence: men in military uniforms holding guns, naked, skeletal female figures, men riding horses as if on a battlefield and other aggressors on motorcycles. Singh also dots this painting with recurring letters and words in bold red that literally refer to the themes of death and migration. This repetition of images and words is a fundamental part of her artistic method and can be traced back to her entirely abstract phase in the 1970s. During this period, she created drawings using ink, charcoal, watercolor and pastel where she laboriously repeated basic marks like dots and lines on paper. When she moved back to painting, she often used repeated strokes to create backgrounds and repeated motifs in different positions. In Ashvamedha, repetition is a device used to indicate the urgency of her key themes and the looming menace of violence. The painting has a vibrant aesthetic but the profundity behind the narrative and its darker allusions is revealed on closer inspection.
South Asian Modern+Contemporary Art
Christie's, New York, 20 March 2010
Lot 480
ARPITA SINGH (B. 1937)
Ashvamedha

signed and dated 'ARPITA SINGH 2008' (center left), titled in Hindi and titled 'Ashvamedha' (upper edge); further signed and dated 'ARPITA SINGH / 2008' (on the reverse) three times
oil on canvas; triptych
60 x 108 ½ in. (152.4 x 275.6 cm.)
Painted in 2008
Estimate: USD 250,000 - USD 350,000