B12 - the new festival for contemporary dance and performance art in Berlin brings on stage Invited Artists, a series of choreographies created by heterogeneous choreographers within the compelling festival.
This year the two Invited Artists presented an existing piece of their catalogue of work beside the research workshops that they gave as part of the B12 festival. Those are darwin to darwin by Johannes Wieland and the dust we raised by Luke Murphy.
The piece darwin to darwin by Johannes Wieland is danced by the Gotauté Kalmatavičiūtė, Safet Mistele and Evangelos Poulinas and it ́s a compendium about individuals, relationships and their stratified complexity.
Every performer embodies a certain character that transforms during the duration of the piece presenting several facets of the humankind.
Kalmatavičiūtė shines as a vulnerable, troubled and rebel being. She shows the weaknesses and strengths of a woman exposed to be led but wanting to lead. She is extravagant but also submissive, delicate and dreamy but at the same time intrinsically earthy. Her presence is outstanding as she performs a complex and dazzling character. Safe Mistele represents the macho. Strong, full of himself, flirty, endearing, he is the guy that shows off and plays with his virtues. Enthralling when he jumps in the air and flies low in rounded and twisted movements. Amusing as he starts playing with her in exchanges, sometimes vocal and others physical. The bodies ́s interaction is at times sweet and tender switching into rough and wild behaviours recreating an attraction-repulsion game. The interactive play, a sex like one, is beautifully performed by Kalmatavičiūtė with Evangelos Poulinas who, besides this performative frame, appears quite stiff as he would be a non-flexible body-character. Memorable his curved back and neck with an hanging head that stares the floor while he walks across the stage like a shy, timid passenger. Humorous parts come out with the overturned playback roles; the male voice is sang by the girl and the female one by the men. The title darwin to darwin is probably connected to the evolution but also involution of the human kind, too self-absorbed by his own realities to see and interrogate what ́s around and explore new paths but also on the mirroring phenomenon, naturally experienced by every human and animal being.
All in all the show leads to reflect on the diversity and intricacy of every individual trying to deal with a certain body evolved over seven million years and the existence of the individual with his mental and physical natural and nurtured knowledge, that can ́t be entirely explained, nor fully understood.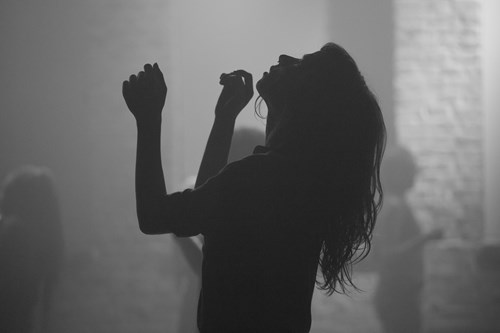 asteroids performance project series / johannes wieland: alvaro rodriguez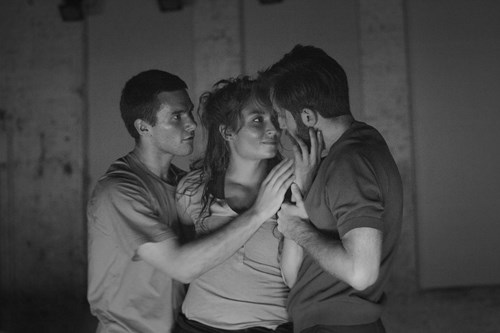 asteroids performance project series / shannon gillen: alvaro rodriguez
The dust we raised by Luke Murphy is a production based on the giant leaps forward actual technology, medicine and science that pushes ethnic questions and impels thoughts about the boundaries of the occurring dynamic. Triggering interrogations about the limits and having a ripple effect on the debated ambiguity and dichotomy of the so called progress, the piece has a strong visual and content impact.
When can we set a limit to the forward movement? Is going forward always for good? Vaccine, G.m.o, D.n.a mutation are definitely part of a big research that has been largely increasing in the last years and although speculations about the positive and negative effects are still being discussed, it seems quite clear that technology goes on and it applies its results for good and worst.
The piece, atmospherically persuasive with an aseptic scenography recreating a science laboratory, is made out of plastic curtains surrounding the whole space, three chairs and a rolling table with some led lights. The choreography is composed by accurate and sharp