Image: Jean-Michel Basquiat, Untitled (Head), courtesy to Sotheby's
Executed in 1982, Untitled (Head) is an explosion of vivid color and frenzied mark making which stands as one of the most accomplished of Basquiat's iconic 'Head' paintings. Enduring as both idiosyncratic self-portraits and skull-like talismanic icons, the single ferocious figures revealed in works such as Untitled (Head) prevailed as a key conceptual anchor for Basquiat throughout his career, appearing in and dominating the majority of his best-known masterworks.
Remarkable for its fierce intensity, arresting coloration and visceral aesthetic impact, Untitled (Head) is an indisputable masterpiece that embodies the overwhelming power of Basquiat's creative insurgency. Encapsulating the incredible dexterity and draftsmanship that defines the very best of the artist's works, and extraordinary for its use of India ink under the oilstick to lend depth and contrast to the composition, Untitled (Head) is a heroic depiction that reflects the explosive talent and brilliance of its author.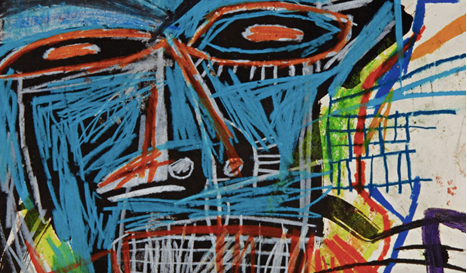 Jean-Michel Basquiat, Untitled (Head), fragment, courtesy to Sotheby's
It is an iconic work, as vivid and alive now as it was at the moment of execution. As Robert Storr commented in his essay for the Robert Miller gallery show in which the work debuted: "in drawings such as these - it is all still happening right before your eyes." (Robert Storr, "Two Hundred Beats Per Min," in: Exh. Cat., New York, Robert Miller Gallery, Basquiat Drawings, 1990, n.p.)
Contemporary Art Evening Auction
Sotheby's, 30 June
Lot 103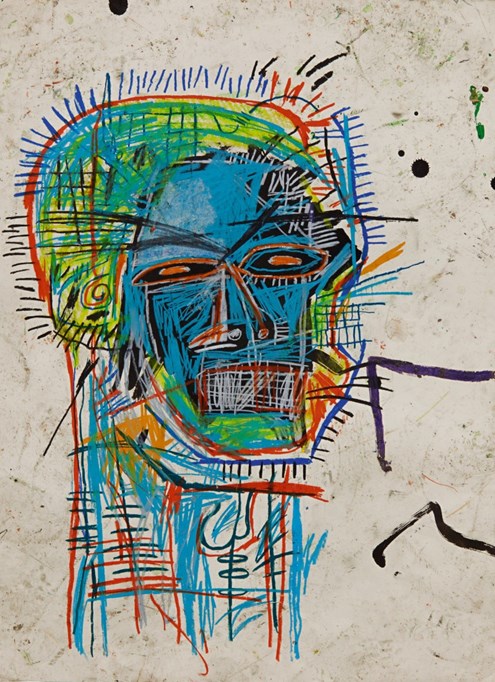 JEAN-MICHEL BASQUIAT
1960 - 1988
UNTITLED (HEAD)
oilstick, ink and acrylic on paper
29 ¾ by 22 in. 75.6 by 55.9 cm.
Executed in 1982.
Estimate: USD 9,000,000 - USD 12,000,000