Image: Belgian artist Panamarenko, photo courtesy for en24.news
The Belgian artist known by the name Panamarenko has died this weekend. He was 79 years old. Panamarenko's real name was Henri Van Herwegen and he was known for his vibrant personality and for his painting and sculptural work. He is considered to be one of the most important Belgian artists of the 20thcentury.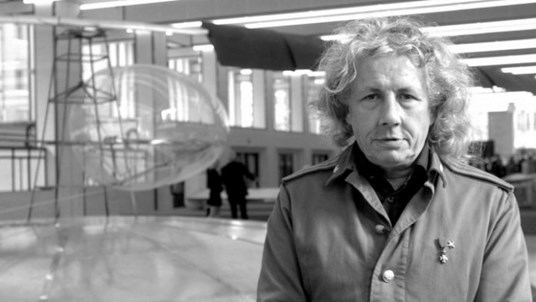 Belgian artist Panamarenko, photo courtesy for en24.news
Jan Jambon, Flemish Minister of Culture has said Panamarenko was "one of our most striking visual artists, a high profile personality that we will not soon forget."
Panamarenko was born in Antwerp in 1940. His parents were boat mechanics. In 1955 he began studying at the Antwerp Academy of Fine Arts. Alongside his art work, he also showed a great passion for scientific enquiry and was particularly interested in the ability to fly.
One of the artist's most recognizable work is The Aeromodeller, an airship with a wicker cabin that is connected to a PVC balloon. The piece can now be found at SMAK museum of contemporary art in Ghent. He also produced a series of works that looked at the wings of insects and their method of flight. He combined science, imagination and design to create his unique works of art. Many of his works were influenced by the myth of Icarus. Notably, none of the flying machines he created were able to fly or leave the ground. It is said that the artists name came from an acronym for Pan American Airlines and Company."
In 2005, the Royal Museum of Fine Arts in Belgium held a retrospective exhibition of Panamarenko's works, attracting more than 72,000 visitors. At the opening of the exhibition, Panamarenko announced his retirement, claiming he no longer had anywhere to store his works.
In April 2009, VLM Airlines named one of their aircraft in the artist's honor. Panamarenko has received two honorary Doctorates. In 2010 he received a Doctorate from the University of Hasselt and in 2014 from the University of Mons.