Hiba Schahbaz, a Pakistani artist living in New York, explores the stories of marganilised women throughout her work, with portraits that beautifully reclaim their history. Since migrating to the United States, her practice has expanded from Indo-Persian miniature painting to human-scale works on paper - with black tea as her favourite medium. The materials used in Beyond Borders are as diverse as the themes - such as the build-up of textural surfaces that compose Michael Staniak's works, David Spriggs' plexiglass sculptures, or Jason Seife's concrete canvases.
  "Where's Waldo" by Jason Seife, courtesy for the artist
Works by Seife fuse traditional techniques from his middle eastern background with modern materials, making the old craft accessible to a younger generation. For example, in Holding on Together (2019) he revives traditional Persian rug weaving by hand-painting the pattern with acrylic onto a concrete canvas.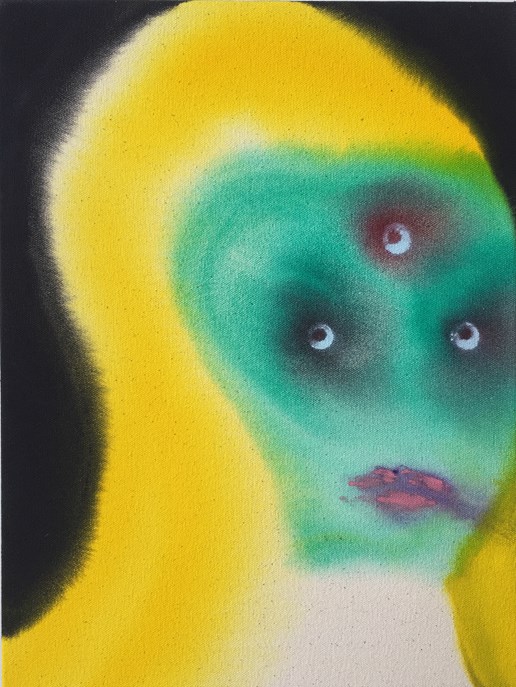 Aaron Johnson, Solar Sister, 2019, Acrylic on canvas., 40.6 x 30.5 cm, 16 x 12 in, (AJO - 002)
The balance between unpredictability and control is echoed in the work of Aaron Johnson, whose hallucinatory paintings comment on societal ills. Watery bleeding colours clash with hard-edged brush stroke, with themes exploring a wide range of the human experience that audiences can empathise with, both grotesque and humorous.