Image source: EPA
Detectives said the Green Vault in Dresden was targeted by thieves in the early hours of this morning. According to Bild, the amount stolen may have been worth around £850 million – up to a billion euros. It reports that thieves switched off an electricity supply to the museum at 5am before breaking in through a window.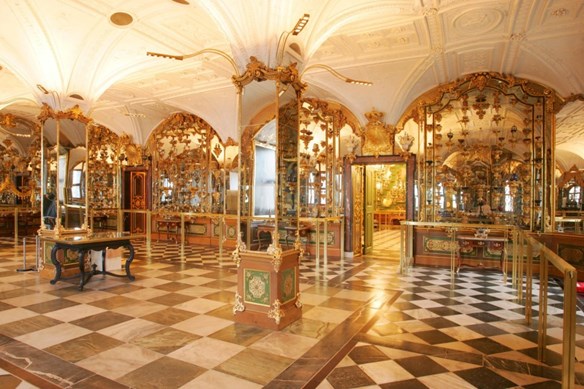 Image source Getty
The thieves allegedly targeted jewellery, diamonds and precious stones worth hundreds of millions of pounds. Police spokesman Thomas Geithner confirmed the break-in and said: 'The crime scene group is on the scene, the perpetrators are on the run.' The 'Green Vault' holds the largest collection of treasures in Europe and was founded by Prince Elector Frederick Augustus I, later nicknamed Augustus the Strong, in 1723. It is housed in Dresden Castle and makes up part of the Dresden State Art Collections.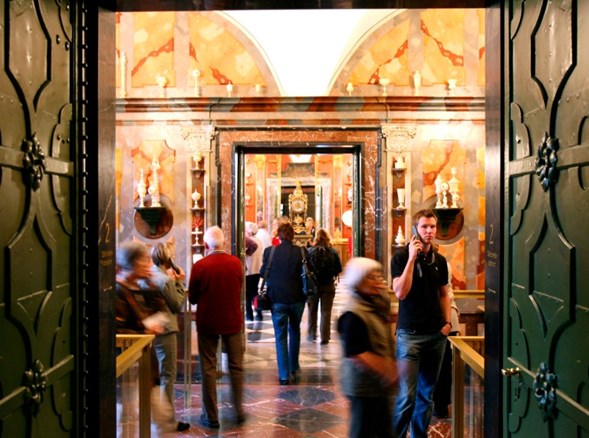 Image: EPA
Among the 'priceless' sets of 18th century jewellery stolen were three sets of Baroque jewels made up of dozens of gems each. The treasury of Augustus the Strong contains around 4,000 objects of gold, precious stones and other materials. German officials said would be impossible to sell on the open market. Police are still carrying out forensic exams of the crime scene and museum officials said they have not yet been able to determine whether all the 100-or-so pieces in the glass cabinet broken into were missing. But investigators said the sets included intricate and dazzling broaches, buttons, buckles and other items. Green Vault director Dirk Syndram stressed that the collections in the museum have 'invaluable cultural value' – particularly their completeness. He said: 'Nowhere in any other collection in Europe have jewels or sets of jewels been preserved in this form and quantity. 'The value is really in the ensemble.'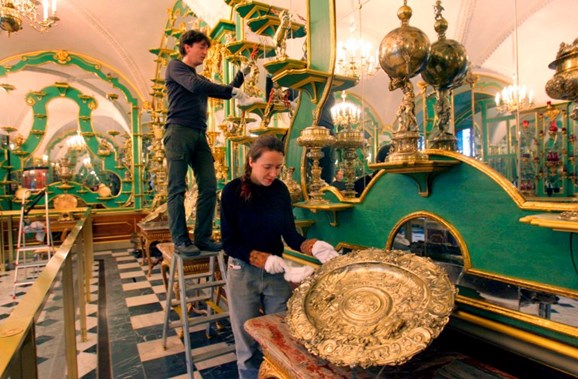 Image: EPA
Dresden's State Art Collections director, Marion Ackermann, said it was impossible to estimate the value of the items. She said: 'We cannot give a value because it is impossible to sell. 'The material value doesn't reflect the historic meaning.' Exhibition rooms at the museum focus on treasures featuring jewels, ivory, silver and amber among other objects. One of its most famous and precious treasures, the Dresden Green Diamond, is currently on loan with other valuable pieces to the Metropolitan Museum of Art in New York for an exhibit. The 41-carat green diamond was acquired by Augustus III, the son of Augustus the Strong, in 1742, according to the museum.
metro.co.uk