Image courtesy for Bonhams
Bonhams has announced a long-term partnership with two online auction-aggregator sites, thesaleroom.com and Invaluable, on which it will list and webcast the majority of its global sales for the first time.
Invaluable and thesaleroom.com are internationally regarded as premier online portals for art and antique auctions, and the partnerships will enable Bonhams sales to reach the thousands of bidders that visit Invaluable and thesaleroom.com every day, and will help attract bidders earlier in their buying journey.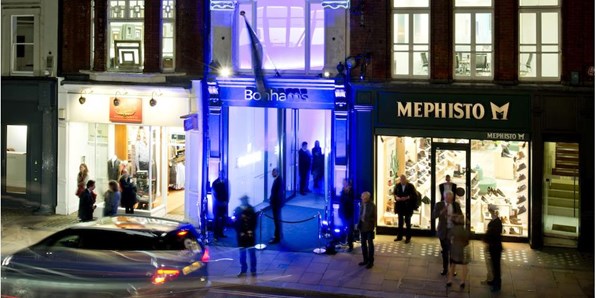 Image courtesy for Bonhams
Bonhams Executive Chairman, Bruno Vinciguerra, said, "Bonhams is excited by the reach of both Invaluable and thesaleroom.com, and by what their presence can do to further our sales strategy. Invaluable and thesaleroom.com have an unrivalled bidder base internationally and both have a proven ability to generate new bidders for auctioneers."
John-Paul Savant, CEO of Auction Technology Group, which owns thesaleroom.com, said, "We're thrilled to be partnering with Bonhams. We look forward to working with them to support the growth of its sales and open up its auctions to a yet wider audience of bidders and buyers."
Invaluable CEO Rob Weisberg said, "We're very proud to partner with Bonhams, one of the world's most historic and prestigious global auction houses that consistently offers unique and compelling objects for sale.
"Invaluable is the largest source of high-quality, high-value online bidders in the market today. They're enthusiastic collectors who spend more to win the items they're passionate about. We look forward to bringing that strength to Bonhams to help drive its success," he added.
Bonhams will start listing auctions on Invaluable and thesaleroom.com in October, beginning with Modern and Contemporary African Art and Post -War & Contemporary at its flagship New Bond Street saleroom. Invaluable and thesaleroom.com will list and webcast the majority of Bonhams' sales in London, New York, Los Angeles, San Francisco and Hong Kong.