Image: Keith Haring (American, 1958-1990), Untitled (The Church of the Ascension Grace House Mural), circa 1983/1984, courtesy for Bonhams
"My decision to come to New York and become a "public" artist was spurred by my desire to communicate and contribute to culture and eventually history."
— Keith Haring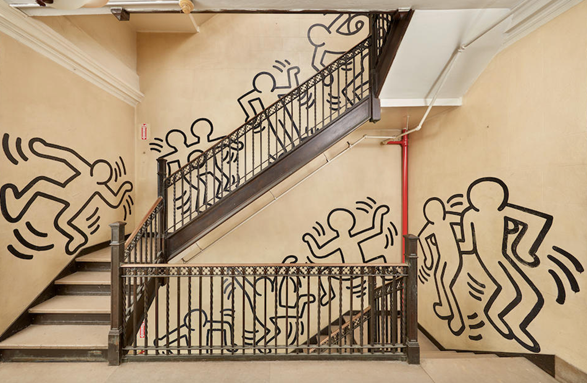 Keith Haring (American, 1958-1990), Untitled (The Church of the Ascension Grace House Mural), circa 1983/1984, courtesy for Bonhams
Keith Haring (1958 – 1990) left a legacy which continues to shape and reverberate in contemporary culture. His deep commitment to social activism and public art is now being fully understood and appreciated as much as his artworks. Working at an incredible pace, in ten short years he changed the trajectory of Contemporary Art. During Haring's lifetime he had fifty solo shows and he painted forty-five murals across the globe. Today fewer than twenty are still standing and there are no murals located in the Middle East or Asia. The rarity of Haring's murals renders Untitled (The Church of the Ascension Grace House Mural) (circa 1983/1984) all the more significant, particularly as this is the first time a mural by the artist has ever come to auction. Incorporating his key iconography, a work of this magnitude and importance by the artist presents a singular occasion to acquire a masterwork by Haring.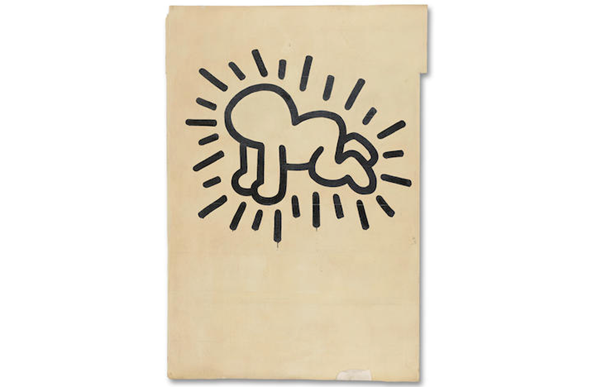 Keith Haring (American, 1958-1990), Untitled (The Church of the Ascension Grace House Mural), circa 1983/1984, courtesy for Bonhams, fragment
Haring's work is timeless, but it is very much rooted in Ronald Reagan's 1980s. Haring's work was born from his environment, politically and socially, placing the artist as one of the main protagonists. New York City in the 1980s was a hedonistic, boundary breaking, electric social mix of DJs, artists, graffiti writers, painters, performance artists, and dancers who all converged from the five boroughs in downtown New York, which was the epicenter of the Avant Garde. Much of his art contained messages about AIDS, crack cocaine, the environment and apartheid. He collaborated with his good friends Andy Warhol, LA II, Kenny Scharf, Madonna, Grace Jones, performer John Sex, the dancer Bill T Jones, and countless children around the world. The 1980s were an exceptionally creative time, one before the distractions of the internet and smart phones. Even now in the 21st Century, 1980s New York has been understood as an artistic Golden Age, one which produced creative titans who continue to shape society and the international art market.

Coming from a formal art education, Haring was aware of past masters, and he was especially drawn to the work of Jean Dubuffet and Pierre Alechinsky. Pop culture, specifically cartoon, and animated figures such as Mickey Mouse, were also highly important to his development as an artist. Later, he discovered the writer William Burroughs. Haring stated in a 1989 Rolling Stone interview with David Scheff; "Burroughs's work with Brion Gysin with the cutup method became the basis for the whole way that I approached making art."
While still a student at New York's School of Visual Arts, Haring grabbed the spotlight in the city's subway system. Determined to make work that was accessible to every demographic of society, Haring would draw bold figures in white chalk on black empty advertising boards in the underground. These early works, known as The Subway Drawings not only gave birth to Haring's most iconic figure, the 'Radiant Baby,' but they also gained him notoriety. Haring was often arrested on the subway platform as graffiti was, and still is, considered illegal.

Haring's days may have been spent in the studio, but at night the artist was a regular fixture on the vibrant, lower Manhattan club scene, particularly at the Paradise Garage. Here he rubbed shoulders with Andy Warhol, Jean-Michel Basquiat and Kenny Scharf, together with young people on the club scene. Two regular attendees at Paradise Garage, Benny Soto and David Almodovar, were involved in a Catholic Youth Organization called Grace House. After meeting Haring in the SoHo club scene, Soto, Almodovar and Haring formed a tight friendship. Eventually, both went to work for the artist, Soto as an art assistant and Almodovar later managed Haring's Pop Shop on Layfette Street.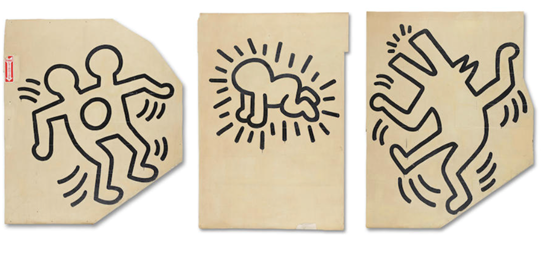 Keith Haring (American, 1958-1990), Untitled (The Church of the Ascension Grace House Mural), circa 1983/1984, courtesy for Bonhams, fragment

This friendship led to an invitation to Grace House. A classic New York story, this is where the history of Untitled (The Church of the Ascension Grace House Mural) (circa1983/1984) begins. Grace House was once an old convent, which during the 1980s was used as a Catholic Youth Center, connected to the Ascension School. The building, located on Manhattan's Upper West Side in the Morningside Heights neighborhood, was associated with the 125-year-old Church of the Ascension.

In March of 1983 or 1984, Haring painted the present mural in the main stairwell of Grace House, at night, using black industrial house paint. Most impressive is that he completed the mural without first working out the composition in a sketch or an underpainting. The composition flowed out of him with a mature confidence.

The mural begins with the 'Radiant Baby' and ends at the third-floor landing with a figure seeming to dive into a doorway, only its lower half visible. When the building was a convent, the door led to the mother superior's apartment, but when Haring painted the mural it was home to Gary Mallon, who lived at Grace House and was working with the children there. The figure's movement seems to symbolize a playful escape from the cacophony of the children.

Children are a reoccurring theme in Haring's artistic life. He loved working with them and he routinely collaborated with kids on his murals. During Haring's life, he led art workshops for children in museums and schools around the world. He created works with young people in several cities, however, Untitled (The Church of the Ascension Grace House Mural) (circa 1983/1984) is perhaps the most significant. In terms of the artist's iconography, all the key figures are included in the work. In addition to the 'Radiant Baby', present are the 'Barking Dog', a figure with a hole in his stomach, the running man, and dancing characters. The mural is a complete lexicon of Haring's unique vernacular.

Untitled (The Church of the Ascension Grace House Mural) (circa 1983/4) is perhaps the best kept secret of the artist's oeuvre. Though one of Haring's least-known works, it is arguably his most significant hidden treasure. Over the years the mural has remained untouched, perfectly preserved, with the exception of a child having drawn a (now faded) face on one of the figures - an addition Haring himself would surely have welcomed. The artist saw his murals as having lives of their own, with each potential addition only adding to the ongoing development of the work. Haring considered his murals in the same light as his Subway Drawings, works that potentially would not survive, and as such he saw them as ephemeral. In fact, history has proven him right, as many of Haring's murals have been destroyed, or painted over, making Untitled (The Church of the Ascension Grace House Mural) (circa 1983/1984) all the more important within the artist's oeuvre.

With the Grace House building being sold, preserving the mural was of the utmost importance and a significant undertaking. All three floors of the composition were professionally extracted from the building in a highly strategic and calculated manner. The project began in 2017 and was completed in August 2019. Such an incredible project is woven in to the history of the mural. The removal process to extract the figures (thirteen in total) was very deliberate, and respectful of the overall composition. Like a puzzle, the mural can easily be reconstructed on a stairwell, recreating its original appearance, complete with original doors and mailbox receptacle. In addition, the figures are equally impactfully in a line formation, the playful sense of movement still present.

Adding to its wonderfully spontaneous, cross-cultural, and philanthropic genesis, Untitled(The Church of the Ascension Grace House Mural) (circa 1983/1984) is a celebration of love, life, and friendship. This mural, its history, and its composition is a classic New York story by the ultimate 1980s New York artist.
Post-War & Contemporary Art, Bonhams
13 Nov 2019, 17:00 EST
New York
Lot
Keith Haring (American, 1958-1990)
Untitled (The Church of the Ascension Grace House Mural), circa 1983/1984

oil-based house paint on cement wall
thirteen figures with two doors and one mailbox panel
Estimate: USD 3,000,000 - USD 5,000,000

Dimensions: Height x Width x Depth
Figure I: 97 1/2 x 69 1/4 x 6 in. (247.7 x 175.9 x 15.2 cm.)
Figure II: 90 x 63 x 4 in. (228.6 x 160 x 10.2 cm.)
Figure III: 90 3/4 x 74 1/2 x 6 in. (230.5 x 189.2 x 15.2 cm.)
Figure IV: 83 x 72 1/4 x 5 in. (210.8 x 183.5 x 12.7 cm.)
Figure V: 81 1/2 x 111 x 5 in. (207 x 281.9 x 12.7 cm.)
Figure VI: 79 x 112 x 5 in. (200.7 x 284.5 x 12.7 cm.)
Figure VII: 82 x 95 x 6 in. (208.3 x 241.3 x 15.2 cm.)
Figure VIII: 75 x 74 x 6 in. (190.5 x 188 x 91.4 cm.)
Figure IX: 81 x 94 x 6 in. (205.7 x 238.8 x 15.2 cm.)
Figure X: 92 x 85 x 6 in. (233.7 x 215.9 x 15.2 cm.)
Figure XI: 106 x 76 x 5 in. (269.2 x 193 x 12.7 cm.)
Figure XII: 96 x 75 x 7 in. (243.8 x 190.5 x 17.8 cm.)
Figure XIII: 87 1/2 x 44 1/2 x 6 in. (222.3 x 113 x 15.2 cm.)
Door I: 84 1/2 x 36 x 5 1/2 in. (214.6 x 91.4 x 14 cm.)
Door II: 83 1/2 x 35 3/4 x 4 1/2 in. (212.1 x 90.8 x 11.4 cm.)
Mailbox Panel: 83 1/2 x 32 x 17 in. (212.1 x 81.3 x 43.2 cm.)

This work was created circa 1983/1984.