Image: Art Basel Miami Beach, photo by Alastair Philipp Wiper
When Art Basel returns to Miami Beach this winter, the fair will find itself in far different surrounds from last year. After years of talk and years more of work, the renovation of the Miami Beach Convention Center (MBCC) is finally reaching completion. Gone at last is the old shell, with its dated 1989 facade; in its place now stands a gleaming glass volume clad in white steel ribs that form a gentle, wave-like undulation.
The figure behind the new and improved building is Curtis Fentress. 'It's like a fish's body,' says the architect, speaking of the eye-catching envelope. 'Like scales, or the different fins you might see on marine life.' The Denver-based Fentress and his eponymous firm have been at work on the design for five years, staying with it despite a long and torturous route to completion: the office failed to secure the commission when it entered the initial public competition in 2013, only to be re-approached by civic leaders after the original winning team withdrew from the project. After fleshing out its vision for a more capacious, more functional structure, the practice teamed up with local collaborators Arquitectonica, who were key in shaping the striking exterior.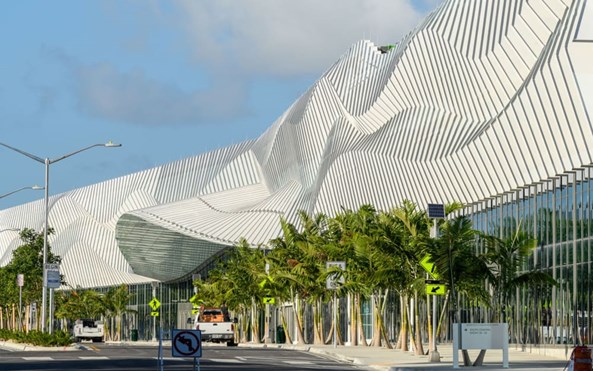 Art Basel Miami Beach, photo by Alastair Philipp Wiper
For Fentress, the project marks an interesting turn – the architect's first building in Miami, as well as one of his largest projects to date with an artworld connection. 'The primary thing was that the center work well for Art Basel,' says the designer. In conversations with fair organizers, as well as with other major MBCC tenants, he and his team took careful account of the concerns and hopes of each, devising a scheme that encompassed everything, from improved expanded meeting rooms and a vast new ballroom to enhanced energy efficiency, leading the building to qualify for Leadership in Energy and Environmental Design Silver certification. Standout features of the revamped facility include sunlit hallways and outdoor terraces, as well as rooftop parking that will free up the adjacent six-acre lot for use as a public park. As for making his mark on Miami, Fentress believes the 'nautical, seashore-like' aesthetic, as he describes it, seems very much in keeping with the beachy locale, while still bearing many of the hallmarks of the firm's previous work.
As much as the new project sees Fentress entering new terrain, it's also very much 'in our wheelhouse of expertise', the architect notes. Founded in 1980, Fentress Architects has long been a powerhouse in the design of complex public facilities, particularly in the field of airport design. Its breakthrough project, Denver International Airport, opened in 1995, and its signature silhouette of repeated canopy structures — recalling both the peaks of the Rocky Mountains and traditional Native American tepees — became an instant icon for the firm's home city. In a world where transportation centers usually sacrifice character for efficiency, Fentress's approach was a novel one, and it has remained central to the office's outlook. As the principal puts it, 'We try to design buildings that are especially tied to place and to culture.'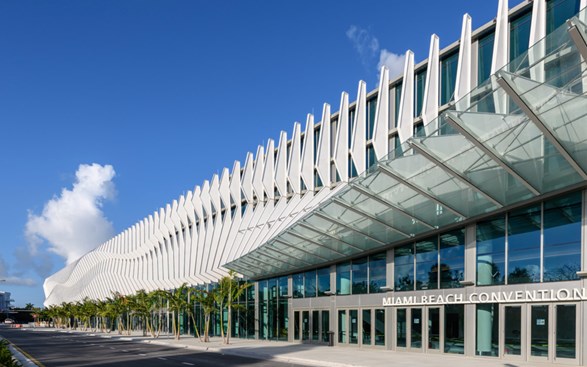 Art Basel Miami Beach, photo by Alastair Philipp Wiper
Marrying the technological and the cultural is an essential part of another project the firm has been working on: the US Pavilion for Expo 2020 in Dubai. 'The theme is mobility,' says Fentress. With exhibits on everything from driverless cars to helicopter apps to space tourism, the pavilion is a showcase for recent developments in American transportation, and the design drives the message home with a dynamic facade of rippling steel. Not just about technology, the building, according to Fentress, is meant to project an image of its sponsor country, 'helping to tell the story of America's openness and accessibility'.
With commissions as logistically complex and thematically rich as these, Fentress Architects brought a lot to bear on the Miami Beach commission, and the added assistance of an echt Miamian firm such as Arquitectonica helped to give them a still deeper connection with the urban context.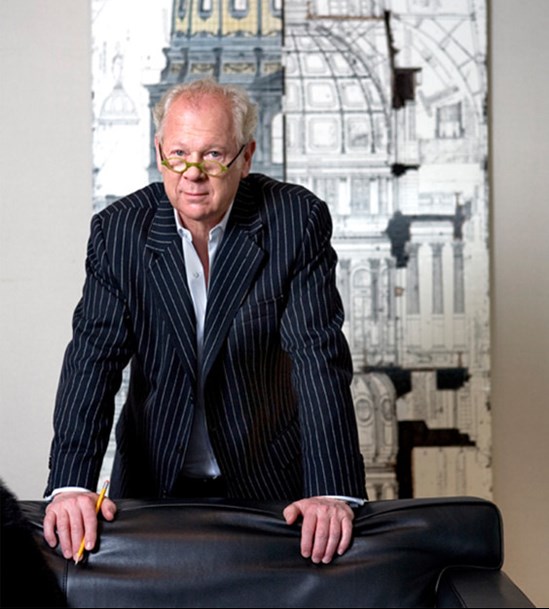 Curtis Fentress, photo by Jason A. Knowles / Fentress Architects
'For Miami Beach, the building is really their flagship moment,' says Fentress. But the architect is not one to rest on his laurels. Besides a brace of new projects (including the restoration of Gio Ponti's Denver Art Museum, the Italian master's only building in the US), Fentress is busy spreading his own civic-minded philosophy via the Fentress Global Challenge, a worldwide competition that encourages young designers to think beyond commercial architecture and focus instead on public buildings. 'I think far too much time is spent looking at high-rise towers,' says Fentress. 'Those are just the exclamation points.' As his firm has shown in Miami Beach, there are other, better ways for designers to make a statement.