I very much admire the work of the director, Robert Altman. So much so,Ihadmadea documentary about him. I felt that, by continually intercutting between the characters in the style of Altman's Short Cuts, I could build a multi- faceted portrait of a place and community. Intertwining the storylines and narratives of this tightly-knit group of creatives who collaborate on both an artistic and personal level, I hoped to bring the relationships to the fore.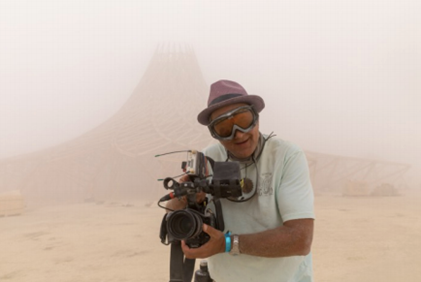 Gerald Fox – Director, photo Jonathan Clark
Over a period of the year in the edit, I worked with six different editors of different ages, genders, backgrounds and experience. I tried to assemble the material to convey what it takes to build works of art in these harsh conditions. I also tried to inform viewers about the burgeoning Burning Man art movement, which has become a rich new touchstone in contemporary American art.
My other directorial aim was to create a poetic vision of Burning Man. As one who had never experienced it before, my vision of this famous event was fresh and unencumbered. I wanted to be objective about the characters, the event and the art on display. As filming progressed, I realised that the event had a stunning, surreal, beauty and l became equally determined to bring this to the film. I felt this was a unique opportunity to express my deep passion for the work of visionary, dreamlike, directors such as Federico Fellini, Rene Clair, Luis Bunuel, and Gaspar Noe.
The oneiric, disorientating montages of bizarre, colourful imagery, invite viewers on a sensorial journey, as if they are experiencing the Burning Man event, themselves. Dynamically edited sequences use dramatic slow motion and hyper/time-lapse photography, moving images shot from drones, set to Burning Man music. Travelling through these dreamlike environments, viewers can experience Burning Man, almost physiologically.
The sequences aim to enhance the emotional journey of the film, climaxing with the dramatic, visually stunning burning of the Man and Temple, at the close of the film. I aim to bring the art of Burning Man alive, in a visceral, stunning, immersive way, to share the power of the art and to capture the soul of this extraordinary event and its creators.
The film was probably the most challenging I have ever made, given the constraints of time, resources, and the hostile working conditions. What we managed to pull off, is nothing short of a miracle. And it is thanks to the artists and volunteers - and of course to the indefatigable efforts of my colleagues, who worked day and night, through dust-storms and gale-force winds, to bring you this film.
THE PRODUCTION TEAM
Director: Gerald Fox Producer: Sophia Swire Associate Producer: Jennifer Raiser Director of Photography: Jonathan Clark Music: HÄANA