Image: Café Müller+Rite of Spring, photo by Ursula Kaufmann
November 2018 Tanztheater Wuppertal Pina Bausch presented Café Müller and the Rite of Spring, two masterpieces by the mother of Tanz-Theater, almost always shown in one joined evening, despite the diversity of the two creations.
Café Müller is a piece originated by Pina Bausch in 1978. The performance took place for the first time on May 20th, 1978 at the Wuppertaler Opernhaus with music by Henry Purcell, set design and costumes by Rolf Borzig with collaboration by Marion Cito and Hans Pop. The same evening were shown four performances by the choreographers Pina Bausch, Gerhard Bohner, Gigi-Georghe Caciuléanu and Hans Pop, all under the same title and with communal aspects on stage: Four people at a table. A red-hair girl is coming; she is crying. A dress, maybe a coat. A man with dark glasses. Someone is waiting. Someone falls, someone helps him to stand up. It is dark. Suddenly it is very quiet.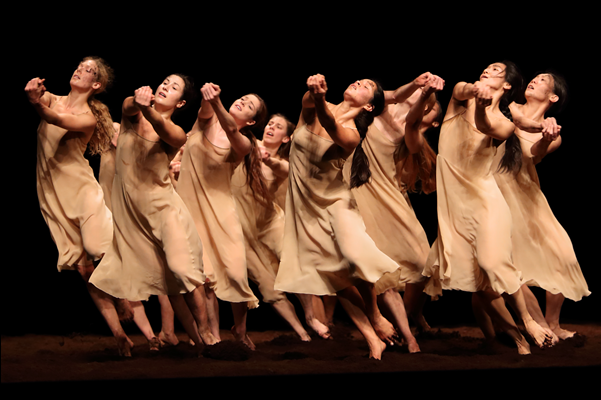 Café Müller+Rite of Spring, photo by Ursula Kaufmann
Many things happened since then and the cast that at the beginning was composed by Malou Airaudo, Pina Bausch, Meryl Tankard, Rolf Borzik, Dominique Mercy and Jan Minarik,  is now composed by a changing cast. On the 5th of November the dancers were Azusa Seyama, Helena Pikon, Clémentine Deluy, Nazareth Panadero, Pau Aran Gimeno, Scott Jennings and Michael Strecker.  The interpretations can be various and it probably relates to the memories of Pina as she was a child in her's parents's bar. At the same time it could also be a vision inhabited by ghosts or lost souls that as adult, she saw in the immense variety of the human kind, observing and reflecting on common behaviours and universal dilemmas.  On a dark stage a woman enters the set café as a sleepwalker, with closed eyes and outstretched arms as she would foreboding a presage during her sleep. In a sort of in-between stadium, dreamy like, she walks across the gloomy café full of wooden black chairs and some tables. She proceeds slowly bumping across the encountered obstacles while a waiter or a casual witness strains in order to prevent the displaced figure to stumble accidentally into the spread out impediments. In the enigmatic scenario there are other protagonists.  A tall, thin woman (Helena Pikon) enters the stage and starts her own physical and silent soliloquy with long, beautiful arms and hands that recall branches of a willow in the wind. Graceful, delicate and melancholic, the ethereal figure is now expressing an internal hopeless struggle as it would be a sorrow trapped in a body that in vain, wants to be released. She enters in a revolving door as enmeshed in an endless but save coil. Her movements are resonant of soul pain and introvert discomfort. Suddenly enters the woman with the red hair (Nazareth Panadero) who is looking for something as she keeps walking on tip toes in pink high hills shoes through the staged bar. With an annoying rush she appears restless in a constant yet unfocused research. She skitters in a state of confusion, waiting for something to happen, or someone to appear. Curious but non attentive towards the behaviours of the people that come and go, and pathetically willing to find and chasing someone to love, she appears lonely and disorientated.  A couple of lovers (Azusa Seyama and Scott Jennings) struggle to get together, to find a way to communicate, to interact. They seek the mutual company, finally find each other, passionately embrace, to be suddenly detached by a third man (Michael Strecker) that seems to be the incarnation of repetitive and unsolvable relationship dynamics. He sets Seyama down on Jennings's arms, that unable to hold tight, let her constantly fall on the floor. The dynamic is relentlessly happening, also when Strecker disappears, leading towards an unsolvable separating loop that alters the first interlacement. Jennings is an illusionistic anchor in a stormy tide. The couple's union will end battering each other against plastic transparent walls as a drastic way to punish their lacks of understanding perhaps trying to overcome the suffered, repressed, uneasy communication. 
The power of Pina Bausch repertoire, in this case with Café Müller, is based on eternal and human questions, on the complexity and truth of movements narrating tangible feelings and authentic stories, on shared vulnerabilities and paradoxes, on the immensity of human feelings and their expressions. Her ability to observe, examine and read through the lines of the universal human kind entanglement is what makes her a supreme interpret and witness of the individuals's insights until the present day and for the years to come.  Her visions, in view through her repertoire interwoven with her aura, have the power to touch souls and open infinite doors of perceptions.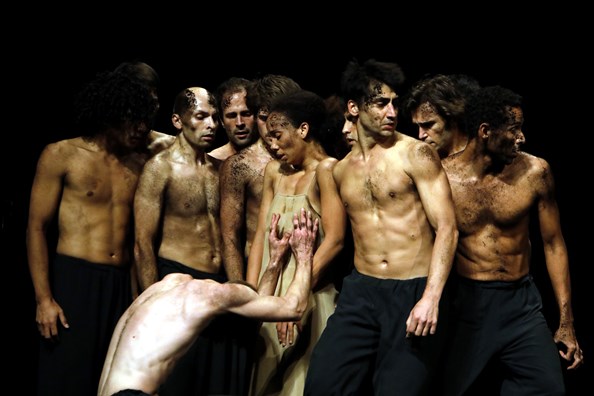 Café Müller+Rite of Spring, photo by Ursula Kaufmann
The other piece of the evening is The Rite of Spring created in 1975 on the music by Igor Strawinsky, this time performed with a live orchestra. At first considered strongly revolutionary, on the trace of the riots by the first Rite of Spring in 1913, the suggestive piece has slowly conquered the world. Responsible for costumes and set design are once again by the inventive Rolf Borzik with the collaboration of Hans Pop. The set design, composed by a bed of peat, becomes an integral part of the performance leaving marks on sweaty bodies and light toned costumes of the female dancers. 
Grim and austere, the piece is a triumph of corporeal truth where the insights of the dancers get moved by the strength and physicality requested in the choreography, and the tribal, visceral movements lead to archaic vision of sacrifice and tribe dynamics.
Thirty-two dancers composed by female and men, at times separated in two groups to then gather together, dance in an unison creating a rich, smooth and powerful identity in a state of exaltation and exhaustion. The wildness, primal nature of untamed creatures, moves and lifts the soil in an extraordinary crescendo radiating primordial vibrations and echoing primitive celebrations. The energy released through wonderful, accurate and deep movements, accompanied by the extraordinary music, is majestic and impressive. The savage charisma is counterposed to fine and elegant lines as an interlude to reveal the both earthy and mystical composition generating an exceptional result.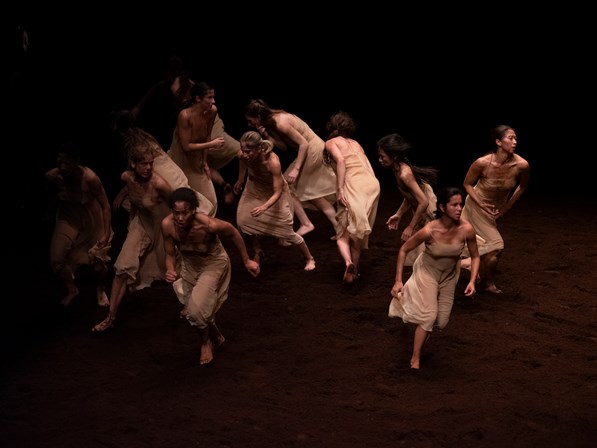 Café Müller+Rite of Spring, photo by Meyer Originals
Claude Debussy wrote to Igor Stravinsky: ''I still have impressed in the memory when, at Laloy's house, we played your Rite of Spring.. It haunts me like a magnificent nightmare and I try, in vain, to recall that terrifying impression''
A terrifying impression is what Bausch, with her supreme visions, was able to recreate in her piece leading the dancers to become part of the pagan sacrifice. She conducted them to feel and truly incorporate fear, bewilderment, exaltation, glorification, fervour and to embody primeval behaviours for the arrival of Spring and the related death of the young woman, sacrificed in order to be propitious to the God of Spring.
Robert Craft in Igor Stravinsky - Memories and commentaries quotes: ''The violent spring... that seemed to start in an hour and it was as if the whole earth was broken'' revealing in this way what disturbance caused in him the reawakening of Nature.
Pina Bausch creates a piece that embraces the intensity and puissance of Stravinky's masterpiece. The rebirth of spring to behold for the strong caused effects, becomes the representation of an overwhelming phenomenon, a new beginning, a reawakening transition that goes along with the sacrifice and therefore the loss before the renewal. All the contradictory aspects related to Stravinky's idea of spring and the pagan rite are strongly expressed in Pina's creation with an extraordinary range of nuances and connotations.
Sense of alert and terror can be read on their faces and the general agitation for the upcoming event is tangible. They all run disquietly, some touch each other in a beautiful sense of communion and solidarity, spread out in a nervous ambient to gather again to support the group. Earthy but mystical with an elegant yet robust allure, the female dancers appear as nymphs and the men like immortal beings inhabiting a space in transformation. A large amount of reddish soil seems flourishing while they gracefully dance and jump synchronised. Majestic bodies are able to represent the solemn occurrence and fully incorporate the resistance needed to survive through the strenuous rite and the chosen sacrificial maiden which closes the piece, explodes with feral intensity in extended yet poignant movements before she collapses exhausted into the earth recalling the young girl who dances herself to death envisioned by Igor Stravinsky and marvellously choreographed by Pina Bausch. The piece ensues as a thrilling experience that not only mesmerises, amazes and enchants but it strikes and remains in the mind of the spectators for a long time.