With the title it matters what worlds world worlds: how to tell stories otherwise  Berlin-based Australian arts and literary scholar, Catherine Nichols, has been appointed as the Creative Mediator for the 14th edition of Manifesta.
"When I visited Prishtina, the people I encountered, the conversations I had, the work I witnessed gave me a palpable sense of the transformative power that lies in stories and in the act, in the practice of storytelling itself. Here you can really feel that it's storytelling that brings into being the public realm: the space between you and me. I am delighted at the prospect of joining the Manifesta 14 team in bringing together artists, thinkers, scientists and citizens from all over Europe and beyond to explore how storytelling might enable us to engage with one another and, in our inherent plurality, to act in concert, to bring forth a more-than-human common world." Catherine Nichols, Creative Mediator Manifesta 14 Prishtina.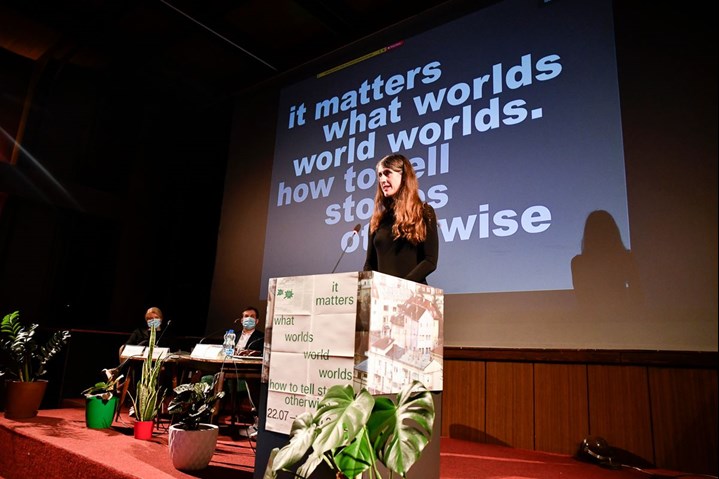 Catherine Nichols, an arts and literary scholar, curator and writer, will take the artistic lead for the next edition opening on the 22nd of July 2022. Having mounted acclaimed exhibitions across Germany, she is currently the artistic director of beuys 2021, a year-long centenary programme in the state of North Rhine-Westphalia dedicated to the artist Joseph Beuys.
Drawing on her long-term experimental and interdisciplinary approach to exhibition-making, culminating in a recent laboratory exploring radical democratic forms of collectivity, she has created an interdisciplinary, inclusive and sustainable alternative for what a biennial could be.
Nichols will work closely with the earlier appointed Italian architect Carlo Ratti, who presented a new vision based on his model for participatory urbanism for the city of Prishtina in the Press Conference on the 12th of October 2021.