Children Village,  a new school complex on the edge of the rainforest in northern Brazil designed by Brazilian architects, Aleph Zero and Rosenbaum, has won the RIBA International Prize 2018.
The RIBA International Prize is awarded every two years to a building that exemplifies design excellence and architectural ambition and delivers meaningful social impact. It is one of the world's most rigorously judged architecture awards, with every longlisted building visited by a group of international experts.
Children Village was chosen from a shortlist of four exceptional new buildings by a grand jury chaired by renowned architect Elizabeth Diller (DS+R).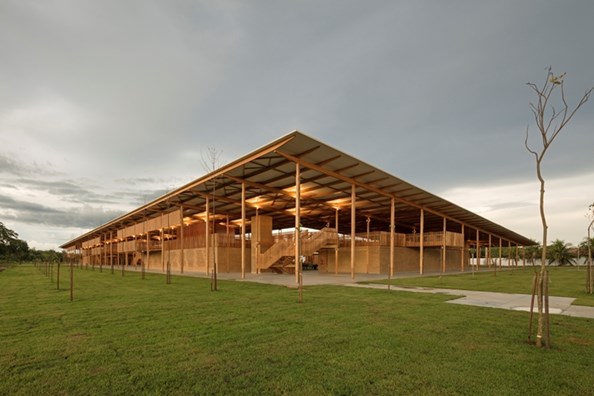 Children Village © Leonardo Finotti
The Children's Village provides boarding accommodation for 540 senior school children at the Canuanã School. Run and funded by the Bradesco Foundation, it is one of forty schools providing education for disadvantaged local children. The foundation owns a large farm in a remote area of the Tocantins Region, where this school is based, and provides accommodation for farm workers, teachers and 840 children, with numerous school buildings, a refectory and a small hospital.
The boarding accommodation is in two identical structures, set either side of the school campus, one each for girls and boys. Each is defined by a huge timber roof canopy, which hovers over freestanding timber structures providing the accommodation. The roof is supported on a grid of elegantly detailed, glue laminated timber beams and columns, a very unusual building material for Brazil. There are large openings above three beautifully landscaped courtyard gardens, which are lined by the dormitories. Each has beds for six children and is distinguished by a uniquely patterned door panel. Internally, the furniture has been specially designed and every room has toilets, shower rooms, and a laundry, which is ventilated using perforated brickwork, handmade on site.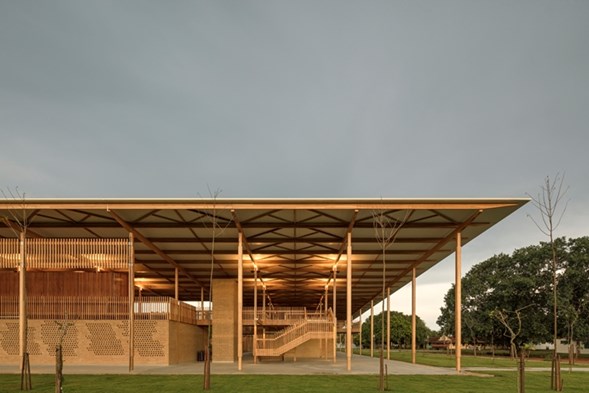 Children Village © Leonardo Finotti
The roof tilts from West to East, allowing space for first floor accommodation above the dormitories to the West and in the centre, and is cleverly drained using pairs of coloured rain water pipes. To the West a series of sculptural timber stairs rise to the upper level with its generous walkways and balconies, giving views across the site and over the courtyards. This open air space is for recreational use and inhabited with furniture and a stage. Slatted timber screens define three enclosed spaces. One is a study room with a large work table, whilst the others are used for relaxing and watching television.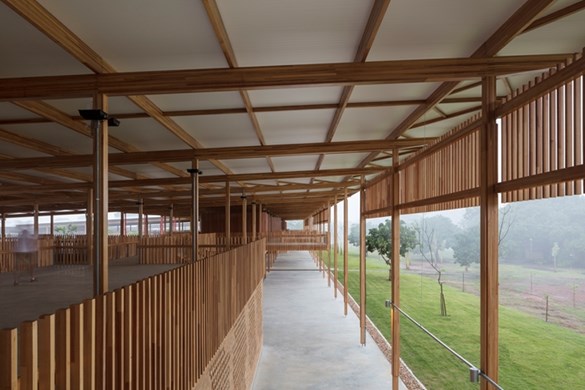 Children Village © Leonardo Finotti

Below the canopy to the East is wide colonnaded walk way. Diagonal views into the planted courtyards and out to the wider landscape seamlessly unite the building with its rural location. It is a wonderful and masterful response to the brief and entirely appropriate in its tropical environment. The whole feels relaxed, comfortable and homely and is well loved and maintained.