Image: KAREL APPEL (1921-2006), Two birds and a Flower
Christie's Post-War and Contemporary Evening and Day Sales in Amsterdam take place on 25 and 26 November 2019. Following the successes achieved in London for the esteemed Belgian collection, the Matthys-Colle Collection, and Art for Future, Selected Works from the UniCredit Group, the autumn season of Post-War and Contemporary Art continues to be highlighted by further works with exceptional provenance.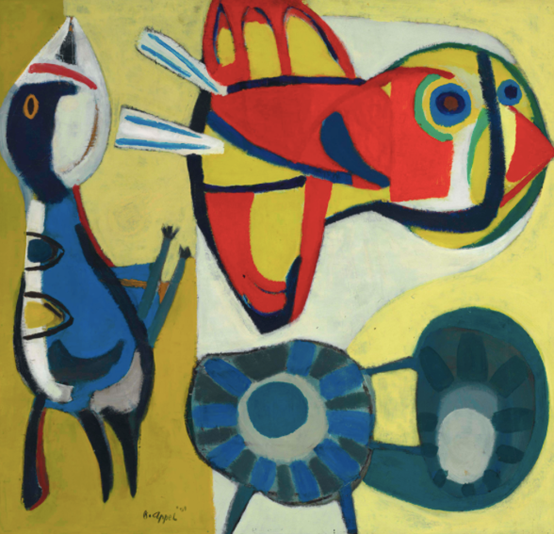 KAREL APPEL (1921-2006), Two birds and a Flower
This iteration of the Matthys-Colle Collection will present 17 works by artists including Karel Appel, Robert Barry, Tony Cragg, Jan Dibbets and Raoul De Keyser. The selection from Art for Future, Selected Works from the UniCredit Group will offer close to 100 pieces, namely by Austrian and German artists.  Returning to Westergas, the Evening Sale will be led by Gotthard Graubner's monumental 'Kissenbild', or 'Cushion Painting', Untitled (Farbraumkörper Blau) (1975-76, estimate €300,000-500,000). Paintings by Marlene Dumas and Günther Uecker encapsulate the diverse approaches to representation that artists have taken during the last 100 years. The works will be exhibited in Amsterdam from 22 to 25 November 2019.
Gotthard Graubner
Untitled (Farbraumkörper Blau), shown to the left here, is an intensely dark painting pointing to the sublime nature of Gotthard Graubner's art: only by virtue of the sun's light emanating from behind can one see the plethora of colours hidden in the darkness of the canvas. His oeuvre has at its core the investigation of colour.
The Matthys-Colle Collection
Uniting many of Roger Matthys and Hilda Colle's acquisitions was a strong interest in Conceptualism, as demonstrated by the works offered for sale at Christie's Amsterdam. The Netherlands became an important centre of activity for this movement: Dutch artist Jan Dibbets worked primarily with photography, using mathematical principles to capture natural and manmade phenomena. stanley brouwn created this way brouwn (1969, estimate €10,000-15,000) by asking strangers to tape record or draw a set of directions. Across the Atlantic, American artist Robert Barry set out to explore invisible and non-material media, championing the idea that 'Nothing seems to me the most potent thing in the world'. The present selection also includes works by German artists Ulrich Rückriem and Bernd Lohaus.
Painted in 1958, just one year after Karel Appel's move to New York City, Sortilège (Spell) (estimate: €120,000-180,000), is a large canvas featuring grand swathes of deeply toned, thick oil paint. Waves of dark and light blues, pale yellows and burgundy red are swept up across the canvas.
Raoul De Keyser's Kalklijn (1970, estimate: €50,000-70,000) is a monumental work featuring a sharp, white right angle cutting through the centre of a green field with a distant horizon demarcated by a blue strip set against a white background. It is one of a large series of paintings De Keyser painted of chalklines on soccer fields in the 1970s, taking direct inspiration from the soccer fields situated nearby his hometown of Deinze, in East Flanders.


Selected works from the Unicredit Group
UniCredit has appointed Christie's to manage the sale of its artworks from Austria, Germany and Italy. The proceeds will be primarily used to support the further roll-out of the group's Social Impact Banking initiatives. The remaining balance will be dedicated to other relevant projects, including the support of young artists. The artworks will be offered at various Christie's international salerooms across a range of marquee week sales in 2019 and 2020, with the first pieces having been 100 percent sold in London over 4 and 5 October as part of the Post-War & Contemporary Evening and Day Auctions alongside Thinking Italian, taking place during Frieze Week. The upcoming selection in Amsterdam will include works by Joseph Beuys, Birgit Jürgenssen, Maria Lassnig, Vera Lutter, Hermann Nitsch, Arnulf Rainer, Gerhard Richter, Fritz Winter and Heimo Zobernig among others. 
Gerhard Richter's 16.3.89 (1989, estimate: €70,000-100,000), is a work on paper from the series of works titled after the day of their creation, which have punctuated the artist's practice at various intervals from the early 1980s onwards. Imi Knoebel's work is preoccupied with the encounter of colour and its material support, his abstraction building on the legacy of Mondrian and Malevich, as seen in the present example Stand by Me (1993, estimate: €65,000-85,000). A further highlight is Franz West's Untitled (circa 1972-73, estimate: €55,000-75,000).


Marlene Dumas
Painted in 1991, The Edge (estimate: €100,000-150,000) is an enigmatic example of Marlene Dumas' figurative practice. Isolated against an empty shoreline, a lone girl crouches, her face turned away from the viewer. Thin, fluid streaks of paint trace her limbs, whilst fiery ribbons of red and orange demarcate her dress; sand slips through her fingers to the water below. Purposefully divorced from specific context, the work demonstrates Dumas' ability to conjure rich psychological drama from restrained painterly means.


Gunther Uecker
Executed in 1965, Untitled (estimate: €180,000-280,000) is a work of spellbinding dynamism from Günther Uecker's definitive series of nail paintings. The work dates from the decade that saw Uecker first master his signature medium, which he began using in 1957 and developed through his involvement with the Zero Group between 1961 and 1966.