Image: Christine Ay Tjoe, b.1973, The Curious Hole
"Her works are a reflection of the way [she] and other people, in their most private, individual manner and path, perform particular actions to discover the essence of their being, or the deepest value and meaning by which they live." 

Agung Hujatnikajenonng


Rhapsodies of Line and Colour

Exquisite and whimsically enchanting, The Curious Hole by Christine Ay Tjoe seems to whisper blushing confessions of joy and rapture – a buoyantly alluring example of the artist's singular lyrical abstract lexicon. The stunningly evocative work presents floating amorphous accents of colour that tentatively roam the canvas, manifesting a sublime balance between chaos and serenity, discordance and harmony, urgency and tranquillity. Starting from around 2010, Ay Tjoe's palette blossomed from previously predominantly muted and washed out earth tones to include signature hues of rose, pale pink, vermillion, ochre and rich brown. These charged colours, rendered masterfully by Ay Tjoe in intuitive compositions and flirtatiously layered translucencies, evoke simultaneously love and the abject – particularly symbolic in The Curious Hole, a work created the year after the artist gave birth to her first child. Created during a special period in Ay Tjoe's life, The Curious Hole manifests a potent sense of a beginning – an intimately pulsing quietude that embodies at once the exhilaration of birth and the fragility of life – a prime example of Ay Tjoe's unique ability to recreate beauty found in universal truths.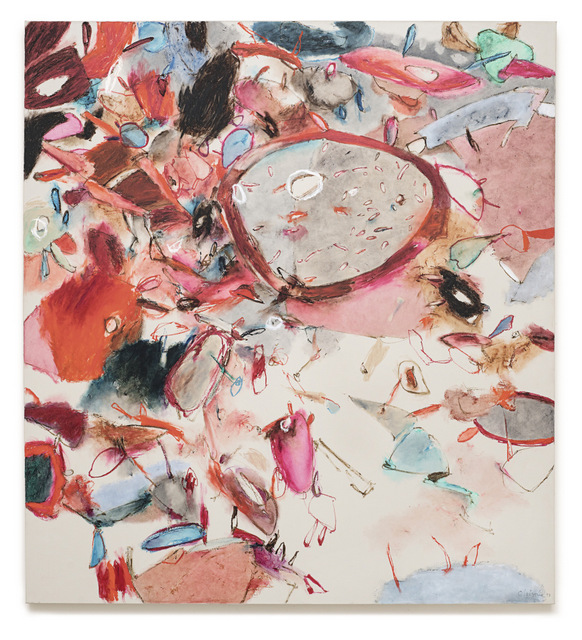 Christine Ay Tjoe, b.1973, The Curious Hole

Christine Ay Tjoe was born in 1973, Bandung, West Java and is one of Southeast Asia's most celebrated contemporary female artists. Trained in graphic design and printmaking at the Bandung Institute of Technology, Ay Tjoe's early work as a graphic artist allowed her to experiment and master many mediums including intaglio dry point technique and etching, which perfected her skill in drawing intricate lines; as well as textiles and craft traditions. After expanding beyond the boundaries of the graphic arts to express herself on a larger scale, Ay Tjoe transitioned from dry point on paper to her now signature medium of oil bar on canvas – a medium which allows her to maintain the technique and core principal of drawing. She has declared: "To me, painting on a canvas is also like drawing, as well as graphic with dry point technique. I use oil bar as my media and use it the same way as I use pencil, crayon or needle when doing dry point […] I get a great sense of satisfaction when I am using steel needles on the flat surface of a bronze plate to produce a lot of lines, and I wanted to continue using this technique with a different medium [with oil on canvas] to achieve a different kind of result and attempt a different kind of challenge".

Whether applied thickly or lightly, at times fluid and lyrical and at other times erratic and forceful, Ay Tjoe's expressive lines dance with intuition and vitality whilst exuding the meticulous integrity, exactitude and precision of that of the most skilled of draftsmen, recalling the works of Egon Schiele and Horst Janssen. Speaking about the latter, Ay Tjoe declares: "Until this day I only carry with me his spirit as an artist: to be courageous, bold and proud standing on my own feet". Ay Tjoe's own standing as a formidable artist in her own right is evident in her virtuosic balance of positive and negative space, and her capriciously varying densities and fluidities of colour and tone – both of which are achieved through nuanced pressures of hand and accomplished painterly techniques. With tactile impasto intermingling with diluted glazes of colour, Ay Tjoe's wraithlike forms take on an ethereal, spectral quality, shifting through fleeting layers of washes as though pursuing each other in an infinite game of hide-and-seek. A strong sense of morphous movement is conveyed – one that is in constant flux between chaos and harmony; discord and equilibrium; delicacy and strength.

A prevalent principle in dry point technique is the balance in positive and negative space; in Ay Tjoe's canvases, the compositions are as much about the marks as they are about the absence of marks. This observation is particularly apt in The Curious Hole, which features the form and subject of the void – of absence, emptiness, a sense of birth or possibility, or of 'passing through'. The work's rounded shapes – suggestive tentatively of aqueous droplets, punctured holes, or platelets hurtling within plasma – play on notions of the visible and invisible, the seen and unseen, as well as the outer and inner aspects of human existence; at the same time, the charged palette of earthy browns and blood reds is potently evocative of both the physical and metaphysical levels of being. Submersing the viewer in an immersive aura, The Curious Hole provokes introspection on themes of birth and death, beauty and abjection, exuberance and unfathomable mystery – a truly superlative painting from the acclaimed artist's oeuvre.
Lot 138
Christine Ay Tjoe
The Curious Hole
signed in English and dated 13; signed and titled in English and dated 2013 on the reverse
oil on canvas
165 by 150 cm; 65 by 59 in.
Estimate:
5,000,000 - 7,000,000 HKD
551,813 - 772,538 EUR
Brushwork III - Abstract Masters
Sotheby's, Hong Kong, 24 November 2018