He is the 26th President since Sir Joshua Reynolds, the first painter to be elected since 1984, and the youngest to hold the post since Lord Leighton in 1878.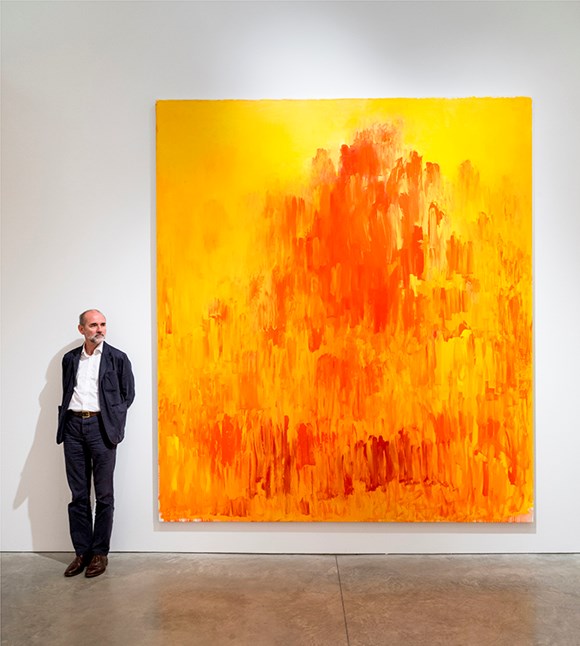 Image: Christopher Le Brun, photo courtesy to the Royal Academy of Arts
Highlights during Le Brun's Presidency include the 250th Anniversary celebrations in 2018 whichwere marked by the completion of the RA's transformative redevelopment linking Burlington Housewith Burlington Gardens. Le Brun was closely involved with this project from inception to completion and was instrumental in creating the new Collection Gallery, The Benjamin West Lecture Theatre and The Gabrielle Jungels-Winkler Galleries. Le Brun has also built on the strength of the RA's worldclass membership, admitting Artist Collaborations such as Gilbert & George to the Academy for the first time. As the RA is an independent charity without government funding, fundraising has been a priority, and throughout his tenure the RA has received some of the largest donations in its history.
As a painter, sculptor and printmaker, Le Brun has maintained his studio practice throughout his eight-year Presidency. Following his departure from the RA, he will return to his studio to devote time to his forthcoming solo exhibitions in Shanghai and New York.
A new President of the Royal Academy of Arts will be elected by Royal Academicians in December 2019.
Christopher Le Brun, President of the Royal Academy of Arts said: "I leave confident that today'sRoyal Academy is bigger, brighter and better. Its prestige has never been higher, with professional staff of enviable quality, an art school and exhibition programme of world class, and Academicians who represent the very best of contemporary art and architecture. The Academy is now taking up the role in national life for which it was originally designed."
Axel Rüger, Secretary and Chief Executive of the Royal Academy of Arts said: "In his time asPresident, Christopher Le Brun has overseen a period of incredible change and development at the Royal Academy. We are deeply grateful for his inspiration and leadership which has given the RoyalAcademy unprecedented success and manifested it further as one of the world's leading artsorganisations. Personally, I am grateful to him for his trust and continued support following my recentappointment."