Image: Yusuf Karsh's iconic portrait of scowling Winston Churchill ('The angry lion'), 1941, Sotheby's
Collectors will have the opportunity to acquire their own piece of political and cultural history when an esteemed portfolio of rare books, manuscripts, photographs and vintage posters, pertaining to Sir Winston Churchill are offered in an online-sale this month.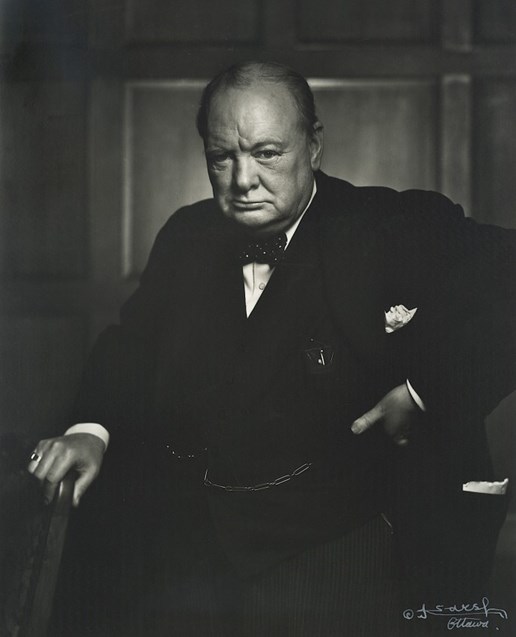 Yusuf Karsh's iconic portrait of scowling Winston Churchill ('The angry lion'), 1941, Sotheby's
Assembled in partnership with Chartwell Booksellers, the world's only bookstore devoted to the writings of Winston Churchill, the sale will open exactly 80 years to the day when Churchill took charge as Prime Minster on 10 May 1940. Germany had just invaded France and Britain would soon stand alone. From his first day in charge, Churchill guided the British people through to the end of World War II with characteristic wisdom, wit and bravery.
Comprising 100 lots, the sale embraces the entirely of Churchill's long life and career. Highlights include the largest known print of the most famous photograph of Churchill ever taken, Yousuf Karsh's iconic 1941 image of a scowling Churchill taken right after Karsh had boldly plucked the cigar from Churchill's mouth (est. $20,000-26,000). A letter from Churchill to an editor for the New York Journal American discussing Churchill's near-fatal recent traffic accident on New York's Fifth Avenue in 1931 (est. $6,000-8,000). An autographed photograph of Edward, Prince of Wales, and Sir Winston Churchill sitting side by side at a dinner held to promote relations between the UK and US, nine years before Edward was forced to abdicate after falling in love with an American divorcee. Churchill later nearly destroyed his own political career attempting to save Edward's crown (est. $18,000-24,000). A rare signed colour photograph of Churchill taken by a serving R.A.F. Airman who was released from duty to photograph the Prime Minister in 1945 (est. $12,000-18,000).
nscribed books form the centrepiece of the collection. A copy of Into Battle, Churchill's then just-published 1941 collection of war speeches, is inscribed by Churchill with a reference to the recent visit of Harry Hopkins, Franklin D. Roosevelt's emissary. Hopkins had been sent to by the President to assess Churchill and Great Britain's chances against the Nazis. His positive visit helped secure America's entry into World War II later that year (est. $18,000-22,000). A wartime presentation copy of The Turn of the Screw is inscribed from 'Mummie' to Mary, Winston and Clementine's youngest child, as a Christmas gift in 1943; a Christmas that Mary spent apart from her parents manning an anti-aircraft battery in Hyde Park, London (est. $3,000-5,000). Two first edition volumes from the Official Churchill Biography (the longest biography ever written) are inscribed from Churchill's son, Randolph, to Hollywood film star Douglas Fairbanks, Jr., who had worked with Winston during World War II, developing and training commando units (est. $12,000-16,000).
The sale opens with the oldest item, Atlas to The Memoirs of John Duke of Marlborough, written byChurchill's ancestor in 1820, with a bookplate of Winston Churchill's laid-into the book. The sale concludes with signed first edition Churchill biographies by, respectively, Boris Johnson and Andrew Roberts.
Churchill himself wrote 44 books, most of which feature in this sale, all in first edition; from his first book, The Story of the Malakand Field Force, published in 1898, through My Early Life: A Roving Commission, the only volume of personal memoirs that Churchill ever wrote, culminating with Churchill's Memoirs of the Second World War, which helped win him the Nobel Prize for Literature in 1953. All together these books, eloquent speeches and revealing letters open a window onto every period of Churchill's life and career.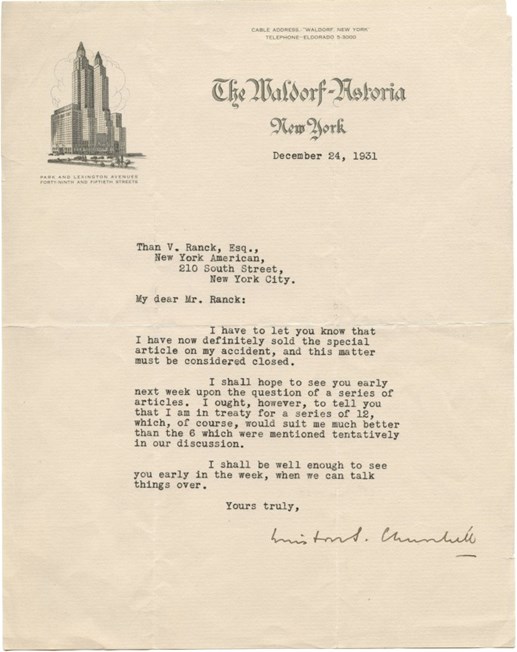 A letter to Than Von Ranck, an editor at William Randolph's Hearst's 'The New York Journal American', written shortly after Sir Winston Churchill's infamous car accident on New York's Fifth Avenue, Sotheby's
Until now, this collection has been housed at Chartwell Booksellers, an independent bookstore in the heart of New York City. Named after Churchill's beloved home in England's Kent countryside, Chartwell is owned by Barry Singer, who opened the store 37 years ago.
"Churchill provided the 'lion's roar' that gave resolve to freedom-loving people at our Darkest Hour. Barry Singer has been synonymous with his dedication to all things Churchill, and his Chartwell bookshop is a haven for New Yorkers. His sale at Sotheby's to commemorate the 80th Anniversary of Churchill becoming Prime Minister on 10 May 1940 will delight collectors and Churchill aficionados alike".
RandolphChurchill, Winston Churchill's great-grandson