"One thing that is different about painters looking at my work from non-painters, is that painters can see it as relentless and tough," said Amy Sillman. "There is so much elimination and destruction in the process - I am happy if you see the works as beautiful or uplifting, but they are tough objects that I have struggled with. It may be a beautiful struggle but I want you to see the struggle in it." Sillman's manner is ever-direct, analytical and unfazed, exactly what one would expect of an artist who makes beautiful works, imbedded with conflict. Being in her depths, it is easy to forget that you are discussing art, and not philosophy: "People are always asking what my paintings mean. I don't think you can understand painting by reading about it...By making, unmaking, scraping off, destroying and rebuilding, you learn it. You learn the outcome while you are questioning it." Sillman's words fold into her art, which is done and undone countless times over, until it is precisely right in her esteem. In her drawings, paintings and merging forms in between, process is king and all other aspects of art-making are ancillary.  Her current exhibition at Gladstone Gallery, Mostly Drawing is primarily comprised of works on paper incorporating silk screening, painting and drawn elements to examine the concept of drawing itself. ArtDependence spoke with Sillman to find out more about the unexpected Figurative elements that ground her Abstraction, her uncanny humor and her metric for knowing when a work is truly complete. 
ArtDependence Magazine: In Mostly Drawing, your works offer a hybrid of silk screen, paint and drawing on paper. How do these other forms of art practice expand the technical possibilities of what drawing can express?
Amy Sillman: The way I work has a lot to do with erasing, painting over, scraping the piece down, adding and subtracting layers and materials. It is a process-driven investigation. I have a complicated relationship with works – I am not drawn to refinement and finesse, sometimes you need to be able to tear things apart to realize the result. I am interested in discovering, rather than "producing" the work.
AD: Each piece in the show highlights formal dualities - narration vs. abstraction, color vs. line, flat vs. recessive space and painting vs. drawing, which function to push the boundaries of the viewer's expectations. How does the notion of duality inform your work and methodology?
AS: It is a structural aspect of who I am - not just my thinking, but how I do things, how I approach life. It is an attitude. An early painting teacher told me that I would have to decide between abstraction and figuration and I thought: What? Why? I was already working with both even then.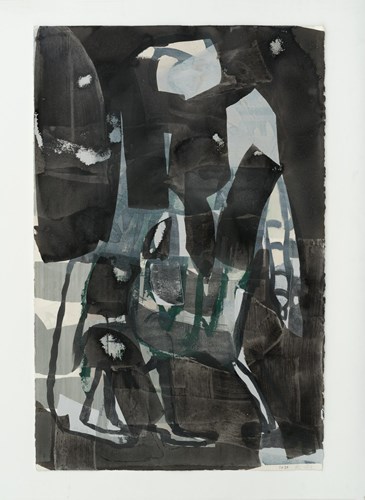 Amy Sillman, SK28, 2017. Acrylic, ink and silkscreen on paper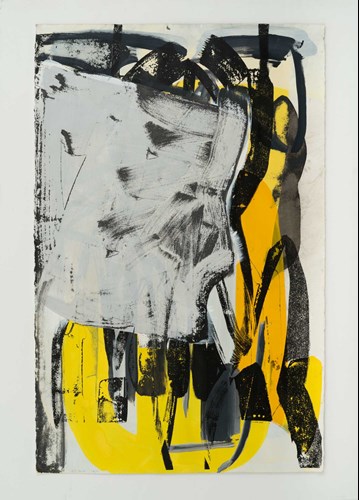 Amy Sillman, SK30, 2017. Acrylic, ink and silkscreen on paper
AD: Your works move between Abstraction and Figuration, incorporating aspects of traditional painting as well as comic illustration. How do you strike a harmony of balance in your incorporation of the dissimilar forms?
AS: There is a balance of trial and error. You look at the piece, go back, put it aside. There are micro levels and layers of color and surface. You have to hone your gut and your own instincts.
AD: You do not consider yourself an Abstract Expressionist painter. In fact, you have said: "I wanted to learn about both Abstract Expressionism and the critique of easel painting—not because I wanted to emulate them, but because I didn't like them." Tell more about your relationship with these art genres in developing your own niche.
AS: It took me so long to become a painter - in art school, painting was heavily critiqued so I thought I was going to be a cartoonist or a linguist. I became interested in the idea of making something up as you go along, how that works as a process and as a theory. It took me a long time to figure out who I was as an artist.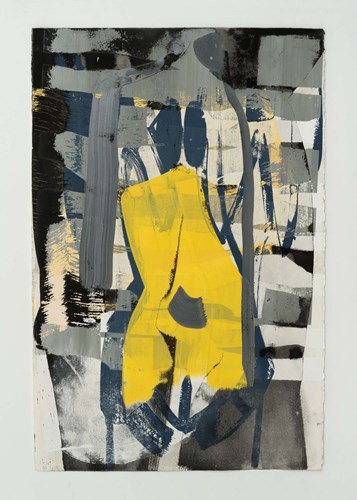 Amy Sillman, SK51, 2017. Acrylic, ink and silkscreen on paper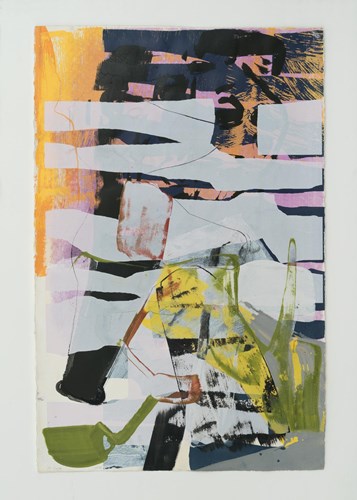 Amy Sillman, SK42, 2017. Acrylic, ink and silkscreen on paper
AD: Humor is an important aspect of your art, often emerging in subtle and unexpected ways. How does this quiet, tongue-in-cheek style function to deliver your conceptual messages?
AS: I have always liked improv, which is process-based. The idea of funny was also a big part of my family, both the value of laughter and the analgesic aspect of it. Humor is an important part of how I relate and react to the world more broadly.
AD: Your work maintains a balance between a feeling of openness and the formal language of Abstraction. How do you effectively toggle between free association and the stream of consciousness that guides your practice, and making art that is visually interesting and compelling?
AS: There is an element of analysis, and I also look for surprise or insight that comes in an instant.
Image on top: Amy Sillman, SK20, 2017. Acrylic, ink and silkscreen on paper
All images are courtesy Gladstone 64.