The 6th Cosmoscow International Contemporary Art Fair will take place at Moscow's Gostiny Dvor on 7–9 September 2018. The VIP Preview and Vernissage will take place on 6 September 2018. Cosmoscow 2018 Focus' country of choice is Belgium. 

Cosmoscow 2018 will showcase a record number of galleries and artists introducing 70 galleries from Belgium, Bulgaria, Estonia, Georgia, Kingdom of Bahrain, Latvia, Lithuania, Norway, Russia and Poland that will exhibit works by more than 200 artists.
This year Cosmoscow will introduce several new sections: Editions, Frame and Design.
Editions will feature five Moscow projects dealing with prints and multiples including ARTMOSSPHERE, ArtTube Editions, Format One, Shaltai Editions, and White Walls Problems Gallery. This inaugural section will provide Cosmoscow guests with a unique opportunity to purchase works of both young and well-established artists such as Misha Most, Andrey Monastyrsky, Viktor Alimpiev and Alisa Yoffe, to name just a few, at reasonable and attractive prices.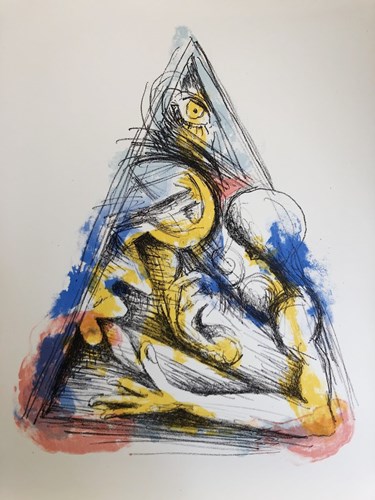 Igor Makarevich (born 1943), Composition with a hammer and sickle from the series Triptych, The Magic of Social Utopias, 2018. Lithography, 70 x 50 cm. © Shaltai Editions
Frame will unite a number of Moscow projects such as XL Projects (Anya Zholud, ZIP group, Irina Korina, Andrey Kuzkin, Igor Makarevich, Boris Orlov, Alexander Povzner, Roman Sakin, Aidan Salakhova, Sergey Shekhovtsov), LUCH Gallery (recently deceased Andrey Krisanov, Kirill Kipyatkov), Lazy Mike (Daniel Lergon, Paruyr Davtyan), Pinkpong Gallery (Liza Bobkova, Matiush First) and TOLK Gallery from Nizhny Novgorod (TOY crew and Jacob Khorev) together with Manama-based Art Select with works of Rashid Al Oraifi, Omar Al Rashed, Dawiya Al Alawiyat and Faika Al Hassan.
 
"Cosmoscow will pioneer the international art market creating 'Frame' – a small section for galleries in transit (with no particular space) – it illustrates ubiquitous attempt to reform the gallery format in auction and mega-galleries driven ecosystem," said Olga Temnikova of Temnikova & Kasela, member of Cosmoscow Expert Committee.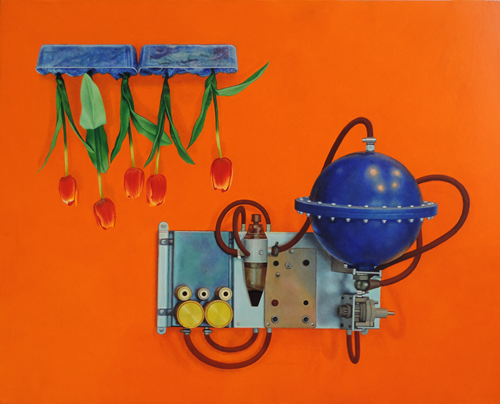 Taisia Korotkova (b. 1980) Tulips, 2018 Oil on gesso on wooden panel 40 х 50 cm © NK Gallery
Design will be highlighted by the selection of established international artists such as Olivier Gagnère, Pierre Charpin, David Dubois, Joschua Brunn, Hiquily Philippe, Jaime Hayon to be represented at Heritage Gallery stand. This respectable list will be complemented with an impressive line-up of authors of the NG Gallery, Moscow (Pierre Jeanneret, Ladislas Kijno and Jean Miotte among others). The Art of Russian Design curated project will feature limited pieces by such well-known Russian artists as Gosha Ostretsov, Recycle, Olga Soldatova, Egor Ostrov, Ivan Gorshkov, Masha Shubina, Alexey Krendel and Harry Nuriev. The list of Design section's participants will also feature the.DOT.home and Tapis Rouge, both from Moscow along with Re:collection by Crosby Studios, New-York / Moscow.
 
"Today, it's no surprise to see collectors or architects integrate objects of collectable design along with painting and sculpture into their residential space. This year, Cosmoscow introduces the Design section that will feature objects made in a single copy or limited edition of both international and Russian artists and designers," added Kristina Krasnyanskaya of Heritage Gallery, curator of the Design section.
Image on top: Crosby Studios Stavropol, 2017. Antient artistic technique of metal carving. Variative sizes (from 0,6 to 2 m)
Full list of participating galleries and artists can be found here.