Sotheby's is delighted to present a portrait by the Iranian artist Leyly Matin Daftary. Leyly's style of painting using a combination of expressiveness and minimalism provide the viewer with a voyeuristic insight into the personality and identity of her sitters. Her paintings are colored in the universal language of the arts, defying all borders and nationalistic identities.  Her naïve depiction of the present sitter is executed in the artist's typically simple, flat-painted style; yet it is oddly dramatic and charismatic, encapsulating both a specific personality and the generic 'woman'.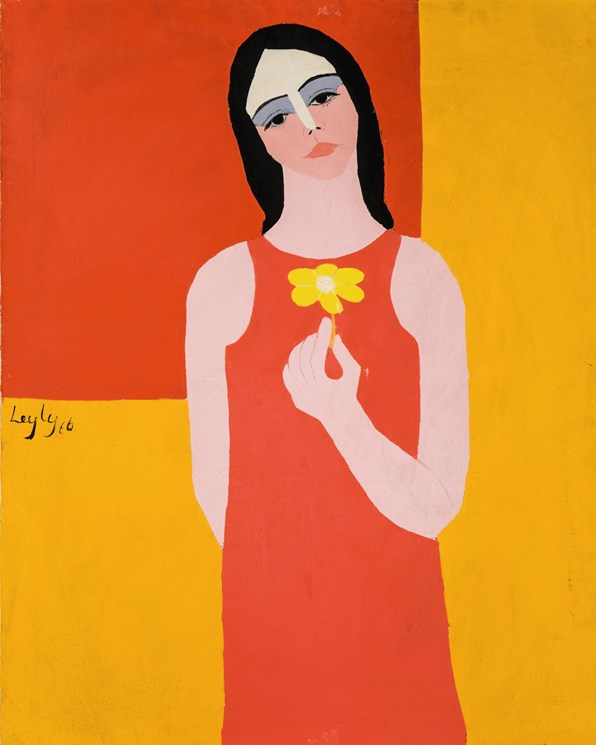 Leyly Matine Daftary
1937 - 2007
IRANIAN
GIRL WITH FLOWER N21
signed Leyly '66
oil on canvas
100 by 80cm.; 39 3/8 by 31 1/2 in.
"We are honoured to be entrusted to sell this rare painting by Leyly which is reminiscent of a Tehran long forgotten. Girl with Flower n21 dating from 1966 is the epitome of Leyly's portraiture style-  there is a wistful, serene quality, achieving the height of this genre which aims to speak volumes about its subject".
On view in Sotheby's London galleries from Friday 19 October, as part of Middle Eastern art week.