Image: ZHANG DAQIAN (1899-1983), Retreat in the Bamboo Grove
After travelling the world from India to Argentina, Zhang Daqian settled in Mogi das Cruzes near São Paolo in Brazil in 1954 where he built an extravagant, lush traditional Chinese garden named the Garden of Eight Virtues. The 1950s and the 1960s were a fruitful period in Zhang Daqian's prolific artistic career. It was during these decades that he finessed his splashed-ink and splashed-colour techniques, further breaking away from the traditional Chinese landscape painting that he was well-versed in. The exposure to new cultures and geographies, coupled with the deteriorating eyesight that reduced his ability to paint in the meticulous manner, inspired him to seek radical reinvigoration of painting that propelled his art in unexpected directions.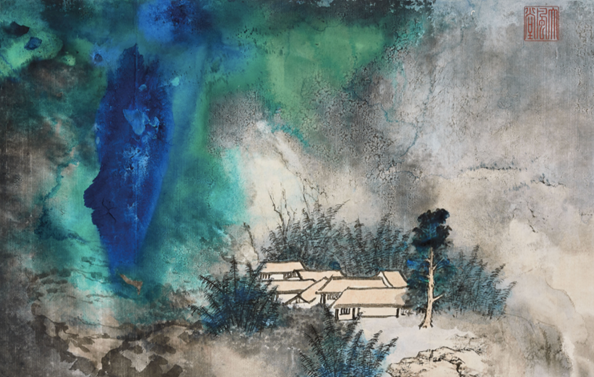 An electrifying vision of scintillating hues of green and blue, Retreat in the Bamboo Grove sits amongst the most monumental splashed-colour works that epitomise the triumphant outburst of creative energy in the artist's final years. If his Brazil and California periods saw unprecedented, powerful canvases with near-abstract swaths of colour, after Zhang settled in the outskirts of Taipei in 1976, figurative motifs from the visual language of traditional painting – waterfalls, houses, boats and scholars – made increasing appearances in his splashed-colour landscapes. Executed in 1977 on special paper produced by an antiquated method dating to the Song dynasty, Retreat in the Bamboo Grove is dominated by majestic mountainous forms in a dance of cobalt and malachite.
Rising above patches of gradually built up diluted ink forms, a striking dash of iridescent blue punctuates the composition, anchored by the cluster of humble huts emerging from the depths of the bamboo groves and further framed by the contrapuntal colour formations in the foreground; textured strokes outline the meandering path in the near distance, a ribbon of mist separating the dwellings from the outside world. By depicting an idyllic retreat with effortless technical prowess, Zhang Daqian demonstrates a spectacular synthesis of pictorial languages that firmly places him as one of the greatest artists of the twentieth century.
Fine Chinese Modern Paintings
Christie's Hong Kong, 26 November 2019
Lot 1280
ZHANG DAQIAN (1899-1983)
Retreat in the Bamboo Grove

Scroll, mounted and framed, ink and colour on paper
102 x 193 cm. (40 1/8 x 76 in.)
Inscribed and signed, with four seals of the artist and one dated seal of dingsi year (1977)
Dated summer, sixty-sixth year (of the Republic, 1977)

Estimate: USD 5,779,899 - USD 7,064,321