Image: Diane Arbus (1923–1971), A family on their lawn one Sunday in Westchester, N.Y. 1968
1968 is an extremely active year for Diane Arbus. In January she moved into a small three bedroom apartment in the East Village, on 10th Street between Second and Third Avenues. The move is exhausting, yet by February she is travelling on assignment to South Carolina for Esquire. In correspondence with Peter Crookston, her editor at The London Sunday Times Magazine, and with whom she regularly discusses story ideas, she writes the following:

'I have been wanting to do families. I stopped two elderly sisters the other day … And especially there is a woman I stopped in a Bookstore who lives in Westchester which is Upper Suburbia. She is about 35 with terribly blonde hair and enormously eyelashed and booted and probably married to a dress manufacturer or restaurateur and I said I wanted to photograph her with husband and children so she suggested I wait till warm weather so I can do it around the pool! They are a fascinating family. I think all families are creepy in a way.' —Letter to Peter Crookston, circa June 1968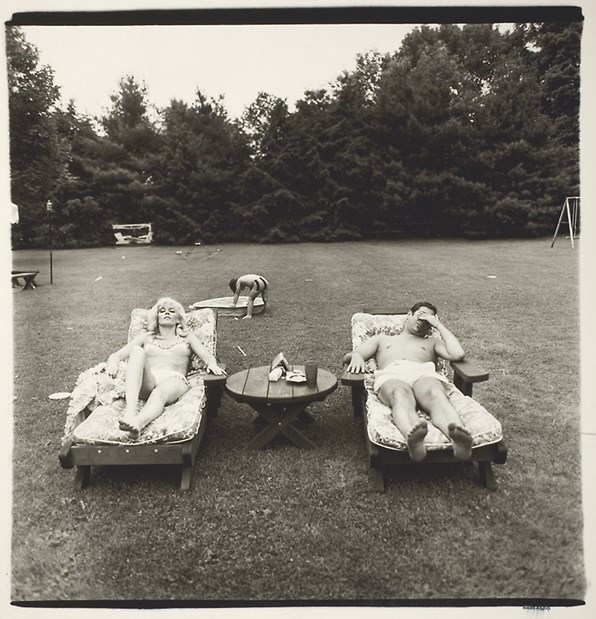 Diane Arbus  (1923–1971), A family on their lawn one Sunday in Westchester, N.Y. 1968

They continue to correspond about this story and others over the course of the summer and fall. Eventually published as a special issue on November 10, 1968 in the London Sunday Times Magazine with the title 'Two American Families', the piece includes the two Arbus photographs, A young Brooklyn family going for a Sunday outing, N.Y.C., 1966, and A family on their lawn, Westchester, N.Y., 1968. Both of these images make their way into her final selection of works for the portfolio, A box of ten photographs, begun and completed in 1971.

Lifetime prints of this image are exceedingly rare, with only 5 examples to have come to auction in the past 25 years. Importantly, the border treatment of the present lot contains clues as to when Arbus made this print. As described by printer and photographer Neil Selkirk in the essay 'In the Darkroom', published in Diane Arbus Revelations (2005), 'around 1965, [Arbus] had begun to surround her square images with broad, irregular black borders.'

Up until that point, ever since 1956 when she began printing her own work, she had employed hard edges to her images with ample white borders. A filed-out negative carrier provided this shift to black borders. Those irregular, black borders eventually gave way to a much-softened, still irregular treatment. 'She reduced the black borders to a vestigial condition,' Selkirk writes. 'The new borders were scarcely there.'

This became her signature style from 1969-1971, informing her later work and used for her famous portfolio, A box of ten photographs. Thus, the present lot was printed by Arbus between 1970-1971. It is a fine example of an artist at work.
Photographs, Christie's, 2 April
Lot 359
Diane Arbus  (1923–1971)
A family on their lawn one Sunday in Westchester, N.Y. 1968
Estimate: USD 250,000 - USD 350,000
gelatin silver print, printed 1970–1971
stamped 'a diane arbus print', signed and numbered '#5704–4–8U–1620' by Doon Arbus, Administrator, in ink, stamped Estate copyright credits, and credited 'diane' in an unknown hand in pencil (verso); credited, titled and dated on affixed gallery label (frame backing board)
image: 15 1/4 x 15 in. (38.7 x 38 cm.)
sheet: 20 x 16 in. (50.8 x 40.7 cm.)
This work was printed by Diane Arbus and is accompanied by a Certificate of Authenticity signed by Doon Arbus, Administrator, in ink, dated April 16, 1997.