Presented by the Alys Foundation and sponsored by Christie, Digital Graffiti at Alys Beach—a projection art festival located on Scenic Highway 30A in Northwest Florida's South Walton County—announces the finalists for the 2018 festival to be held May 18-20, as well as the launch of ticket sales. More than 20 finalists from four countries will gather at Alys Beach to showcase their digital artwork and vie for cash prizes totaling $10,000.
                        "As a shared experience, Digital Graffiti is all about cultivating conversation," says Brett Phares, the festival's curator. "It is social cinema within expanded fields of light and sound, the virtual and the real. There is nothing quite like it."
FINALISTS:      The 2018 finalists include:
▪        Faiyaz Jafri, Great Neck, New York
▪        Vinay Khare, Pondicherry, India
▪        Jane Glennie, Ascot, United Kingdom
▪        Jesse Wollston, Los Angeles, California
▪        Kwanghwee Ahn, Seoul, South Korea
▪        Adam Forrester, Atlanta, Georgia
▪        Cesar Yague, Alhaurín el Grande, Spain
▪        Keaton Fox, Cambridge, Massachusetts
▪        Nowhere Mountain, St. Louis, Missouri
▪        LIA, Vienna, Austria
▪        Sarah Doyle, London, United Kingdom
▪        Katina Bitsicas, Columbia, Missouri
▪        Sean Capone, New York, New York
▪        Kelley Bell, Baltimore, Maryland
▪        Tori Lill, South Melbourne, Australia
▪        AOA, Orlando, Florida
▪        Bang Luu, Lawrence, Massachusetts
▪        Luzena Adams, New York, New York
▪        Max Hattler, Hong Kong
▪        Dan Arnold, Cornwall, United Kingdom
▪        Marpi Marcinowski, San Francisco, CA
▪        Jean-Michel Rolland, Marseille, France
▪        Afrah Shafiq, Karnataka, India
▪        Muriel Montini, Paris, France
▪        Carlos Vargas, Charlotte, North Carolina
▪        Till Beutling, Cologne, Germany
Additionally, a select group of artists have been invited to participate in the Digital Graffiti Visiting Artist Series, scheduled for May 9-20, prior to the festival. The three featured artists are John Colette of Savannah College of Art and Design, Savannah, GA; Kameron Neal of Brooklyn, NY, and 2017 Best in Show winner; and Emilia Forstreuter of Germany.
A panel of art and industry experts, led by Brett Phares, will serve as the jury for the festival and select works for the Best in Show and Curator's Choice awards. Three honorable mentions will also be awarded.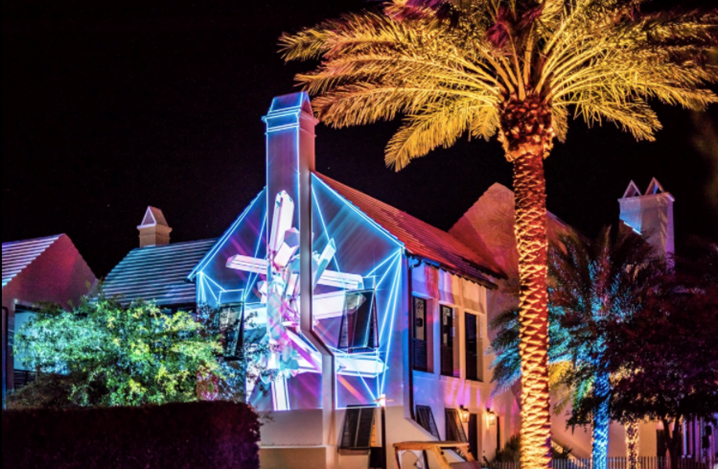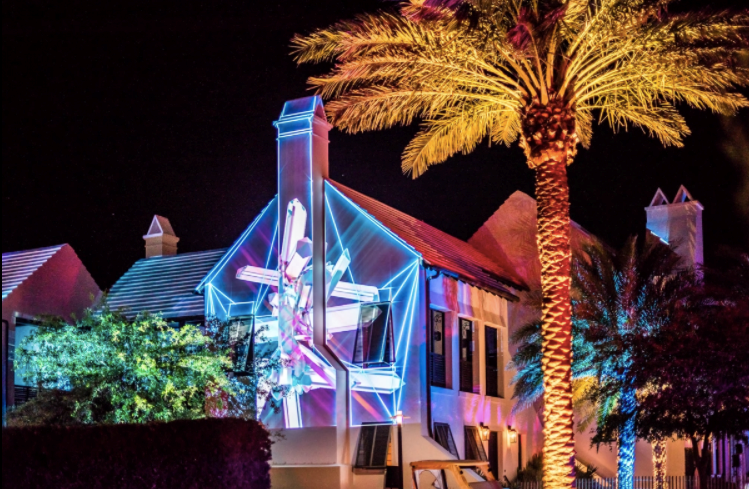 Courtesy Digital Graffiti at Alys Beach
Celebrating its 11th year, Digital Graffiti gives artists a large-scale blank canvas to explore the intersection of art and architecture, while creating entirely new art forms. Once darkness falls, the iconic stark-white walls of Alys Beach glow with dozens of dazzling original art projections.