Downtown Brussels is a fantastic place to stay. It's the part of the city northwest of the central axis, up to and including the canal zone. A bit rough, a bit dirty, but very creative and edgy. It is therefore not surprising that more and more contemporary artists, galleries and museums are establishing themselves in the lower city.
Downtownbrussels.art is an initiative of more than 20 cultural organizations, galleries and museums from the lower city, who want to highlight that. The participating partners of downtownbrussels.art want to show how large and diverse the cultural and artistic offerings in the lower city are, by jointly promoting and deploying joint vernissages, exhibitions and events. By doing so, downtownbrussels.art wants to attract more public and stimulate the art scene in the lower city.
With the arrival of a new museum for contemporary art in the former Citroën garage, the neighbourhood has all the potential to become a real art district, a place in the city where contemporary art finds broad support.
Downtownbrussels.art offers a counterweight to the large group of established galleries and museums from the upper city. Many tourists visit the Magritte museum, without knowing that art can also be found in the lower city. Art collectors know the established galleries in Ixelles and the Louisa district, but they are not aware what downtown has to offer. The classical museums are also mainly uptown. Uptown has a rich cultural and artistic past, but its range is quite classic. Downtownbrussels.art on the other hand is bubbly, fascinating, young and innovative...
A first collective initiative of downtownbrussels.art is planned on 27 and 28 January, the opening weekend of BRAFA Art Fair. Fifteen of the more than twenty partners open their doors and invite you to visit their new exhibitions.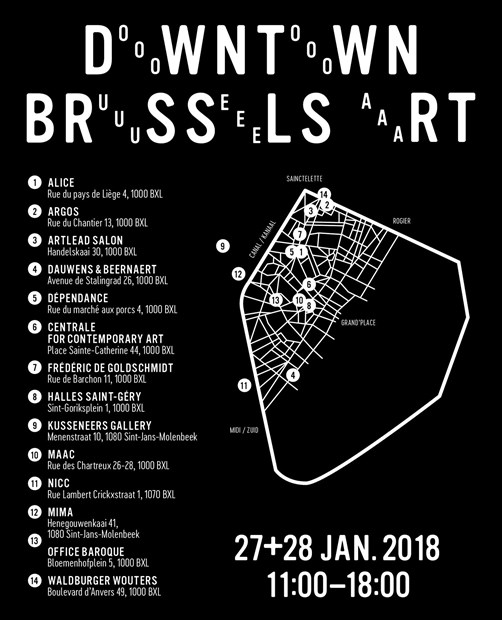 Attendees:
Open on 27 & 28 January: Alice, Argos, Artlead, Central for Contemporary Art, Dauwens & Beernaert, Dépendance, Frédéric De Goldschmidt, Gluon, Halles Saint-Gery, Kusseneers Gallery, MAAC, MIMA, NICC, Office Baroque, Waldburger Wouters 
Not open on 27 & 28 January: Beursschouwburg, Composite, De Markten, Greta Meert Gallery, IMAL, LaVallée, MAD, Société, Vanhaerents Art Collection
Contact details:
Vincent Verbist: vincent@vanhaerentsartcollection.be, 0486/57 32 63
Caroline Van Meerbeek: caroline@gluon.be, 0499/16 12 20
== 
instagram: downtownbrussels.art
facebook: downtownbrussels.art
Website: www.downtownbrussels.art
Mail: downtownbrussels.art@gmail.com
#downtownbrussels.art