Technology is changing and disrupting every area of business and industry in the world at this moment in history, so what is the art world doing to keep up?
Frédéric De Senarclens is a gallerist turned technology innovator who is attempting to apply new technological innovations to the world of art. He has founded a number of cutting-edge websites and platforms that allow buyers, sellers and collectors to connect and swap information online. So, what does the art world make of his innovations, and what's next for the digital maverick?
Etienne Verbist (EVB) caught up with Frédéric De Senarclens to find out more. Etienne is the curator of Museum for Disruptive Art and a strong advocate for new technology and design.
EVB: Who are you and why did you create the platform?
FDS: I'm an art dealer. After running galleries in Geneva and Singapore for over 15 years, I noticed that the art market was ready for online players: in 2015 I founded ArtAndOnly, a boutique online gallery, and in 2017 I founded ArtAndCollect, a platform for collectors, and ArtMarketGuru, a market intelligence website. My journey toward "going online" began in Singapore. While running Art Plural Gallery in Singapore, I noticed that more online platforms and digital hubs were driving and attracting interest, trends and sales. Sales were then predominantly being made online and technological advances meant that maintaining an expensive physical gallery space was becoming a less obvious choice.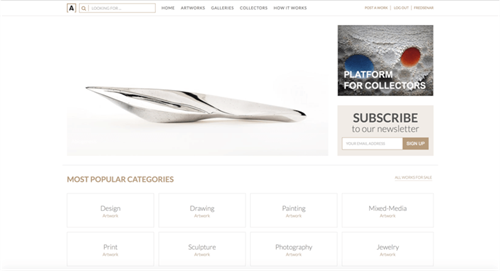 ArtAndCollect Homepage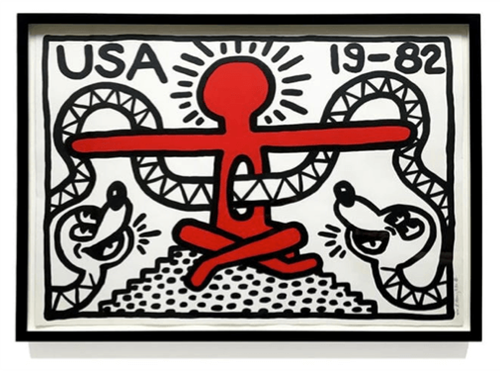 Keith Haring, USA 19-82 (Littmann 17) (1982)
EVB: Why do you do what you do?
FDS: I'm constantly looking out for new technologies and in particular how those technologies are shifting the way we interact with the world around us. Technological innovations could have a massive impact on the art market and that really fascinates me. They demonstrate how markets are adapting to incorporate essential paradigm shifts, and how the drive for commerce, alongside fast-moving tech advances, enables a potentially more exciting and democratic market. I consider myself much more of an art entrepreneur than an art dealer in this respect.
EVB: What is your goal?
FDS: My goal is to be in a position to reconcile the digital and physical worlds. I would love to expand, to be able to further develop and conjoin the strategies that I have created so far – marrying the physical and the digital. I think there will always be room for both.
EVB: How is ArtAndCollect different from other sites?
FDS: The online art world is becoming more and more vast, with dozens of platforms and online galleries launching every month. We recently published an article in ArtMarketGuru's Le Journal titled, "Where to find the best online contemporary art sites?". The task of creating an inventory of all online arts ventures seemed endless. I think one of the main ways that ArtAndCollect differentiates itself is through the space it gives to collectors to offer their works for sale. It is the first platform that gives collectors direct access to market. We are one of the few platforms that recognise the role of collectors as dealers, and as an integral part of the selling process. The online community of collectors available through ArtAndCollect allows for more direct communication and organic networking to occur.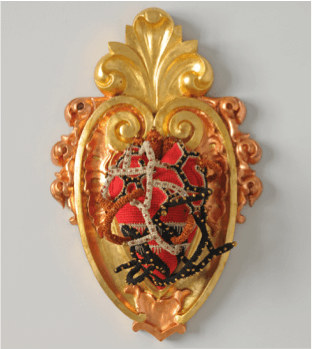 Joana Vasconcelos, Sacré Coeur (2016)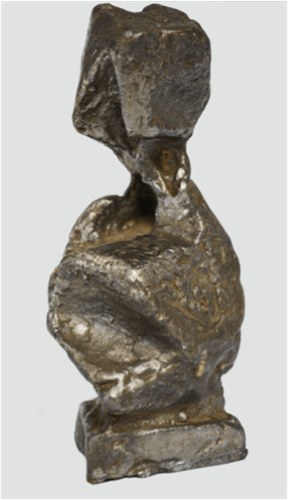 Wout Wilgenburg, Sitting (1962)
EVB: How does ArtAndCollect benefit collectors?
FDS: ArtAndCollect offers collectors a wide range of artworks coming not only from galleries and artists, but also from other collectors on the site. This allows for a wide range of diversity and creates a community that allows users to directly interact with each other. This is one of the main benefits for users: ArtAndCollect offers an opportunity for collectors to sell works directly to the community rather than going through traditional routes such as auction houses or galleries.
EVB: How does the ArtAndCollect platform work?
FDS: ArtAndCollect is a platform that allows collectors to post works for sale directly, with no commission or intermediary. The user creates a profile and identifies themselves as either a collector, a dealer, a gallery or an artist. They then describe themselves and their works in order to give the most accurate account of who they are, before finally submitting their works with the click of a button.
We aim to make the process as straightforward as possible, whilst allowing for transparent access to international works and collectors. It was conceived as a unique solution for collectors wishing to have more direct access to the market and a commercial platform to buy, sell, negotiate and communicate directly with fellow art lovers.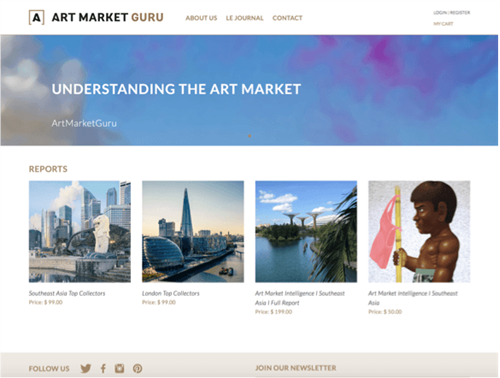 ArtMarketGuru Homepage
EVB: What impact do you think your platform will have on the Artmarket?
FDS: I think that there are so many technological advancements and platforms being created, so it's clear that the art market will be influenced by these developments in some way. Online platforms have and will continue to change the way we buy and sell art. Platforms such as ArtAndCollect will reshape the market during this crucial time where the traditional gallery model is failing due to the cost of running a physical gallery space, and where the business model for collectors and gallerists is changing.
As part of what we do with our market expertise initiative, ArtMarketGuru, we research into the impact of these key changes. Many experts seem to be pointing in the same direction: the gallery space is increasingly moving online and more dealers are finding that the online spaces are the best platforms from which to sell art. We recognise that there will, of course, be more than one platform that will be successful with this, which is why a big part of what we do is to constantly bring everything back to the user experience as well as the platform model.
EVB: How do gallerists react to your platform?
FDS: Responses have been very positive. Gallerists are generally very welcoming because the platform provides a more direct access to, and closer interaction with, collectors. It also allows users to look over the collector's specific interests before suggesting works. As the list of users grows and more and more collectors join the site, more gallerists are viewing the platform as a new opportunity and a resource for sales.
EVB: About the fine art market - how do you think the art businesswill develop in the future?
FDS: Before starting a project, I spend weeks researching and reading through current trends to get an idea of how the art market is developing. I think that concepts such as Blockchain are very interesting to keep an eye on right now as they will define how we will deal art in the very near future, how art will be traded, and how people will do business of any kind. Blockchain is an open ledger that allows for each transaction to be logged in an online space, safe from hacking. Information gets recorded and encrypted so that it cannot be tampered with, which allows for traceability of transaction among other innovations.
The art business as we know it today will change because of this technological advance. Transactions will be much more straightforward, with no back deals with massive benefit to artists and collectors. Looking at things in this way, it's clear that advancements in technology will have a very big impact on the art market.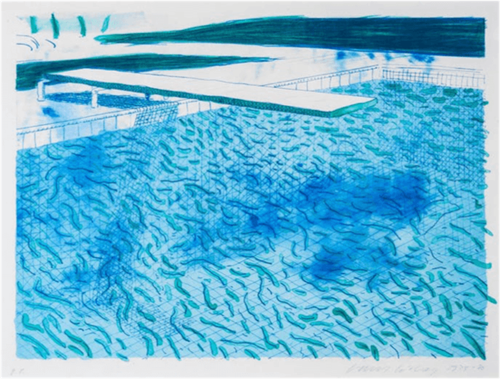 David Hockney, Swimming Pool (1978-80)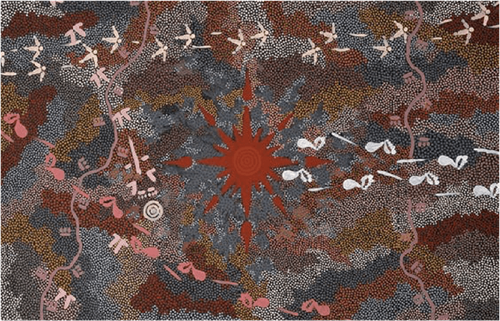 Clifford Possum Tjapaltjarri, Warlugulong (1996)
EVB: What role does the artist have in society?
FDS: Artists move everything forward and progress society through cultural change. I believe that artists are essentially a mirror of their society - their role is to capture and reflect the essence of their own paradigm. In that respect, they could be viewed as the architects of tomorrow, capturing memories and filing cultural shifts on their canvas. We understand societies of the past by examining the works of art from that period. The role of today's artist is to capture the essence of our times and translate that in their work. I've always been interested in artists who look to techniques from the past to make the art of today.
EVB: What memorable responses have you had to your platform?
FDS: People love it.
EVB: What do you dislike about the art world?
FDS: To a certain extent the art world is very artificial and quite disconnected from reality. I think that the art world has always been somewhat at odds with what's really happening in the world on a larger scale; seeing work sell for millions of dollars is disconcerting when viewed alongside world news. It's often the case that the artists who are recognised by the public aren't necessarily the ones who ought to be noticed, while artists producing artwork of note are often ignored. Of course, this is subjective, and it doesn't change my devotion to art and the art market. Part of the fun of working in the art world is the journey through it and learning to navigate it.
EVB: What role does art funding have?
FDS: ArtAndCollect is not involved in any of the transactions that happen on the platform and is therefore separate from the funding in that respect. I believe that art funding can play a pivotal role in creating large scale works for the public, but when it comes to supporting collectors, I believe that what we are doing with ArtAndCollect is more directly beneficial. 
EVB: What research do you do?
FDS: For the past three years, I have been constantly following news about the latest technology. I strive to better understand what's going on in the world of technological advancements and how these developments can be applied to the world of art.
EVB: What is your dream project?
FDS: To have the freedom not to be stuck in one area - to be able to travel and live in different cities while working on fascinating projects.
EVB: What Social Media do you use?
You can find us on @artandcollect on Instagram, twitter and facebook, or connect with Frédéric de Senarclens on Linkedin, where he posts about art news and innovations in the art marketplace.
EVB: Finally, what is your favourite object, painting or sculpture?
FDS: That's a hard question to answer, every day we get new submissions to ArtAndCollect that I fall in love with. Recently, I've been really admiring the bronze works of Wout Willgenburg, as well as looking more into contemporary and traditional African sculptural work.