Howard Hodgkin (1932-2017) is best known as a painter, associated most often in his mature years with abstraction. His late paintings explode with riotous colour and his signature repertoire of stippled dots, splotches, commas, rainfall-like-drips and long, broad brushstrokes, which conjure an illusion of painterly spontaneity. These pictures were, however, the fruits of intense, solitary labour, and often completed over a period of many years.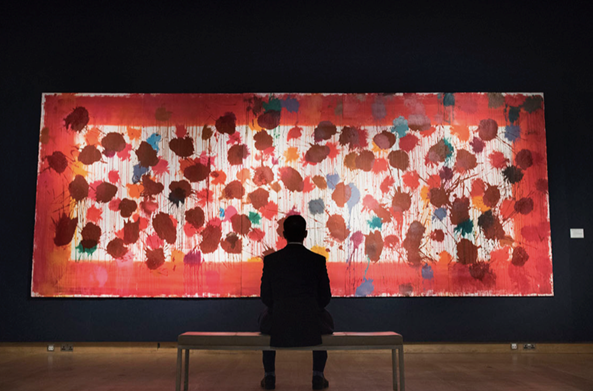 As Time Goes By (Red), Howard Hodgkin at Christie's
Hodgkin's meticulous, singular painting practice may appear at odds with the collaborative and, at times, unpredictable process of printmaking. Certainly, the artist regarded painting and printmaking as two distinct practices, each of which offered different artistic challenges and creative possibilities.
In an interview with Liesbeth Heenk, author of Howard Hodgkin Prints, a catalogue raisonné, the artist discussed working alongside printmakers, and how they had enabled him 'to do things that I didn't know, and often they didn't know, were possible to do'.
'This sale presents an almost comprehensive collection of his prints from this period (1986-2009), which include some of his best-known works,' confirms James Baskerville, Associate Specialist in Prints and Multiplies at Christie's  London. All the works offered are fresh-to-market and in very good condition. 'Since Hodgkin's death in 2017, his market has remained strong,' the specialists adds. 
'There's an unexpected vibrancy and emotional dimension to Hodgkin's prints in this sale that will surprise people — there should be something that will connect with everyone.'
Hodgkin experimented with the full spectrum of printmaking throughout his career, making over 100 signed, editioned prints during his lifetime. It wasn't until 1986, however, that his printmaking took a dramatic new direction.
Although Hodgkin had experimented with hand-colouring — the technique of adding watercolour, gouache, or ink to the printed surface — Shirreff introduced the use of hand-colouring with acrylic to his practice, as well as the printing technique of carborundum (a carbon and silicon compound that induces surface texture when applied to an aluminium plate). It was an innovation that would revolutionise his prints of this period.
'Carborundum gives the print a really nice thick, almost brush-like texture, adding a three-dimensionality to the work that makes the images much more powerful,' says Baskerville.
This fusion of printmaking and painting defines many of Hodgkin's prints produced during this period, including the highlight of the forthcoming sale, As Time Goes By (Red), from 2009. One of the largest etchings in the world, it measures more than two metres in height and six metres across, and features Hodgkin's characteristic splotches, drips and vermilion palette, and a thick, impasto surface texture.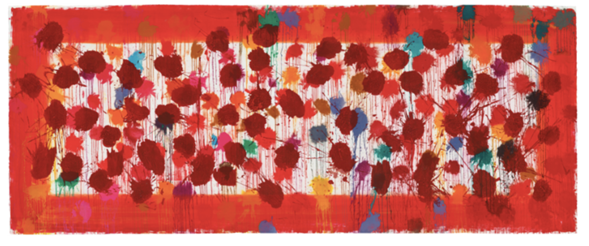 Time Goes By (Red), from 2009
'The printmaking and hand-colouring are so intertwined in this work — it's like an enormous painting that confronts you head on,' says Baskerville. It is not only the last print Hodgkin made with Shirreff, but also regarded as one of his seminal works.
Feeling in Colour: The Graphic Art of Howard Hodgkin
Christie's, London, 4-12 April, Online
Lot 11
As Time Goes By (Red)
from 2009
Sheet 2440 x 1220 mm. (each)
Overall 2440 x 6100 mm.
Estimate: GBR 35,000 - GBR 50,000