Image: SANYU (CHANG YU, 1895-1966), Five Nudes
"Sanyu's flowers, his animals, and especially his female nudes exhibit an almost unmatched beauty, full of harmony, inspiring our admiration." - Jean-Claude Riedel 1
Christie's Hong Kong is honoured to present one of the greatest Chinese works of art of the 20th century at auction this fall — Sanyu's masterpiece Five Nudes . Born in Sichuan, Sanyu possessed an unusual artistic genius, and is today recognized as an important founding figure in the development of modern Chinese art.

Traditional Chinese painting has always taught that the artist should seek to learn from nature, and historically human subjects rarely appeared as prominent subjects within most traditional Chinese paintings. The female nude was never considered an appropriate subject for fine art, and appeared only in low-class erotic images reserved for entertainment. Yet as one of the first generation of Chinese painters to study abroad in France, Sanyu broke new ground by boldly placing the female nude at the centre of his artistic output. Though he painted using Western oil paints, he nevertheless imbued his work with a deep understanding of Chinese painting, breaking out of the conventions that for thousands of years had limited the range of subjects that were considered appropriate in Chinese fine art.

The female nude is universally acknowledged as one of Sanyu's core subjects. In Five Nudes, a large oil painting dating from the 1950s, five curvaceous women dominate the majority of the composition, their creamy white skin standing out in bold contrast against the plum and saffron hues of the floor and background. The muses in this painting exude charm and confidence, adopting a variety of subtle poses as if seeking to entice the viewer into the work, sometimes gazing at us directly and sometimes giving a sidelong glance. Not only is Five Nudes the largest oil painting featuring the female nude Sanyu ever created, but it is also extraordinarily rare due to its being the only known work by Sanyu in the entire world to feature five nudes, the largest number of any of his paintings. Sanyu's work recalls two others in which five nudes are depicted, works now recognized as iconic masterpieces in the history of modern painting: Picasso's Les Demoiselles d'Avignon (1907) and Matisse's Dance (1909). According to Volume I and Volume III of Sanyu: Catalogue Raisonné, Oil Paintings, compiled by Rita Wong, there is currently a total of 56 known oil paintings by Sanyu that include or depict the female nude, only seven of which shows the subject in a standing pose. Of those seven, two date from the 1950s; one is Nude in Front of a Mirror, currently in the collection of the National Museum of History in Taipei, Taiwan; and the other is this unparalleled work, Sanyu's brilliant and beautiful Five Nudes.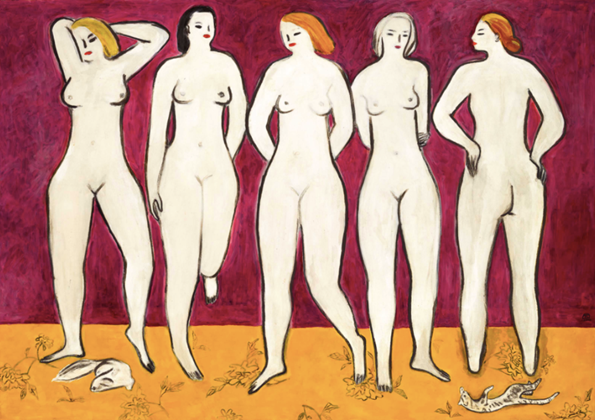 SANYU (CHANG YU, 1895-1966), Five Nudes


A BOHEMIAN IN PARIS: SANYU'S LIFE AS AN ARTIST

"When he went out, Sanyu always brought paper and pencil with him. Sitting in cafés, he enjoyed observing men and women at neighbouring tables, and he would immediately begin to sketch any whose looks he found striking. He was always teaching himself outside of class…. Sometimes, if his allowance hadn't arrived and he had no money, he'd get by on dry bread and tap water. His only valuable camera often ended up in the pawn shop, or he'd ask to borrow several thousands from me. When the allowance came, he'd get his camera out of hock and pay me back…. He was good looking, elegant, and a fine dresser; he played the violin, played tennis, and was especially good at billiards. Aside from that, he didn't drink or smoke, didn't dance, and didn't gamble. All his life he loved what was natural. He was an elegant son of privilege." - Wang Jigang 2

Born to a wealthy family, Sanyu's childhood teachers included top Chinese intellectuals of the time, including a famous scholar Zhao Xi, who taught him poetry and calligraphy. Sanyu's deep cultural literacy in Chinese traditions would later have a strong influence on his later oil paintings. The beginning of the 20th century saw Western learnings spreading to the East in an era of unprecedented cultural exchange. Inspired by the wave of students traveling abroad on work-study programs, Sanyu resolved to go to Paris, arriving in 1921 where he entered the non-traditional Académie de la Grande Chaumière to study and paint. He met a number of foreign artists active in Paris at that time, including Moïse Kisling, Alberto Giacometti, and Japanese artist Léonard Tsugouharu Foujita. Gathering in the Montparnasse District, the artistic and cultural centre of the city, these French and émigré artists and their intense creative fervour led to the formation of the School of Paris. The School of Paris did not represent any single style, but instead describes the free and open environment during these early decades, allowing artists from different cultural backgrounds to absorb new elements and develop styles based on their own individual backgrounds. Numerous Chinese artists at that time struggled to find a new model with which they could integrate Chinese and Western influences; Sanyu's Five Nudes is one exemplary outcome of this period of rich experimentation. Beginning with a fundamentally Chinese conception, the work represents a combination of ancient and modern aesthetics, ink-wash and oil techniques, and bold use of both line and colour. With Five Nudes , Sanyu moved Chinese oil painting into a new creative sphere, exerting an important influence on the development of modern Chinese painting that served to bridge past and future.

In the decades after his arrival in Paris in 1921 and until his accidental death in 1966, Sanyu led the bohemian life of a Parisian artist, unconcerned with the pursuit of fame or fortune, instead following his instincts wherever they led. Sanyu's career can be divided, stylistically, into two phases: The first, during the '20s and '30s, involved integrating Chinese and Western styles. During this period, due to economic support from his brother, life was easy: Sanyu frequented the coffee houses where artists and writers lingered, and attended classes at the Académie de la Grande Chaumière. His work began receiving good notices at the annual Salon, and it was during this period that he also made the acquaintance of the famous art collector and dealer Pierre-Henri Roché. Roché was a collector of some acumen: it was through his introduction that the American collectors Leo and Gertrude Stein began to support and become patrons of Pablo Picasso, then a still-unknown 25-year-old artist, helping him achieve the first successes of his career. Roché's enthusiasm for discovering new artists with potential brought him into close association with artists such as Constantin Brancusi and Picasso, and he was instrumental in promoting their later careers. Roché collected Sanyu's work in different periods, and he once said, "For me, this shows that I once personally saw these artists before they became known, and was friends with them. Among these were Picasso, … the Chinese artist Sanyu, … and Modigliani…." 3. Roché's comment indicates that he admired Sanyu and was drawn to his work, just as he was to the work of other Western modernists.

The European economy fell into a slump after World War II, and by this time Sanyu's monetary allowances from his family in China also ended. His economic condition was worsened by the fact that he lacked the personality for schmoozing with gallerists and dealers who could help promote his work. To support himself, he began lacquering and staining furniture, and producing drawings for a Chinese furniture maker in Paris, a twist of fate that actually brought about significant change in his art. The rich colours and simple lines found in ceramics, embroidery, and Chinese folk art inspired new experimentation in his painting, and ushered in a new era—what would be the final golden era—in his creative work. It was during the 1950s that Sanyu gained new confidence in his creative abilities, and he did not hesitate to say on his returning to Paris from New York in 1950, "I've painted a whole lifetime, but only now do I finally know how to paint" 4. Five Nudes was created by Sanyu during this period of unparalleled creativity and artistic output, during which he produced the work that represents the pinnacle of his entire artistic career.

ELEGANT LINES: INTERPRETING THE SUBJECT OF THE WESTERN NUDE

"In Sanyu's works, you always see his unique style, with such rich poetic feeling… he employs pure and elegant colour, his canvases brimming with his generous temperament. From ancient times, the Chinese have always sought excellence in poetry, painting, and calligraphy. Sanyu melds all three into one, expressing the spirit of the ancient scholars, and he does it on the canvases of his Western style paintings…." - Chu Teh-Chun 5

The beauty of Chinese painting is found in its lines. From the time of the Han and Tang Dynasties, fine, flowing lines were employed in portrait and paintings of elegant ladies. These beautiful lines created an independent style that was later referred to as "the spinning of spring silkworms," or "the high style of depiction in flowing silk." The art of calligraphy, which includes styles such as seal script, regular script, or cursive script, is based on control and different applications of force through the brush, so as to write the same character in different styles. Each calligraphy style embodies its own visual aesthetic, and all reveal the great expressive power of line. Sanyu's style in outlining the figures in Five Nudes obviously derives from Chinese line drawing, as seen in works such as Gu Kaizhi's Admonitions to the Court Ladies or Zhou Fang's Ladies with Flowers in Their Hair. Pang Xunqin (1906-1985) recalls how in 1927 he was painting in the studio with Sanyu, and he noticed Sanyu sketching with a calligraphy brush. His observation indicates that by the 1920s, Sanyu had already adopted Chinese concepts regarding the use of line in shaping his forms. Sanyu arrived at his unusual and uniquely beautiful style as he attempted to "simplify, and then further simplify" his expressive lines.

In Five Nudes , Sanyu employs delightful, flowing calligraphic lines of varying thicknesses to outline the graceful forms of his models in their varied poses. His lines exude confidence and freedom, appearing neatly ordered yet highly fluid, and almost disappearing at certain turning points. The women's figures are far less exaggerated than the ones who sported the "cosmic thighs" of Sanyu's earlier works, though they are still sketched with a naïve exuberance. With simple, direct lines Sanyu traces their large beautiful eyes, their noses, and the redness of their fresh, moist lips. His models exude youthful beauty, and their supple bodies and cherry-red lips embody a classical ideal of female beauty. Four of Sanyu's five models stand facing forward, while the fifth turns her back toward us; each wears a different expression and adopts a different pose. One figure flirtatiously plays with her hair as she points a toe, while the others suggest varying degrees of confidence and bashfulness. With varied brushwork and suggestions of ink-wash techniques, Sanyu's lines capture the concise, skillful control of Chinese calligraphy, expressing a deep sense of lyricism and poetry.

Beginning in the 1920s, Sanyu made large numbers of figure studies in ink and pencil. His sensitivity to form and outline and his dexterous control of medium, is also apparent in his later oil works; the nimble yet languorous lines seem to have been painted with a single stroke. Five Nudes is an embodiment of Sanyu's most mature and fully realized style. Even in the broader strokes, Sanyu captures his subjects' emotional states and expresses complexity within a simple linear style. But a whole universe of expression exists within the simplicity of that style, and in this classic example of Sanyu's portrayal of the female body, the simplicity leads viewers to engage in their own imaginative musings. At the level of physical description, the unabashed nakedness Five Nudes portrays is a display of liberation, but there is nothing pornographic about Sanyu's portrayal of these women. As the models turn their gaze slightly away or indicate a pensive mood, Sanyu subtly reveals the kind of reserve and elegance seen in ancient Chinese paintings of court ladies. A somewhat conflicted sense of beauty develops as they walk a fine line between frank and open display and feminine reserve; that both characteristics coexist in Sanyu's Five Nudes adds extra levels of meaning to any interpretation of the work.

EMBRACING WESTERN EXPRESSIONISM AND AN EASTERN, IMPRESSIONISTIC SPIRIT

"It's rare to encounter an artist such as Sanyu, who is always progressing and keeping abreast of the times in his painting." - Pan Yuliang 6

The broad sweep of Western art history provides a perspective from which to understand the background and achievements of Sanyu, as a Chinese artist, at the time he created his Five Nudes . With the rise of modernism early in the 20th century, the nude became almost completely objectified as an experimental vehicle. Many modern painters at the time attempted to attack or challenge the genre of the female nude, and by extension, the classical academic ideas it represented. The female nude has been a constant theme in Western art in both painting and sculpture; religious and allegorical subjects were presented through rigorous framing of the nude figure, or it was used to express a classical ideal of feminine beauty. At the opening of the 20th century, however, spurred by an upsurge of creative and stylistic freedom, artists of all kinds began experimenting with the nude and produced brilliant variations on this classical theme.

In works such as Picasso's Les Demoiselles d'Avignon, Matisse's Dance , Amedeo Modigliani's Nu couché, or Sanyu's Five Nudes , we see artists of the early 20th century exploring the classical subject of the female body. Their new aim, however, was to find the means to reinterpret this subject and to transcend portrayals that focus purely on their subjects' physical characteristics. Thus no longer do we see these artists pursuing the classical ideals of balance, harmony, or exquisitely rendered realism. The figures in Picasso's Les Demoiselles are bent and distorted, segmented into purely geometric shapes, and placed within a single picture frame, for a complete and multifaceted impression of their figures and their relationship with space. In Matisse's Dance , the artist employs pure, saturated colour and simplified modelling, placing his figures in a circular structure, in a rhythmic and dynamic work that celebrates the energy of life. Modigliani's Nu couché , in contravention of traditional perspectives, deliberately cuts off part of our view of his model's limbs, extending the visual tension and the seductive atmosphere of the image beyond the boundaries of the work; the viewer is brought closer to the figure on the canvas as if viewing her through a close-up lens.

Sanyu, now in an open and liberated country in the West, began to freely explore a genre that had never existed in his own country's artistic tradition. His expression of the theme, however, are very different from that of other Western masters. The female body types depicted in Five Nudes, with their smaller heads and full-figured lower bodies, diverge from strictly realistic physical proportions. Artistic exaggeration of certain features was necessary to present Sanyu's ideal, conceptualized view. Yet his presentation still differs fundamentally from the direct, unrestrained wildness of the Western Fauves, the charged sexuality of the Expressionists, or the rational geometric dissection of the Cubists. Sanyu's unique style of presentation developed from a fusion of Western Expressionism with the spirit of China's freehand, impressionistic approach to painting.

As we reflect on Five Nudes it becomes apparent that, while its female forms are all similar in terms of their proportions, poses, and skin colours, each of them also conveys a personality and mood that is distinctly her own. At the far left stands a graceful blond figure, calm and unruffled, exuding a more confident air than Sanyu's other models as she arches her arms behind her head. Beside her another model stands on one leg, leaning slightly forward, her appearance lovable and appealing. The figure in the middle is closest to the viewer; with her eyes slightly aslant, lips gently curled, and hands held behind her back, she seems occupied with her own thoughts. Next to her a silver-haired model holds her left arm behind her; with her shoulders drawn slightly inward, she seems perhaps more bashful than the rest. The model on the right has her hair gathered in a low bun, and only she stands with her back to the viewer, while gazing slightly toward the left. With an upturned nose and hands on hips, she seems both elegant and alluring. The differences in the forms and movements of these women lend a harmonious balance to the composition. It is a harmony that has been carefully thought through and considered: the movement and stillness within the painting, the straight lines and the curved ones, produce a pleasing variety within the overall unity of the work that serves the basic principles of aesthetics.



20th Century & Contemporary Art Evening Sale
23 November,  2019, Christie's
Lot 7
SANYU (CHANG YU, 1895-1966)
Five Nudes
Estimate: USD 32.078,655 - 70,573,042