Image:Montague Dawson R.S.M.A., F.R.S.A. 1895-1973, British, Fresh Winds, High Seas
Montague Dawson had an affinity for clipper ships, the sailing vessels that catapulted the trading world into the modern era. Between 1840 and 1890, these tall, elegant ships, twice as fast as any sailing ships built, travelled the globe, bringing a wide array of exotic goods from tea to antiques, spices to prints and manuscripts, to eager consumers in America and Europe. These large ships would compete against each other in "tea races" -- pitting the most advanced ships, built for speed as well as maximum capacity, with the best captains and crews. A speedy trip home from the Far East granted bragging rights to the crew and would enable the owners of the ship to command higher freight fees, resulting in huge sums of money. Tea merchants would offer incentives for fast passages as well, adding a premium of £1 per ton of tea to the first ship to dock.
The outcomes of these yearly races were intensely followed by the public, reported in the columns of newspapers throughout the United Kingdom, and many bets were placed on the outcome in London and throughout the ports of Britain (Ron Ranson, The Maritime Paintings of Montague Dawson, Devon, 1993, p. 43).   
Fresh Winds, High Seas is a large-scale masterpiece by Dawson. Depicting a large clipper on a perfect day on the ocean, the white capped water suggesting the high winds perfect for the race home and the men of her crew visible on deck. Her sails fully unfurled, the sea spray and sunlight tangible, the excitement of the race is palpable.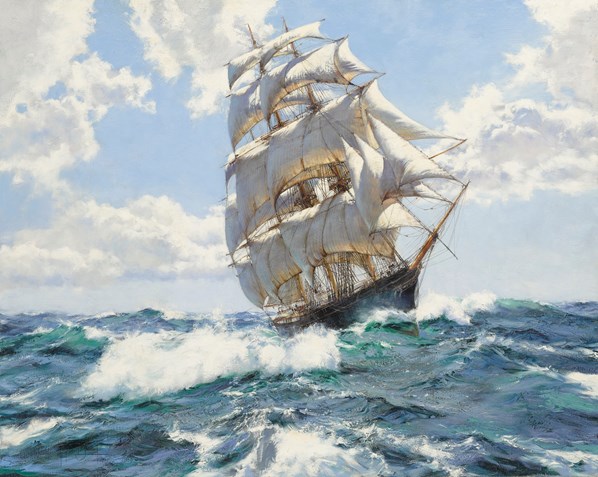 19th century European Art, Sotheby's
1 February, 2019
Lot 474
1895-1973
British
Fresh Winds, High Seas
signed Montague Dawson (lower left)
oil on canvas
39 3/4 by 49 7/8 in.
101 by 126.7 cm
Estimate: USD 200,000  - USD 300,000