Image: No matter what they say, 24cm x 24,5cm, 2019
Irina Gabiani's exhibition "The game without rules"at Gian Marco Casini Gallery in Livorno (Italy) is a continuation of the artist's previous exhibition titled "Domino principle (the end is your choice)" presented at Nosbaum Reding Gallery in Luxembourg, where the artist was showing the consequences of excessive exploitation of the resources of our planet. 
The works were presented in a sequence following the rules of the game of domino, where every tile (canvases and wood) implied and determined the next one, just like in life where one decision can determine consequent events. In the "Domino principle" exhibition, all the tiles were the same size and each of the works caused the next one, until the final choice.
 In the exhibition "Game without rules" at the Gian Marco Casini Gallery, the artist decided to go further and break the rules of the game, making each work a different size and separating each one from the other, exactly as when society stops respecting nature, breaking the fundamental interdependency rule between humans and nature, leading to a path of utter destruction.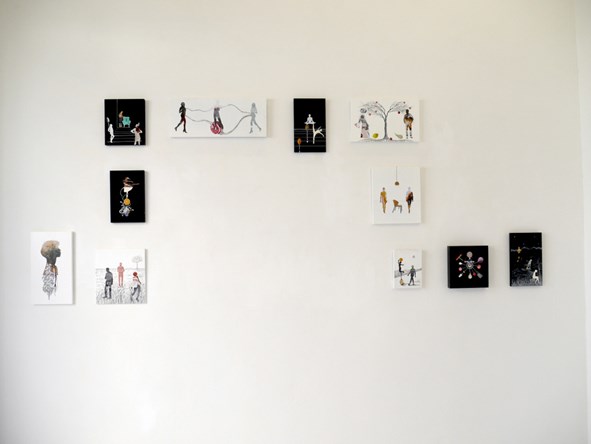 Games without rules at Gian Marco Casini Gallery, Livorno
Today, we are facing the most severe global environmental disaster in all of human history. The artist believes that the excessive use of the limited natural resources will lead to devastating consequences. Therefore, it is essential for society as a whole to make the responsible choice of utilizing nature's resources in a sustainable way, it is essential for society to change their attitude before the destruction reaches a point of no return.
In the end civilization may disappear but maybe nature which is more potent than us will survive and regrow over time.
Irina Gabiani  (Born in Georgia) lives and  works in Luxembourg. After studying at the Academy of Art in Tbilisi, she moved to Amsterdam where she studied at the Gerrit Rietveld Academy. Gabiani works with drawing, painting, installation and sculpture as well as video and performance.
The Universe in its holistic essence is the focus of the research of the artist according to whom we all belong to a unique system, to a "big organism" imagined as a kind of complex, interrelated chain, of which we and everything around us, are a part.
Her works have been shown on an international level, either in galleries, institutions, museums, or in festivals and biennials (including the Venice Biennale).
Conversation with Irina Gabiani & the gallerist Gian Marco Casini
ArtDependence (AD): Georgia-Netherlands-Luxembourg. Every place in which you lived has left you a significant trace. Can you describe it briefly?
I've been painting since I remember myself. I began my training as a professional artist at the age of 16 when I enrolled in a school specialized in art in Georgia. Later on I went to the Academy of art in Tbilisi, where I studied classical painting.
I then realized that a classical education was not enough for me, as I wanted to explore my personal artistic direction. Therefore, I decided to study in Amsterdam at the Rietveld Academy of Arts,where I was given freedom to grow into the artist that I am today.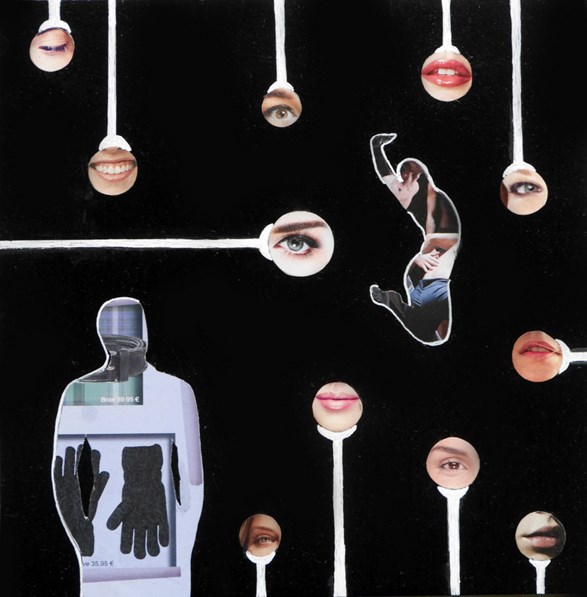 No matter what they say, 24cm x 24,5cm, 2019
After 4 years at the Rietveld Academy, I moved to Luxembourg where I still reside and work today.
This whole journey really helped shape me as an artist, going from a classical art education to what I do today, although I still use the skills learnt whilst studying classical art in Georgia. 
You also have a special relationship with Italy. One of the first exhibitions in which you participated was with Giancarlo Salzano, historic gallerist from Turin amongst which of Carol Rama. From then on, your career took off. What impact did he have on you? Or have there been more significant people in your path?
I have always had a special feeling towards Italy, as for me Italy is the cradle of art. I have always admired this beautiful country and it has over time become my second homeland.
There have been many people who have had a significant impact on my path as an artist, amongst the most significant was Giancarlo Salzano, who played a very important role in my artistic life, as he helped me discover my artistic direction. For this, I will remain forever grateful to him.
There are many other people who have helped shape me as an artist and helped boost my career and I am sure that I will meet many such people in the future as well. I am extremely grateful to every one of those people.
As mentioned, your journey has led you to exhibit in Italy (including the Venice Biennale), Georgia, Luxembourg, Morocco, Lebanon, France, Germany, and much more. The main theme of your work, in my opinion, is the connection between people, objects and places. The beauty of our work is precisely this, to create new contacts and ties day after day. Do you agree?
Certainly, I believe that we are all bound to one another through invisible ties as well as with the whole Universe. I believe that it is important, that we all have an awareness of these connections, as this helps shape our behaviour as a society, to become more respectful of others as well as our planet. Through this awareness, we would in turn become more responsible, which is crucial in today's world.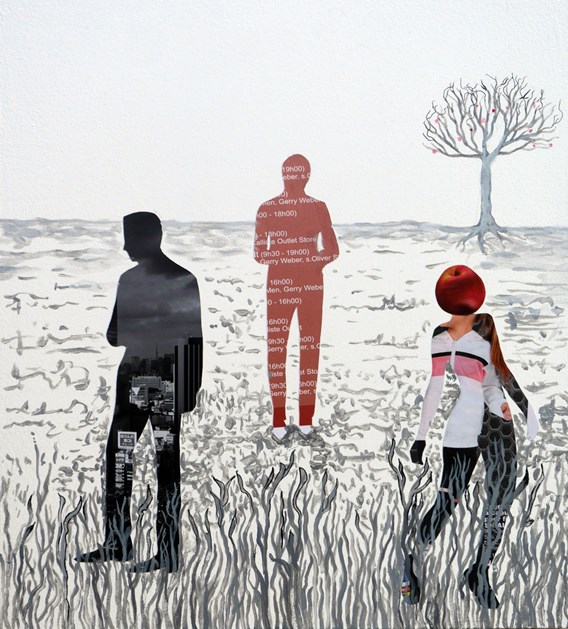 Looking for an apple, 29cm x 32cm, 2019
You told me that you go around in the places you frequent with a sketchbook. How are your works born? Do you usually draw without a plan or do you need to use the sketches in your book to then develop the works in the studio?
I mainly use my sketchbook for projects when it comes to big installations. It is extremely useful as when I have an idea I can draw it on a small scale to better understand how a project could look on a large scale.
Not only I draw out these ideas but I have also made small scale 3d models to have a better idea of how a finished project could look. I have quite a few big projects in mind that I would like to realize in the future. My sketchbook isn't only used to plan but also to make drawings, as this can be done anywhere, these drawings remain separate from any projects or ideas and are the final product. I made quite a lot of these drawings, which I then exposed at the Georgian National Museum.
When it comes to my two-dimensional collage works I usually just make them directly without planning in advance, this is how I make most of my works.
Watching your work, I noticed your family's participation. How important is this for you?
The involvement of my family members in my work has always been very important as I work on the concept of connections and the connection between family members is one of the closest human relationships that exists.
In my earliest collage works, I used photos of my close family members as well as my ancestors. This helped deepen my understanding of myself and my roots which I was then later able to convey in my work.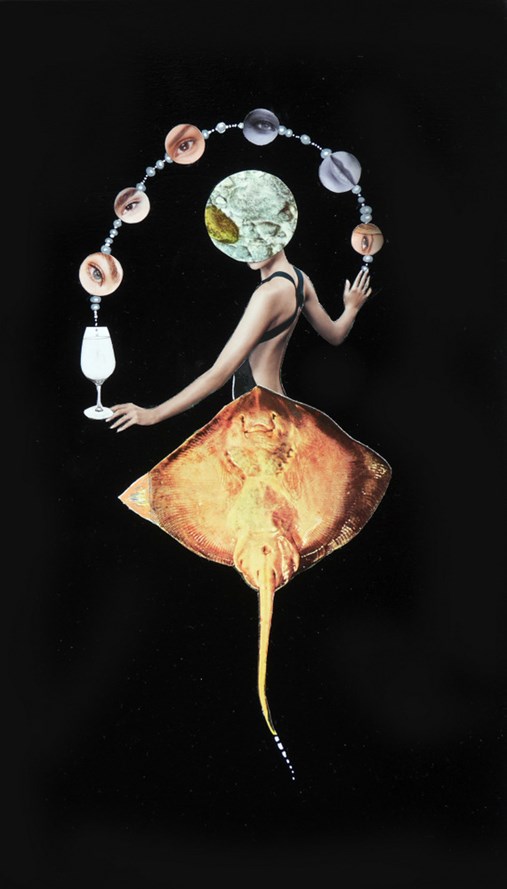 Metamorphosis,  24,5cm x 43cm, 2019
Later on, I started making works using images of my husband and my daughter. Most of these works were in the form of video art, since I decided to explore the use of moving images.
Particularly in your videos your husband and your daughter are often seen as protagonists. How did you start using this medium?
Yes, my daughter Nicole, my husband Ivan and I are the protagonists of these videos, this is important to me as my art is largely connected to my personal history, both past and present.
My first video was a video of the performance "Slaves of the system" which I staged at the Georgian National Pantomime Theatre in 2007 with Georgian actors.
After that, I made another video of a performance "Samaia or Triamazikamno" again with the actors from the Pantomime Theatre, that was also showcased at the Rustaveli Georgian National Theatre.
I then decided to make videos of me and my family, as making videos was always a dream of mine from a young age, where I would see the world around me as a film, so I decided to make that dream a reality and started making video art.
When I make video art, I have to completely change my way of thinking, as I have to adapt my vision to a completely different media.
"Game without rules", can we extend the title of this exhibition to all your research, in which you have created a series of interconnected Universes, that are at the same time free to travel on their own. How did this work of yours start?
I have been working on the theme of similarities within the Universe since 1999. To depict the fact that the Universe is infinite, I decided to use very long, almost infinite paper rolls as a canvas for my works. Through the development of these ideas, the project "Unrolling the Universe" was formed, this was then exhibited at the Georgian National Museum.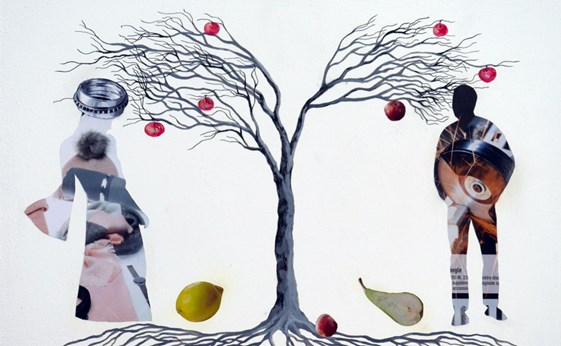 Newton's apple, 41cm x 26cm, 2019
This installation represented the theme of connections within the Universe and showed how everything is interconnected. I later on expanded those ideas into a project titled "Unrolling the human body" that was then presented at the Centre of Contemporary Dance, Trois C-L, in Luxembourg.
This idea was further developed into an installation of paintings titled " Domino principle (the end is your choice)" that was exhibited at the Nosbaum Reding Gallery in December – January this year. For this project I made 39 separate works of the same dimension that were presented as tiles making up a domino game. This project revolved around the concept of life as a game and how each choice we make bares a consequence.  
After that exhibition, I decided to further explore the idea of life being a game, but this time, a game without rules, where I decided to break the rules of the game, making each work a different size and separating each one from the other, exactly as when society stops respecting nature, breaking the fundamental interdependency between humans and nature, leading to a path of utter destruction. I wanted to use this occasionto share this message with the viewers, the risks we are facing if we do not respect this interdependency rule: so that -hopefully- we all start to act quickly and we can save ourselves and our wonderful planet. 
I am convinced that humans can develop in harmony with nature.
Science, laws of nature and social topics are also topics frequent in your works, today in my view there is a proliferation of art as an end in itself. Which is the role of the artist today?
I think throughout all of human history, artists always had a strong impact on society, regarding formation of opinions and its development; art has been one of the major factors contributing to development of humanity over time.
I believe that sometimes artists are ahead of their time in terms of thoughts and ideas, some are so ahead that society is not ready to accept them, but the fact that they expressed their ideas has put some seeds that can help society and its development.
Of course, this is still the case today and I believe that it is important for me to share my views, ideas and intuitions in my art.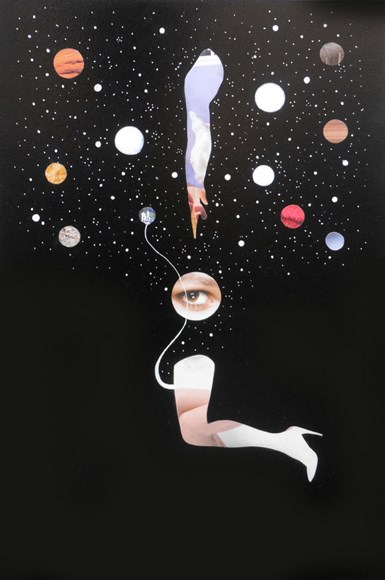 Once upon a time,  32,5cmx 47cm, 2019
Knowing you and looking at your website, it seems to me, that you are careful in taking care of your archive, is this an important aspect for a contemporary artist?
Yes, I organize my archive as it helps me understand how my work has progressed over time, as I can see all the different stages of my art. This allows me to see my whole path as an artist and to realize how my art has grown into what it is today.