The Solomon R. Guggenheim Foundation has received a $750,000 grant from The Andrew W. Mellon Foundation to support the public dissemination of new strategies essential to the long-term preservation, perpetuation, and display of variable, ephemeral, and fabrication-based artworks of the 1960s and 1970s. This vital scholarship was developed through the Guggenheim's Panza Collection Initiative (PCI), a major three-phase study funded by the Mellon Foundation and launched in 2010 to develop groundbreaking research into the compelling questions surrounding the preservation of Minimal, Post-Minimal, and Conceptual art.
Using the rich holdings of the Guggenheim's Panza Collection, an extensive body of nearly 350 works of art from this period, phases one and two of the initiative were dedicated to case studies of artists Dan Flavin, Robert Irwin, Donald Judd, Robert Morris, Bruce Nauman, Lawrence Weiner, and Doug Wheeler. These case studies entailed systematic examination of more than 140 artworks; in-depth archival research; interviews with artists, studio assistants, and fabricators; and an ongoing exchange with an international advisory committee of conservators and art historians to foster discussion and reach conclusions regarding the issues presented by each of the studies. The resulting repository of findings contains exhaustive analyses of each artist's body of work in the Panza collection, often revealing previously unknown aspects of the conceptual or material terms of an artwork and providing insight into the methods of artists from this period. With these findings, the Guggenheim's PCI team has created a methodology to address questions arising from the conceptual, technical, and material concerns within these types of works, ensuring their accessibility for future study and presentation in a manner respectful of their historical context and physical integrity.
Through the support of the Mellon grant, the Guggenheim will develop and implement the third phase of the initiative: a strategy to share the PCI findings with a broad audience—artists, curators, conservators, students, educators, collectors, and others—that will allow both the scholarship and the objects to be more accessible to the general public. A major component will be a comprehensive online archive containing never-before published historical documents and new research related to art from the 1960s and 1970s, featuring dozens of hours of video-recorded and transcribed artist interviews; illustrated artwork histories on more than 140 objects; drawings; certificates of authenticity and documents of sale; and transcripts and video recordings of PCI Advisory Committee meetings. The third phase of the PCI will also include a symposium to be held in spring 2019 in New York, co-organized by the Guggenheim and the Getty Conservation Institute, using questions raised by the PCI to position art-historical and art-conservation practices in relation to other disciplines, including philosophy, literary studies, film and media studies, historic preservation, anthropology, and law. Plans also include the publication of a book presenting a thematic approach to the research and findings of the project, as well as essays stemming from the proceedings of the PCI symposium. The symposium and publication will provide a range of perspectives on key issues regarding production and reproduction, exhibition display, terms of ownership, technical history, and future preservation or refabrication of works from this important period.
The PCI was conceived and is overseen by Lena Stringari, Deputy Director and Chief Conservator and Nancy Spector, Artistic Director and Deputy Director. The first two phases were carried out by Conservator Francesca Esmay and former Senior Curator Jeffrey Weiss, with support from Ted Mann, Associate Curator. The third and final dissemination phase will be conducted by Francesca Esmay, working alongside curators, archivists, editors, and web developers to publish the study findings.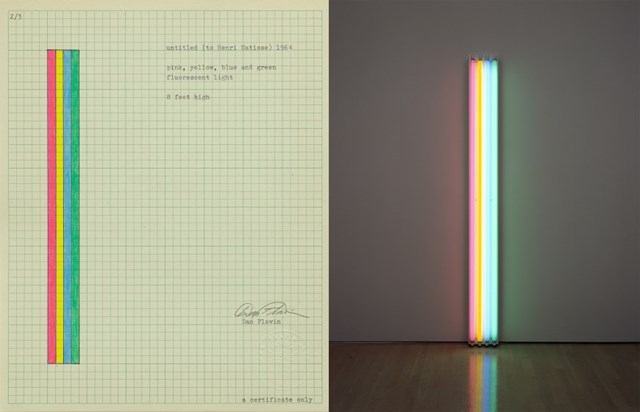 Image on top: 
Left: Certificate of authenticity for Dan Flavin's untitled (to Henri Matisse) (1964). Solomon R. Guggenheim Museum, New York, Panza Collection. © 2018 Stephen Flavin/Artists Rights Society (ARS), New York
Right: Dan Flavin, untitled (to Henri Matisse), 1964. Pink, yellow, blue, and green fluorescent light, height: 8 ft. (244 cm), edition 2/3. Solomon R. Guggenheim Museum, New York, Panza Collection, Gift, 92.4113. © 2018 Stephen Flavin/Artists Rights Society (ARS), New York. Installation view: Dan Flavin, Guggenheim Museum SoHo, New York, September 13, 1995–January 28, 1996. Photo: Sally Ritts © The Solomon R. Guggenheim Foundation