Image copyright The Solomon R. Guggenheim Museum
The Solomon R. Guggenheim Museum has received an endowment from the Robert Mapplethorpe Foundation to establish a conservation fellowship to preserve, care for, and conduct research on photography by a diverse range of established and emerging artists in the Guggenheim's collection.
In addition to the endowed fellowship, the Guggenheim will develop the Robert Mapplethorpe Collection Research Initiative, a three-year interdisciplinary project focused on the museum's holdings of Mapplethorpe's works.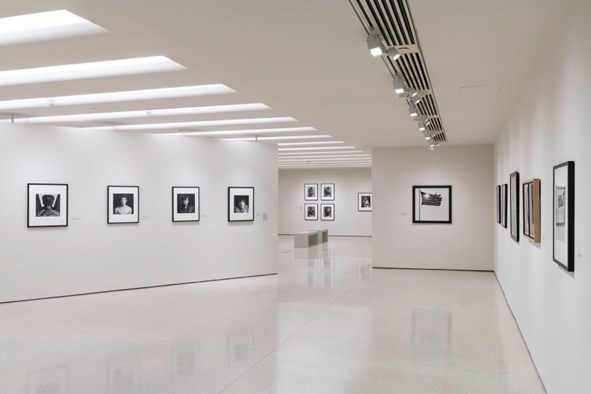 Image copyright The Solomon R. Guggenheim Museum
In 1993 the Guggenheim received a generous bequest from the Robert Mapplethorpe Foundation, creating one of the most comprehensive public repositories of the artist's work. Coupled with two million dollars in unrestricted funds, this gift initiated a sustained photography exhibition program, named a gallery at the museum, and catalyzed the formation of the Photography Council—an acquisitions committee dedicated to building the museum's collection. Photography and new media now comprise 20 percent of the museum's holdings, and along with the increase in collecting and exhibiting works in these mediums, related conservation and research programs have evolved in tandem.
This year, the Guggenheim presents Implicit Tensions: Mapplethorpe Now, a two-part, yearlong exhibition examining the artist's legacy and his impact both on the museum's photography collection and as a touchstone for subsequent generations of artists working in contemporary portraiture and self-representation. The second part of Implicit Tensions is on view from July 24, 2019, through January 5, 2020, and showcases the work of Mapplethorpe and six other artists in the Guggenheim collection who offer expansive approaches to exploring identity through photographic portraiture.
"We gratefully acknowledge the generous support of the Mapplethorpe Foundation and applaud its commitment to the long-term research and stewardship of the Guggenheim's growing photography collection," said Richard Armstrong, Director of the Solomon R. Guggenheim Museum and Foundation. "This endowment allows the Guggenheim to create a professional fellowship program, instilling conservators and curators with the knowledge to safeguard our collection for future generations."
"The Robert Mapplethorpe Foundation's gift to the Guggenheim more than twenty five years ago has proven to be more successful than could have been envisioned. We from the Mapplethorpe Foundation are very proud of the partnership we created. It has been great for the institution and it has expanded the artist's legacy by presenting his works to an international audience in the best ways possible. With this additional gift, the Foundation's relationship with the Guggenheim will continue to grow," said Michael Ward Stout, President of the Robert Mapplethorpe Foundation.
The Robert Mapplethorpe Foundation Conservation Fellowship position will be under the direction of Lena Stringari, Deputy Director and Chief Conservator, and Jeffrey Warda, Senior Conservator, Paper and Photographs. In addition to contributing scientific and art-historical research on Mapplethorpe's unique photographic processes, the fellow will perform a variety of activities related to the conservation and preservation of the Guggenheim's broader collection of photography.