Image: "Quai de Clichy" by Paul Signac
Researchers conducting provenance research into the Gurlitt art trove have identified the painting "Quai de Clichy" by Paul Signac as Nazi-confiscated art. The research finding has been confirmed by international review experts. A claim has been registered for the return of the painting. The painting was among the hoard of artworks discovered at Cornelius Gurlitt's home in Salzburg. A report containing details of the painting was entered into the Lost Art Database in 2016.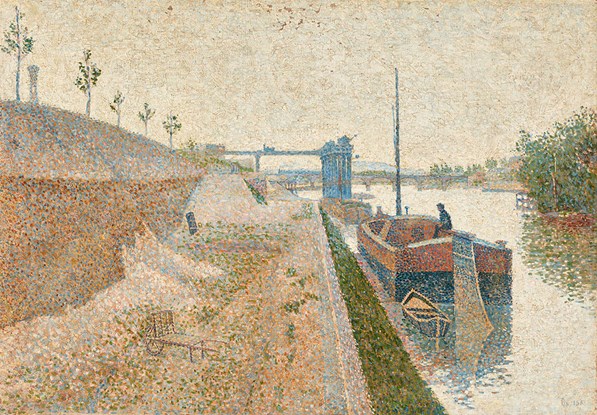 "Quai de Clichy" by Paul Signac
Commissioner for Culture and Media Monika Grütters said: "The fact that provenance researchers have managed to identify the painting 'Quai de Clichy' by Paul Signac as a work of art confiscated by the Nazis demonstrates once again how important it is to consistently pursue provenance research in this field. It means we are able to return another work from the Gurlitt art trove to the descendants of a victim of Nazi persecution. We are already in contact with a representative of the descendants, and I am confident that we will be able to restitute the painting very soon. This case reminds us once again that we must never give up in our efforts to thoroughly investigate Nazi art theft, for which Germany bears responsibility. Each restituted work of art is another important step in the quest for historical justice."
The French real estate broker Gaston Prosper Lévy (1893–1977) acquired the painting in 1927 via Galerie Georges Bernheim. Lévy loaned the work to the Petit Palais in Paris, where it was exhibited in the "Exposition Paul Signac" in 1934. Lévy, who became a victim of Nazi persecution because he was Jewish, amassed a collection of more than 100 French modernist paintings (mainly Impressionists) as well as various other art objects and furniture in Paris. Lévy's own records show that he had most of this collection transported to his residence Les Bouffards, 150 km south of Paris, for safekeeping in June 1940. He and his wife then fled the country for Tunis. Shortly afterwards, in October 1940, the collection of art objects stored at Les Bouffards was seized by German soldiers, according to witness statements. This also included the painting "Quai de Clichy" by Paul Signac. In the lists of lost items compiled by Gaston Lévy after the war, the painting was listed under the title "Canal et péniches". The painting came into the possession of Hildebrand Gurlitt via the French art market.
Between 1929 and 1932, Lévy, who was a great supporter of Paul Signac, began to put together an initial catalogue—known as a pré-catalogue raisonné—of Signac's paintings.
This is the seventh case of Nazi-confiscated art from Cornelius Gurlitt's collection that has been uncovered by researchers since the Taskforce for the Schwabing Art Trove was established. Four works from the collection owned by Cornelius Gurlitt's sister have also been identified as items confiscated through Nazi persecution. Five artworks have already been restituted by the Federal Government Commissioner for Culture and the Media.