Based in Baltimore MD, Sherald documents contemporary African-American experience in the United States through arresting, otherworldly portraits, often working from photographs of strangers she encounters on the streets. Drawing loosely upon the American Realist tradition, Sherald subverts the medium of portraiture to tease out unexpected narratives, welcoming viewers into a more complex debate about accepted notions of race and representation, and situating black heritage centrally in the story of American art. While her subjects are always African-American, Sherald renders their skin-tone exclusively in grisaille – an absence of color that directly challenges perceptions of black identity and seeks, in the artist's words, 'to exclude the idea of color as race.' In compositions that are carefully controlled and meticulously considered, Sherald sets her subjects free.
Sherald was the first woman and first African-American ever to receive first prize in the 2016 Outwin Boochever Portrait Competition from the National Portrait Gallery in Washington D.C.; in February 2018, the museum unveiled her portrait of former First Lady Michelle Obama. Sherald has also received the 2018 David C. Driskell Prize from the High Museum of Art in Atlanta GA, and is the second recipient in 2018 of the Pollock-Krasner Foundation's Pollock Prize for Creativity. In May 2018, she will present a solo exhibition of her portraits at the Contemporary Art Museum St. Louis MO.
Born in Columbus GA in 1973, Sherald lives and works in Baltimore MD. She graduated with a BA in Painting from Clark-Atlanta University in 1997 and became an apprentice to Dr. Arturo Lindsay, Professor of Art History at Spelman College. She was also a part of the Spelman College International Artist-in-Residence program in Portobelo, Panama.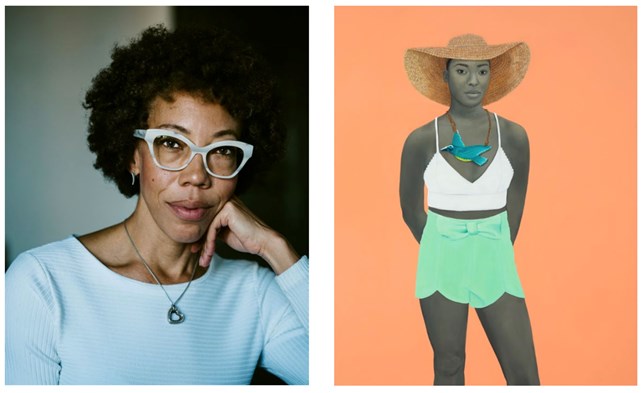 Left: Portrait of Amy Sherald. Courtesy the artist and Justin T. Gellerson. Right: All the unforgotten bliss (The early bird) 2017. Oil on canvas, 54 x 43 in, @Amy Sherald. Courtesy the artist and Hauser & Wirth
Alongside the pursuit of a painterly practice, Sherald devoted almost two decades to socially committed creative initiatives, including teaching art in prisons and art projects with teenagers. Sherald achieved an MFA from the Maryland Institute College of Art in 2004. She returned to painting full-time at age 39 and critical success quickly followed.