Image: Damien Hirst, Bodies, 1989, interior, photo courtesy for Phillips
Phillips announced Cool Britannia: The Robert Tibbles Collection, a multitude of YBA treasures to be sold across the London auctions of 20th Century & Contemporary Art in February 2020, as well as New Now, Photographs, and Editions. The collection includes seminal works by Damien Hirst, Gilbert & George, Gary Hume, Michael Craig-Martin, Sarah Morris, and Julian Opie, among others – often acquired directly from the artists or galleries the same year of their creation. The 30 works in this collection are expected to realise a total in the region of £4 million, with a festive preview of highlights set to transform the windows of 30 Berkeley Square from 20 December to 6 January.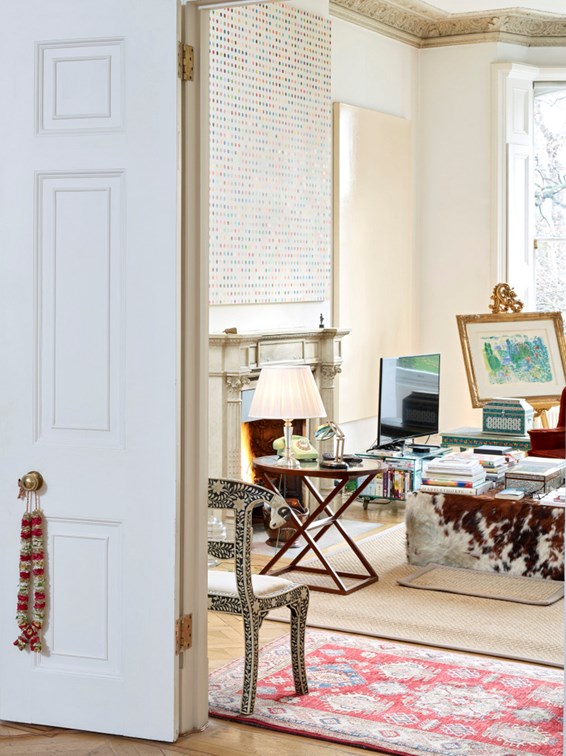 Drawing Room, photo courtesy for Phillips
A bond salesman for many years, Robert Tibbles' collecting journey began at the genesis of a movement that transformed contemporary British art, and ushered a novel artistic language built on rebellion and audacity. A principle author of this movement was Damien Hirst, whose degree show in 1989 marked the beginnings of his 'Medicine' series. Named after the 12 tracks from the Sex Pistols' UK debut album, the show featured the first four from a suite of 12 cabinets, created using empty medication packages. Robert Tibbles acquired Bodies – one of these four seminal works – in 1989 from Karsten Schubert, for the mere sum of £600, marking him as the first collector of Hirst's work. The work captures the genius of Hirst's artistic investigation, and its provenance tells a story of passion, trust and vision. In the three decades since it was purchased, Bodies has only been shown three times, at the Museo Archeologico Nazionale, Naples; L&M Arts, New York; and finally, in 2012 at Tate Modern, London.
Robert Tibbles, said, "The collection has filled my head and my heart. I have been incredibly lucky to have been shown fantastic stuff whilst in a position to buy it, and to put this collection together. It is great the idea that these works will go on to new owners, and I hope they are able to enjoy them just as much as I have."
Cheyenne Westphal, Global Chairwoman, said, "Robert is one of the most visionary and forward-thinking collectors of his generation. He was the first person to buy Damien Hirst alongside Charles Saatchi, and collected on the grounds that you buy a work of art because you respond to it, and because you love it. Robert saw something that others did not, and the result is an unrivalled collection that captures a defining moment in the history of contemporary British art. Works of this caliber are a rarity in the market, and we are incredibly excited to present collectors and admirers with a unique opportunity to see these works in person."
Cool Britannia: The Robert Tibbles Collection comprises a total of six works by Hirst. Antipyrylazo III, 1994, is an early example of his 'Spot Paintings', and has been hanging above the collector's fireplace since he purchased the work from Jay Jopling the same year of its creation. Featuring a joyous amalgamation of 2,050 hand-painted spots, Antipyrylazo III sits within Hirst's investigation into the medical realm. Hirst pairs the work's obscure and esoteric title with an image that is clear and recognisable to all: candy-like spots multiplying with jubilant energy.
"To create that structure, to do those colours, and do nothing. I suddenly got what I wanted. It was just a way of pinning down the joy of colour." Damien Hirst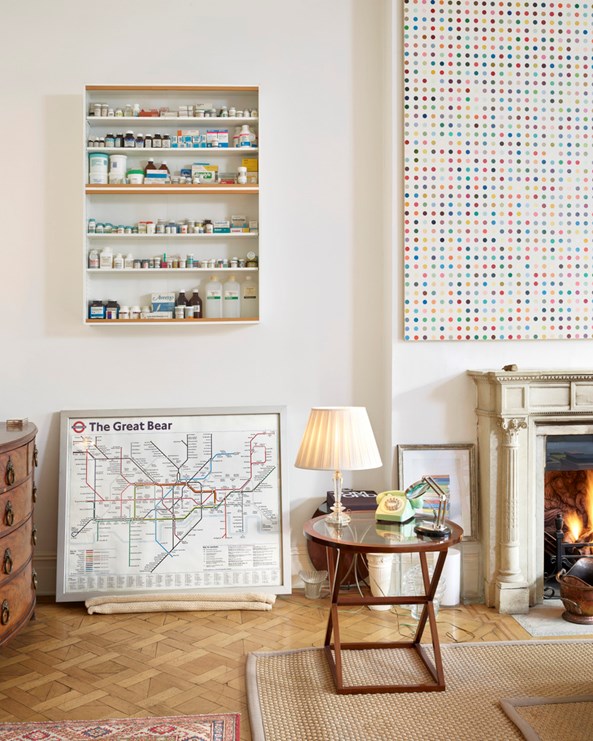 Damien Hirst, Bodies, 1989, interior, photo courtesy for Phillips
20th Century & Contemporary Art Evening Sale
Auction: 13 February 2020
Cool Britannia: The Robert Tibbles Collection
Damien Hirst
Bodies, 1989
Estimate: £1,200,000-1,800,000