Image: Arkadien – Der hohe Berg (Arcadia—The High Mountain) (detail; 2013), Markus Lüpertz. Private collection
Artworks of German star artists worth about 300 million have disappeared in China – as Sputnik News reports -  a major art scandal. Works by Markus Lupertz, Anselm Kiefer and Renate Graf are considered lost. A businessman who organized exhibitions with the artworks is said to have "kidnapped" them. A collector from Bremen is now in the limelight.
Lupertz, Kiefer, Graf – German stars in the international art arena. About three years ago Lupertz, like Kiefer, had popular exhibitions in state museums in the major cities of China. Now the artists are protagonists in one of the biggest art scandals of our time: 152 works alone have been missing for months, another 90 works by Kiefer and 103 works by the photographer Graf, reports the magazine Monopol: A "Kriminalplot full of dubious characters" in China. The missing art has a value of around 300 million euros.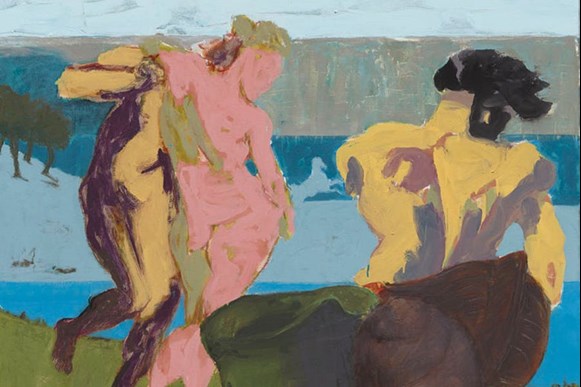 Arkadien – Der hohe Berg (Arcadia—The High Mountain) (detail; 2013), Markus Lüpertz. Private collection
He was worried because he did not know where the work was and where it would be stored, the report said. It should be about exhibits from his early work – some over 40 years old. They are sensitive to water and should be stored dry. If this were not the case, it would have catastrophic consequences for the pieces.
The missing works are all owned by the Taiwanese millionaire and collector Maria Chen-Tu, who has been living in Bremen since her tenth year, according to the report. Chen-Tu has collected one of the largest art collections of the present, but at the same time is almost unknown on the art market. If you google it, you would just find a "Linked-In Account", a social network in which anyone and every woman can frolic – including appropriate self-portrayal of status and professional career. According to Taiwanese sources, Chen-Tu would even be associated with arms trafficking. The business woman denies this, has gone now only if her "desperate" situation to the public.
A Chinese named Ma Yue, who had run a now defunct gallery in Hamburg, would have turned to Chen-Tu. He had promised the art collector, with the art collection of Lupertz and Kiefer, "to land more important exhibitions in China". Ma said it was a businessman and alleged impostor who wanted to come to terms with various activities from commodity trading to foot massage salons in Germany, the report said.
Since there was an extremely affluent shoppers in China's relatively new art market, he would have extended his activities to the art world as well. Ma changed the papers for the works of art at the customs and indicated the cargoes as own possession. Chen-Tu had called the works back to Germany, as they should be shown at a Lupertz show in Munich. Ma ignored her requests.
Spicy as absurd: Chen-Tu have never even signed a written contract with the Chinese Ma. The communication was on the Chinese smartphone app "Wechat" run, only the chat logs his proof of the agreements. A criminal complaint to the competent authorities in China had been fruitless. According to Chinese law, there was no offense as long as the works were not sold. The businesswoman did not know how she got to the misappropriated works, nor where they were. Ma is said to have already tried several ways to silver the artworks – such as in Taiwan.
Anselm Kiefer even saw parts of his life's work in jeopardy: "This is child abuse. I find it disturbing that he simply hides the works of art and thus gets through them without being held accountable. "A few years ago Kiefer would not have had good contact with him since an exhibition of his works by the Bell Art Gallery in China At the time, a major retrospective of his work had been performed in Beijing without his having been given a say – with the now-missing works from the Chen-Tu collection.